For Air Force, tech modernization and multi-domain operations are 'basically the same,' deputy CIO says
In an interview with wth FedScoop, Air Force Deputy CIO Bill Marion details how the service's ongoing IT modernization effort is "directly supporting" and one-in-the-same with multi-domain operations.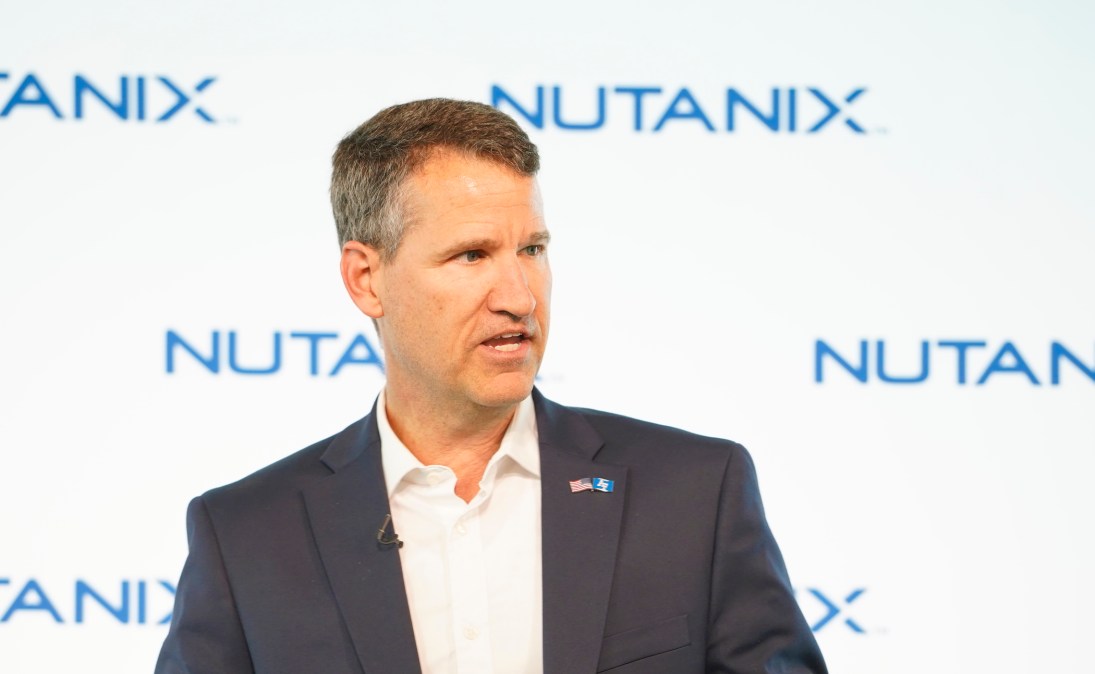 To some, the Air Force's widespread push for digital transformation may appear to be just another military IT shop looking to upgrade its tech capabilities. But to Deputy CIO Bill Marion, everything his office does in alignment with the service's Digital Air Force initiative is delivered in support of the greater warfighting mission.
As the Air Force pushes to adopt an ambitious new strategy of multi-domain operations (MDO) in the coming years, the service's ongoing IT modernization effort — including its enterprise IT-as-a-service (EITaaS) pilots partnering with commercial providers to develop the network and IT services modern airmen need — "is directly supporting" that, Marion told FedScoop.
"So when you talk 5G, as an example, it's mission and it's IT," Marion said. "Everything around EITaaS isn't just about an admin network and a PC that works better and a mobile device. It's about how do you build this collaborative information environment that allows the warfighters to sense, disseminate, collect, analyze it at a faster and faster speed. So you need a high-speed network, software-defined — you need to think about security differently, about how we share information."
The multi-domain operations strategy looks to link together air, sea, land, space, cyber and information assets to better identify and eliminate threats. Acting Secretary Matt Donovan recently said the future of battle "will depend less on discrete warfighting platforms and more on the networks, data and IT infrastructure that binds them all together."
While the Digital Air Force plan — the service's strategy to better align and streamline its IT infrastructure, business operations and data management — is of a much smaller scale than that shift to multi-domain operations, Marion said "they're basically the same thing. It just depends on what context you're coming from."
"My simple analogy is: I come in, I've got a device, it connects to some network, it gets cloud service and applications to do advanced analytics at some point," he said.
Marion said his office's job — within the "beast" of a plan that is MDO — is to make sure it is "looked at as trusted partners who can actually deliver that." As a member of "the tribe," someone who has spent his career serving the Air Force, he understands the weight of making such a cultural change.
"Are the IT dudes going to deliver this time, or are they not?" he said.
Building on successes
The Air Force has been building a string of successes that show airmen it's serious about delivering better IT capabilities. Marion pointed to the rollout of the Cloud Hosted Enterprise Services (CHES) program as one of those, saying it has provided one of the largest organizational instances of Microsoft Office 365 in the world.
Likewise, the service's Cloud One program — formerly the Cloud Computing Enterprise program — "is going like gangbusters now" with more than 30 applications up and running in the environment, Marion said.
Cloud One, he said, is not just about "leveraging cloud for potentially efficiency and security purposes, but getting to scale and most importantly for how the data comes together. Because if you can start everybody building in some framework that makes sense, your ability to share information is that much easier."
The common cloud also enables the DevSecOps piece — the Kessel Run project — tying all the different programs together with common software development and security infrastructure. It enables developers to "leverage a capability that much faster and cheaper and better, more secure," Marion said. "So we're no longer arguing about the bottom part of the stack. We're just trying to deliver on the top."
Finally, there's the network piece under EITaaS, which has been contracted through a series of "risk reduction" pilots that are beginning to roll out at six bases across the U.S. this month.
"How do we think about delivering the network differently that's still secure but scales differently to allow mobile and cloud to co-exist better," Marion said of EITaaS.
As the network upgrades take root under the program, airmen won't see much, Marion said, except that "when an airman comes in, it just works a whole hell of a lot better."
"So the network transition, theoretically, they shouldn't see," he said. "It should just make it a lot better. So we're removing some of the unnecessary internal pieces of the network so we can get to cloud faster. It's basically all of the hops we go through. Some of those are security, some of those are just antiquated configurations."
On the desktop service side, airmen can expect an experience more like a commercial Genius Bar, with "this single-pane of glass with respect to tier 0 and tier 1 help desk," along with an easier way to order "the latest and greatest devices in a basically state-of-the-art portal."
"Usually, when I show up to a base it takes weeks if not a month to get my equipment, my login account, which is just painful, so a lot of that is just expedited through the single pane of glass," Marion said. "I'm a new airman, here's your device, pick it up within 24 hours, it will be provisioned, CAC card, all that stuff rolled into that delivery model."
You can't 'eat the elephant all in one day'
Perhaps the biggest challenge Marion's office faces is the speed of this ongoing transformation.
The Air Force has set a goal to fully embrace multi-domain operations in the next decade. But culturally, a digital transformation the size of the Air Force's can only happen so fast.
"Everybody wants us to go faster, and we want to go faster, but if you go too big, big-bang IT typically fails," he said.
The Air Force has moved in the right direction, Marion believes, with the progress it's made in recent years. But it takes time for those programs to mature. With EITaaS, for instance, while those pilots are finally hitting the street, there's only so far the Air Force can take the program under its pilot prototype contracts — "up to 20 bases" to be exact.
"So there are some limitations there," he said. "The intent is over this fiscal year to roll out to 100 percent of those six bases, basically do an ops readiness review to say 'OK, how fast, how much farther can we go based upon the results.' Theoretically, everything is like 'this is the best thing since sliced bread,' and you move with quick agility. Probably, we'll find some things we'll need to adjust." The Air Force will then make adjustments and put together requirements "for the big deal."
Simply, it takes time to do things right, but ultimately it will be worth it, Marion said.
"Across of all of this is maturing each one of those IT services to the point where everyone can trust them," he said. "Our constant dilemma is that end-to-end user experience isn't good. Well, you're not going to fix the end-to-end if you don't bite the elephant off in some chunks and try to solve those. But it doesn't mean you're going to eat the elephant all in one day."