What does Amazon HQ2 in Northern Virginia mean for federal IT?
It could create a talent shift that reshapes federal IT contracting as it currently exists.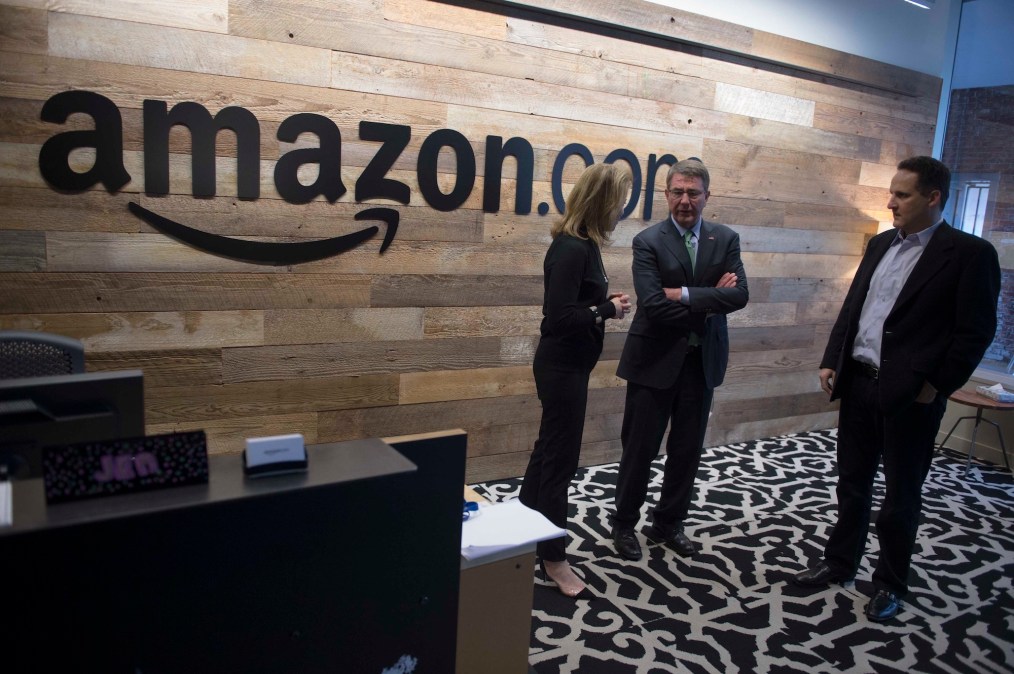 With Amazon set to build half of its Amazon HQ2 in the D.C. region, the federal IT community, by proximity, will soon feel the impact of a new 25,000-employee workforce in its backyard, for better or for worse.
Amazon announced Tuesday that it will create twin HQ2 offices in Crystal City (Northern Virginia) and Long Island City, New York (New York City), investing $5 billion and creating more than 50,000 jobs across the locations.
CEO Jeff Bezos said "These two locations will allow us to attract world-class talent that will help us to continue inventing for customers for years to come. The team did a great job selecting these sites, and we look forward to becoming an even bigger part of these communities."
Undoubtedly, an employer of this scale hiring 25,000 people in the D.C. region will further cement Washington as one of the nation's leading tech hubs. But it could also create a talent shift that may reshape federal IT contracting as it currently exists.
"Amazon's investment in the federal sector was already demonstrable, was already large," Jonathan Aberman, managing director of D.C.-area Amplifier Advisors and TandemNSI, told FedScoop. "This deal has a very different set of effects on the government contracting community, and it's going to be more around competition for talent — not the competition for the customer, but the competition for talent."
Amazon indeed is already doing well in the competition for business in D.C., despite the fact that one of its biggest critics, President Donald Trump, is in the White House. The Amazon Web Services division is considered the frontrunner for the Department of Defense's $10 billion commercial cloud contract, the Joint Enterprise Defense Infrastructure (JEDI). The proximity of the Pentagon to HQ2's expected Arlington home in some ways is coincidental, as AWS already has a nearby East Coast office in Herndon, Virginia.
The No. 1 reason to set up shop in Northern Virginia, then, is the existing talent pool, Aberman said. The metropolitan area was selected for its appeal to skilled, highly educated employees in general, not directly because of the opportunity for government work.
The HQ2 deal "is about is creating an additional 25,000 jobs that are really focused on Amazon's other businesses," not federal contracting, he said. "And those other businesses have a very strong bias toward technology being applied in a product-related way."
The average IT contractor, then, might not see increased competition from Amazon when it comes time to sell to agencies. But it will certainly have a harder time finding talented technologists to perform the work.
"For Crystal City and the state of Virginia, this is fantastic. But for anything federal, federal IT, contracting, this is going to be tough," said Andrew Chang, CEO of contractor co-working space Eastern Foundry. "It's going to be hard for government contractors to compete with Amazon for top talent. Yes, some people are saying that with Amazon being here, you're going to be able to recruit, convince even better talent to think about relocating to the D.C. area. Yes, that's true, but if you're a top systems engineer or a developer, and your job offer is between Amazon and a smaller, less established company, "probably you're going to take the Amazon job."
Many small-business members of Chang's Eastern Foundry, which also happens to be located in Crystal City, are concerned by what the move might mean for them.
"It is already going to be hard for your typical defense contractors and IT contractors to hire, but how about the smalls? They can't afford to go against an Amazon," he said. "We have to think about the companies that make up the economy in Arlington and Northern Virginia, which has always been that defense, IT industry."
Defense contractors, in particular, face an even more daunting task because of the security clearance backlog, which currently stands at about 600,000 people awaiting a background investigation before they're cleared to do sensitive government work.
Carl Rodrigues, CEO of Canadian enterprise mobility management business SOTI, was delighted that Amazon HQ2 did not land in Toronto, the finalist city where his company is based.
"If Amazon had selected Toronto as its HQ2, it would have soaked up the remaining talent, moving jobs away from Canadian companies," he said. "This would have made it next to impossible for our homegrown companies to compete."
But Aberman is more optimistic that there will be enough talent to go around because he thinks Amazon HQ2 will put Northern Virginia and D.C. on the same tier as Silicon Valley, Austin and New York, driving the region's "development of a more sophisticated tech talent base that's really focused on using technology as a product, whether it's for consumers or governments."
"So I think that the concerns that the government contractor community might have — that this is going to create more of a talent problem for them, more competition for talent — I actually don't think it's going to be the case as much as people fear, because a lot of the people who are interested in technology product innovation were leaving the region," he said. "Now they'll stay. It won't provide as much of a short-term competitive problem."
And in the longer term, "as the federal government continues to look more closely at [commercial off-the-shelf (COTS) technology] rather than build-to-suit, I think that the workers who are going to be created by all these educational incentives and Amazon, others coming here, will actually help the government contracting community morph and adapt," Aberman added.
Bezos highlighted the need for government to buy more commercial tech products earlier this year at an Air Force Association event because they "keep improving kind of 'auto-magically' without any effort," he said.
Along with driving an ecosystem fueled by COTS, product-based technology, the inventive, innovative spirit around Amazon could also attract a community of new startups with similar values around it, like it's already done in Seattle, said Dcode CEO Meagan Metzger.
"Typically when you have a large anchor tech giant in a city, it attracts and creates a new economy and community of emerging technologies around it," Metzger told FedScoop. "You saw this in Seattle, for example. By coming to D.C., this hopefully further spurs the up-and-coming tech startup scene in D.C. and creates more nontraditional technologies in the area that the government can take advantage of and use to modernize its technology capabilities."
What about the federal IT workforce?
Ultimately, Amazon could produce a more advanced and current technology workforce in the region. And that doesn't just impact contractors — federal agencies could stand to benefit from this enriched, proximal pool of tech talent too.
"An entity like Amazon building a proximity to the federal of government … really does provide an increased opportunity for collaboration between sectors, and an opportunity to interact and share best practices and to share talent," said Mallory Barg Bulman, vice president of research and evaluation for the Partnership for Public Service.
With tech talent, in particular, she said, there's a lot of fluidity in the federal space. "Of all full-time IT employees who quit in this last fiscal year, about 30 percent of them had less than two years of federal service," Bulman told FedScoop.
But the federal government will need to "to aggressively reform hiring strategies and policies for technology-related positions," Metzger said, to make sure it can keep up with private sector hiring, or risk not only losing out on attracting new talent but also potentially hemorrhaging "the small pool of top tech talent it does have to the thousands of jobs that Amazon will create."
Bulman similarly called for "really good entry and exit ramps between the private sector and the public sector. You want people to be able to benefit from the training and the innovation within an organization like Amazon but then also have an opportunity for the public good and scalability of the work within the public sector," she said. "As federal agencies get better at building 'tours of duty,' much like we see at the U.S. Digital Service, between the private sector and the public sector, this is really a tremendous opportunity for the federal government."
Aberman agrees: "Where the federal government begins to benefit is in the type of worker who's going to be trained" by Amazon, he said. "What will happen is the tech talent will be more current from the standpoint of they'll be using and will always be using the most advanced or commercially relevant technologies."
And that's a huge win for the federal IT workforce.
"When you think about federal cyber talent, there aren't many of them, and they're aging," Bulman said. "There's only 3 percent of the federal IT workforce under the age of 30 and five times as many federal employees in the federal sector over the age of 50. So we do need to draw people to the Washington, D.C., region who have an interest and the capabilities for the IT sector."