Networks 'foundational' to evolving Army operations, top cyber officials say
As the Army invests more in its networks and depends on them increasingly, defending them has become a bigger focus of its cybersecurity teams.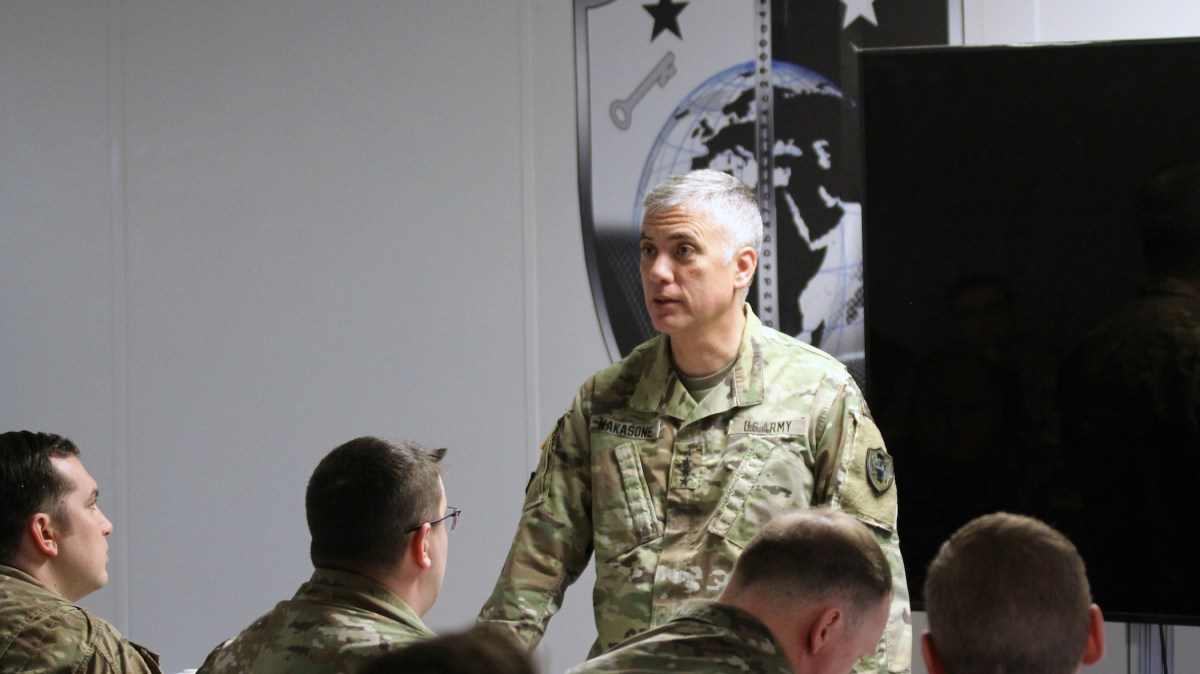 As the U.S. Army invests more into a modernized network, it is becoming "foundational" to battlefield operations, two top military cybersecurity officials said Monday.
One clear way to measure that importance is to consider how much the cybersecurity commands across the military commit to defending the Department of Defense Information Network (DODIN). Lt. Gen. Stephen Fogarty, head of Army Cyber Command, is willing to assign a number to it.
"We spend probably 90 percent of our effort to operate and defend our networks because our networks are the foundational weapon system," Fogarty said at an AUSA event. "If our commanders don't have functional networks then you don't have functional persistent [intelligence, surveillance and reconnaissance], long-range precision fires, effective mission command, just-in-time logistics, fundamental things like medivac that our forces require, particularly the way we operate in a very dispersed manner, generally in pretty small elements across the battlefield."
Across the entire military, U.S. Cyber Command places utmost emphasis on network defense, the command's head, Army Gen. Paul Nakasone said.
"A majority of what I think about every day is how do we secure our networks, how do we secure our data, how do we ensure the security of our weapons systems?" Nakasone said.
He continued, "This idea of being able to run a network really well … is foundational to what we do. And this ability to have the assurance, to have the reliability and have the operational capability to run a network is sometimes easier said than done."
Nakasone credited Army's Network Enterprise Technology Command as "our instrumental force in terms of [the Army's] headquarters being able to do DODIN operations," in addition to the support of the Cyber Mission Force teams stood up under the greater Cyber Command umbrella.
Fogarty said the network is "a critical capability as we move forward." This is reflected in the Army's recent push to deliver new, modernized networks through its forthcoming IT-as-a-service plan.
"The Army's enterprise network at its current level of investment and current pace of modernization cannot meet the immediate and future warfighting requirements to optimize force readiness," Army CIO Lt. Gen. Bruce Crawford said in March at an AUSA breakfast, pointing to the incremental modernization approach his office has taken in recent years.
A modern Army network, Fogarty said, brings the entire power of the force to a solider on the battlefield.
"Our ability to do that is predicated on that lieutenant or that captain or major at a combat outpost of a [forward operating base] someplace being able to bring the entire power of the United States to his place on the battlefield at a time of his choosing by simply depressing a handset and calling for support or hitting that send button on his laptop or his palmtop or his wrist-top to be able to let his partners know where he's at, where his adversary is at and then be able to provide a series of options that he can use to maneuver against that adversary," he said. "That is critically important, that network."