Army headquarters looks to close the file on paper products
While some say print is dead, until now that did not hold true at Army headquarters.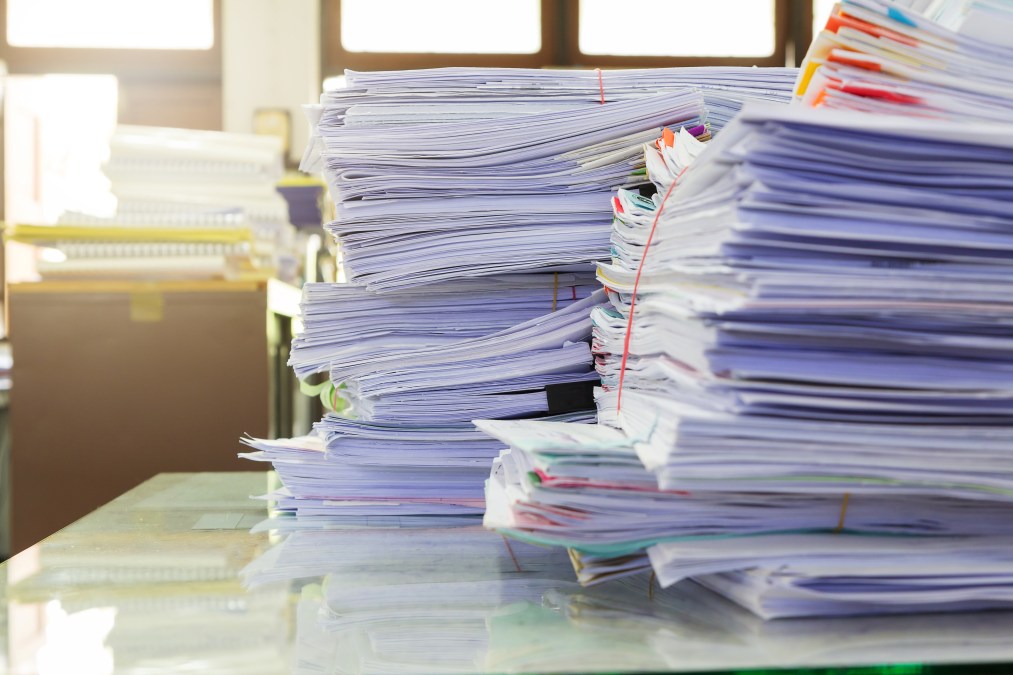 While some say print is dead, until now that did not hold true in Army headquarters.
An automated system exists to track documents' progress, but a lot of work still happens on paper, with folders being passed around the good old fashioned way. In an attempt to make the process more efficient, Army Enterprise Staff Management Systems is implementing a commercial-off-the-shelf solution for Army headquarters that completely automates that process.
A walk to the next office will be saved by Accenture Federal Service's Task Management Tool. AESMS, part of the Army's Project Director Enterprise Services, is shooting for a June date to switch everyone to the new system, said AESMS Project Officer LTC Michael Gilligan in an interview with FedScoop.
The move would affect 8,300 users, Gilligan said, "so it's a lot of users, and it's something we've got to make sure that we do right to make sure that we don't interfere with the day-to-day functions of the staff." AESMS estimates 500,000 actions annually might go through this new system.
Production servers and the installation for the unclassified system was put in place in October, and since then the staff and Accenture have been working to conduct user training and develop workflow hierarchies within the new system. Training for a basic user takes only about three hours, Gilligan said.
"The feedback that we've been getting so far has been very positive — they find it very easy to use, very intuitive," Gilligan said.
The system does more than just save time, Gilligan said.
"It saves time from one person working down the hall to the next office, or walking down the street to the next office, or sending it in the mail," he said. "Two, you can kind of keep a historical record as the document goes through edits. You can look at the version history as it goes through that process. And lastly, when it comes to the approvals and signatures, the task management tool allows for digital signatures as it goes through each office, but also for the final product."
Headquarters is not the first segment of the Army to begin using the tool. Gilligan said other Army organizations and commands have been using it for the past five to 10 years.
"In no uncertain terms, at the grassroots level we're enterprising," he said, adding, "There's not an Army directive to enterprise, but there's already other instances of the task management tool there, or there's other interest. So we're kind of like the centerpiece to try to synchronize, coordinate and leverage all of the contracting efficiencies that we can, as well as on the technical side all the hosting, so that way we can save money across the Army."