The Census Bureau has a new online tool for predicting low response areas
The Response Outreach Area Mapper updates a previously paper-based process.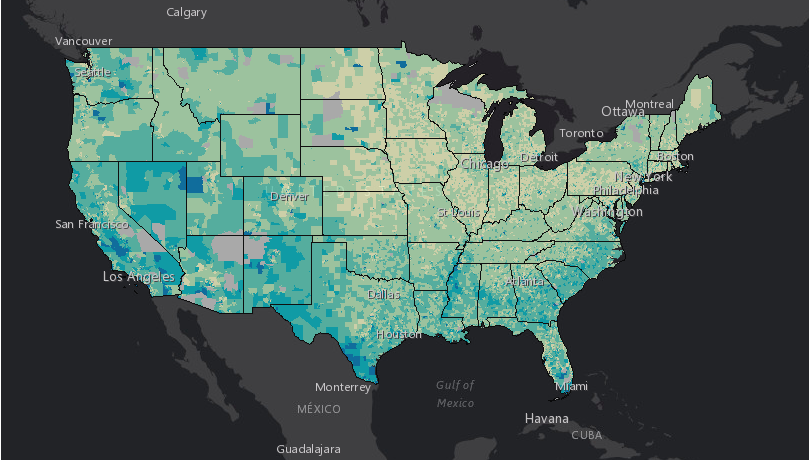 In Suitland, Md., where the U.S. Census Bureau is based, around 30 percent of households are predicted to fail to self-respond to the upcoming 2020 census.
This is according to the bureau's Response Outreach Area Mapper (ROAM), a relatively new online tool that shows the "low response score," or predicted mail non-response rate, of communities across the country in an interactive manner. Suitland's non-response rate is higher than many surrounding areas, which will likely mean that the bureau will have to send additional workers to the area to get responses — a more expensive endeavor than simply gathering responses via mail or online.
But if Census knows that an area could pose difficulty in advance, maybe it can do something about it — non-response information, paired with demographic data from the American Community Survey, allows the bureau to better target outreach and resources to areas that are hard to survey.
Of course, mapping response rates is not new to Census. The ROAM system is just far more efficient than the old way. Census geography and computer mapping teams began building ROAM, which is powered by the geographic information systems giant Esri, in April 2016 — 2020 will be the first decennial for its use.
"I think this is really exciting for me because we've been working on this idea for 20 years," Deirdre Dalpiaz Bishop, chief of the geography division at the U.S. Census Bureau, told FedScoop. "Twenty years ago we used to map our low response score every single day. We'd print hundreds of maps and we would send those out to our partnership specialists and to our local census offices to help plan when they should be conducting outreach."
But printing out maps "took a lot of effort every single day," Bishop added.
An online system, instantaneously updatable and sharable between Census headquarters and partnership specialists out in the field, is an obvious upgrade to printed, paper maps. But ROAM is also available for use by the general public, which its creators argue is central to its value.
"One of the most important parts of the tool is that it is publicly available," Census computer mapping specialist Suzanne McArdle told FedScoop. This means that "state and local officials and community leaders that are interested in helping to improve the response rates in their local communities are going to be able to use it pretty seamlessly."
For example, one common reason that households don't self-respond is lack of English language skills. Information in the tool about the languages spoken in a given census tract will allow local leaders to see the needs in their community and alert the bureau to the need for workers with specific language abilities.
The 2020 census is often referred to as the first "modern" census, largely because the bureau expects to see large-scale internet response for the first time. But while the agency faces criticism over IT systems that haven't yet been delivered and tested, ROAM is one example of a modern update to an antiquated process that's ready for the 2020 primetime.