CIA's Juliane Gallina details progress in first months as CIO
A new CTO. Wi-Fi in CIA buildings. A program to replace fax machines. And an acceleration of the intelligence community's adoption of cloud.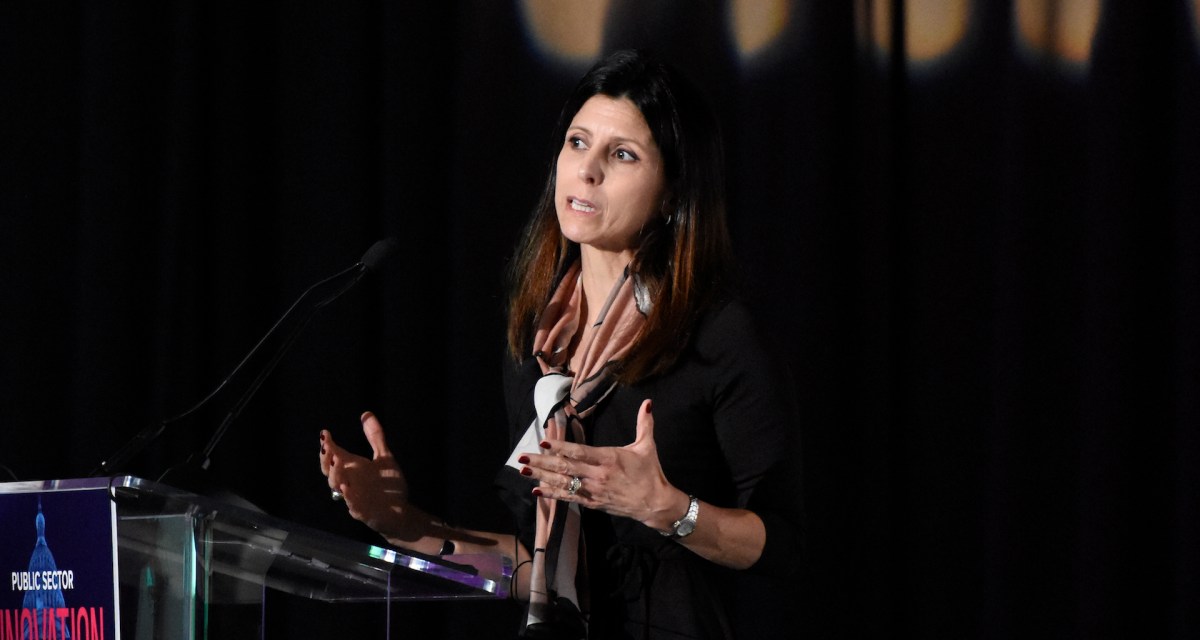 A new CTO. Wi-Fi in CIA buildings. A program to replace fax machines. And an acceleration of the intelligence community's adoption of cloud.
These are some of the items new CIA CIO Juliane Gallina says she has already looked to address in her first few months on the job.
Speaking at the VMware Public Sector Innovation Summit, produced by FedScoop, Gallina detailed what she's done in her first 140 days as chief information officer, a role she's never held before. She said there are many "basic things we need to improve."
Industry outreach and Gray Magic
As a longtime industry partner to the government before taking over as CIA CIO, Gallina said industry outreach "is really important" to the agency's success. It's particularly important for agents "to speak candidly and clearly to industry counterparts," she said. "I think our mode of communication, the way we interface between industry and government, is absolutely critical to the success of innovation."
To better facilitate that, the CIA has launched a program called Gray Magic, which Gallina said will replace its use of the fax machine. Yes, the CIA still uses fax machines.
"It's a new network, it's secure, and it's designed specifically to allow industry partners to have their own secure, direct communications and collaboration with government to help us facilitate acquisitions and procurement. So please pay attention to this," she said. "I'm really hoping this is going to help us facilitate the quality and the content of our communications with industry. We're really dedicated to making it work."
Full throttle to the cloud
While Gallina said the intelligence community is recognized as the government leader in cloud adoption, the CIA must continue to accelerate its adoption.
"We have to accelerate our cloud journey because it's not good enough to be infrastructure-as-a-service. We have the embrace platform-as-a-service to really be able to bring in the technologies that are just absolutely standard across all of your companies," she said speaking directly to members on industry attending the event. "So we are really focused … on a cloud journey that has a future that's multi-cloud, hybrid cloud, multi-security-domain cloud and to give us the geographic presence all the way from cloud out through fog, edge, mist. We have to dominate n all those aspects of cloud, and our strategy reflects that, and our investment portfolio does as well."
Langley gets Wi-Fi?
Gallina said the CIA is on the verge of bringing Wi-Fi to its buildings.
"The agency is going to use the 20-year-old standard — the 802.11 Wi-Fi protocol in our buildings. This is huge news," she said, poking fun. "In all fairness to our agency, we do have some really unique security constraints that make it that slow going that we're not going to just walk in with our cellphones, obviously."
While it might not seem a major undertaking to introduce Wi-Fi at government buildings in 2019, Gallina said the CIA's struggle to do so demonstrates the difficulty agencies can have moving things from pilots to production and across "the valley of death."
"It may surprise some of you, we've had laptop pilots in some of our buildings for many years that have been extremely successful," she said. "It may surprise you that some officers receive some disseminated intelligence on tablets every day. There is mobility in our buildings to some extent, but it's always been essentially pilots".
CIA has hired a CTO
A final tidbit of news, Gallina said she has hired a chief technology officer to join her office.
The new position will "essentially be my CIO whisperer," she said. While Gallina didn't name the person, she said "I'm planning on that individual helping us focus on what the disruptive future is going to be" at CIA. They will be "free to think about what things look like beyond and outside our normal investment portfolio."