DARPA wants urban, autonomous drone and robot swarms
The swarm of robots would be used to create a "safety bubble" around the area of operations.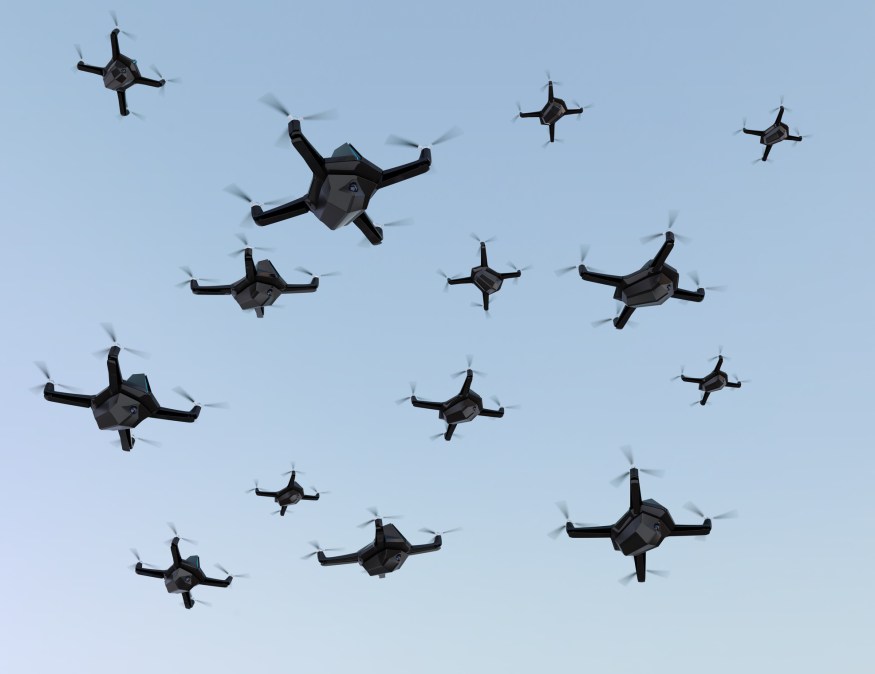 The Defense Advanced Research Projects Agency wants to make it easier for the military to use a group of drones and robots to help it do its job.
DARPA, the Defense Department's research and development arm, is looking to acquire the emerging technology needed to command a "swarm" of autonomous robots — typically small unmanned aircraft or ground systems — in an urban setting. The effort, called the OFFensive Swarm-Enabled Tactics (OFFSET) program, includes several "sprints" to try to develop "breakthrough" technologies in a shorter amount of time.
The agency invited companies to submit proposals by April 30 to participate in its second swarm sprint, focused on making the groups of drones and robots more autonomous, according to a news release. Organizations are asked to demonstrate innovative ideas for improving the platforms, algorithms, tactics or other technology needed to use a swarm of 50 air and ground robots to "isolate an urban objective" within an area of two city blocks during a 15-to-30 minute mission, according to the release.
Timothy Chung, program manager for the OFFSET program, said in an email that the swarm of robots would be used to create a "safety bubble" around the area of operations, "much like a fire-fighting crew would set up a perimeter a safe distance away from a burning building to ensure there is enough room for the firefighters to maneuver near the site while ensuring that onlookers or neighboring folks are not endangered or enter the area of operations."
DARPA in this sprint is looking for innovative concepts "for figuring out how large this perimeter needs to be, autonomously adapting as the operation evolves, etc., and how teams of robots can help maintain these boundaries," Chung said.
The program focuses on "complex urban environments," according to the broad agency announcement, which means "the mission battlespace could include high rises, industrial/commercial buildings, or residential sprawl."
Through the OFFSET program, pre-selected integrators — Raytheon BBN Technologies and Northrop Grumman Mission Systems — propose the drone platforms, and then the companies or research organizations awarded in the sprints focus on tactics to improve the use of the drones, which could include introducing new technology, components or tactics into the mix.
"Sprinters will develop approaches (the tactics) to achieve the desired capabilities within the integrator-developed hardware and software architectures," Chung said. "Demonstration of these tactics will take place both in the physical/real world and virtual world."
The sprinters can also make a case for additional hardware components or platforms that would enhance how the swarm system works, Chung said.
Each swarm sprint has "a particular 'flavor' to help guide the development," Chung said. The first was focused on swarm tactics, while the current sprint is focused on swarm autonomy. Three additional follow-on sprints will be focused on "Human-Swarm Teaming," "Virtual Environments" and "Physical Testbed," Chung said.
"Each of these topics emphasizes slightly different perspectives but ultimately aims to enable breakthroughs in swarm capabilities," he said.
The first contracts awarded as a part of the initial sprint went to Lockheed Martin's Advanced Technology Laboratories, SoarTech, Charles River Analytics, University of Maryland and Carnegie Mellon University. The first sprint is ongoing, Chung said. DARPA anticipates the sprints will last six-to-nine months.
DARPA is planning to award around $3 million total for the second sprint to up to 15 organizations, Chung said. No individual award is expected to exceed $450,000, including the proposed options.