DIUx 'moving faster than we ever expected,' one of its partners says
The Defense Innovation Unit Experimental isn't slowing down, despite some reins Congress put on it last year, one of its managing partners said to FedScoop.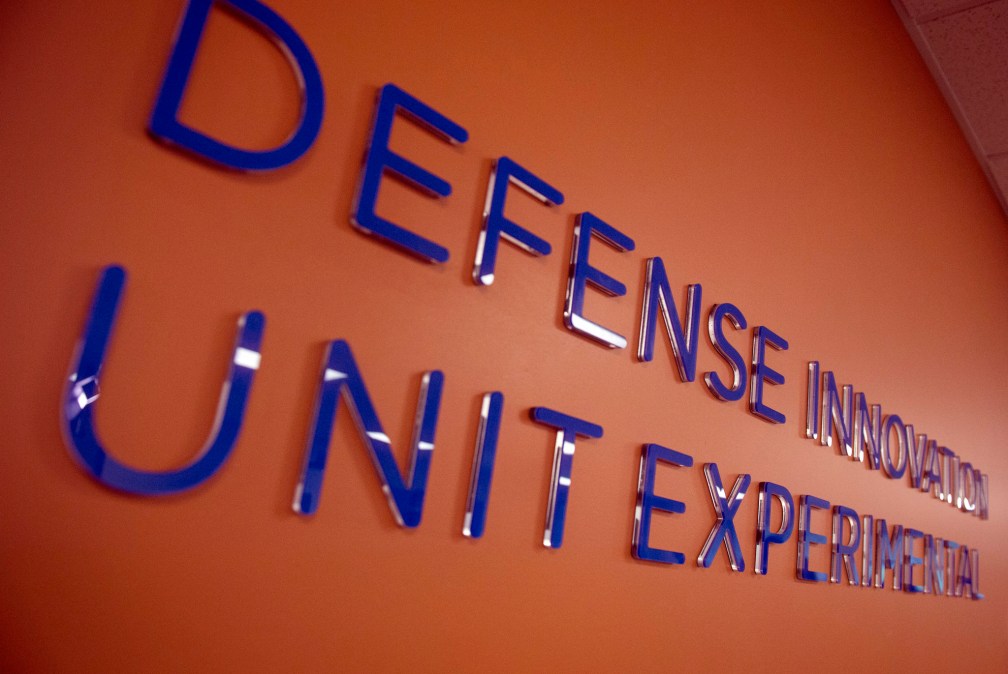 The Defense Innovation Unit Experimental isn't slowing down, despite the reins Congress put on it in the latest National Defense Authorization Act, one of its managing partners said to FedScoop.
Indeed, as of March 10, the Pentagon unit had made 20 awards totaling $43 million since June 2016.
The group sent a few weeks ago a required report to Congress to enable it to access some of its funding, but partner Christopher Kirchhoff said in an interview with FedScoop that even now DIUx is finding ways to thrive.
"No, actually, we've had just an overwhelming response from a lot of the people we work with and in the combatant commands, and they've brought a lot of resources to the table as well," he said. "For that reason we haven't slowed down at all, in fact we've been moving faster than we ever expected."
DIUx works to bring emerging technologies more rapidly into the Defense Department, using a vehicle it calls a commercial solutions opening (CSO) — a form of other transactions agreement (OTA) for acquisitions. And when it comes to funding, DIUx leadership has said that indeed, for every $1 the unit is spending, the customer (a service branch or combatant command) usually spends $3.
Following congressional criticism, then-Defense Secretary Ash Carter announced last year a newly structured DIUx, dubbed DIUx 2.0, which included a partnership-style leadership structure, making it "as flat as any company" in Silicon Valley.
Kirchhoff, one of those "partners," sat down with FedScoop at the SXSW Conference in Austin. The conversation came just before a panel on innovation with an official from DIUx and the co-founder of a company with which the group is working.
FedScoop reported in October 2016 that DIUx had closed out the fourth quarter awarding 12 agreements totaling $36.3 million, so since then, the group has made more awards. Kirchhoff said right now the group's most limiting factor is people.
"We do have more projects than we have people to do them, so we're having to make hard decisions already on what projects to work on and what projects to set aside for now," he said.
The office is small, he acknowledged, at just under 50 people, but he said he thinks DIUx will foster broader change by getting more people to use the CSO for acquisitions and also by "just showing it could be done."
Educating the Hill
"We've spent a lot of time with folks on the Hill this fall, winter and spring, like any new organization, just educating people on our mission and explaining how we are pushing innovation," Kirchhoff said. "So that work will continue, because it's important to keep everyone that you work with apprised of what's going on."
When asked how talking to Congress has impacted the way DIUx conducts business, he noted that there are "real advocates in Congress for defense acquisition reform."
"And so we've tried, based on their encouragement, to be as forward-leaning as we possibly can with the OTA vehicle we have, the CSO," he said. "And we also, for that reason, dedicated a lot of our own time to explaining how we use our authorities, in hopes that others will follow."
Indeed, the group published in November 2016 a guide to how the CSO works.
OTAs are attractive to smaller companies that usually do not contract with the Defense Department because parts of the deals are negotiable (like intellectual property rights) and the time to an award is much faster than the traditional contracting process, said DIUx Managing Director Raj Shah in October 2016.
Shah said last year that the CSO "is a reliable and transparent process where a company can quickly understand if their proposed solution is valuable to the department or not, and then what those next steps are."
What may be the most important, Shah said, is that "upon success of a prototype, the CSO allows quick transition, or transition into procurement contracts."
The agreements aren't procurement contracts, grants or cooperative agreements, but they are legally binding contractual instruments, according to DIUx, "used specifically for prototype projects directly related to enhancing mission effectiveness of military personnel and the supporting platforms, systems, components, or materials proposed to be acquired or developed or for the improvement of platforms, systems, components, or materials in use by the armed forces."
Kirchhoff said, "Probably about a dozen organizations have reached out to us since we published that guide asking for our help as they themselves create an OTA-based vehicle for themselves."
While OTA is an obscure authority, according to Kirchhoff, he said it's actually relatively straightforward.
"It's just that there's very few people who have ever worked with them before. And that's sometimes why it takes a little bit of encouragement and understanding before folks get comfortable with the OTA approach," he said.
Kirchhoff also said Congress encouraged them to "make sure that we focus on innovators all across the nation."
"Although the vast majority of venture capital funding — about 70 percent or so — is in the state of California, the reality today is that two people in a garage today can come up with some pretty amazing technology," Kirchhoff said. "So that's for instance, why we stood up our presence in Austin."
Correction: March 15, 2017 DIUx told FedScoop after publication that it had submitted its report to Congress a few weeks ago.