FedBizOpps retires Tuesday
The award system is being retired with nine others over time as the General Services Administration streamlines acquisitions through a single beta system.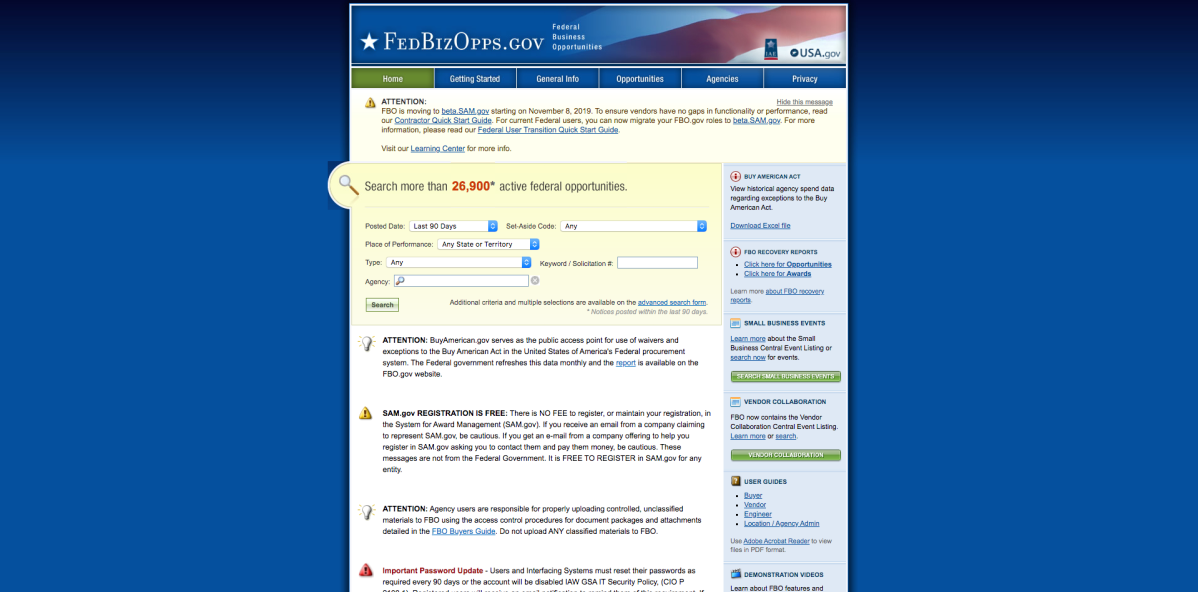 The government's transition to a new federal awards system begins Friday, marking the end of FedBizOpps.gov.
Come Nov. 12, the website beta.SAM.gov will become the official source for federal business opportunities in its "contract opportunities" section, as the General Services Administration merges its 10 legacy award systems into one.
Wage Determinations Online and the Catalog of Federal Domestic Assistance were the first two systems retired, followed by FBO.gov. Next up is the System for Award Management.
When that happens, SAM.gov will leave beta and add the remaining six legacy systems.
"Consolidating these multiple systems into one will make it easier for users to monitor and follow procurement opportunities, and participate in the federal acquisition process," Julie Dunne, acting commissioner of the Federal Acquisition Service, said in an announcement.
The merger is part of GSA's Federal Marketplace Strategy for streamlining acquisitions.
GSA began beta testing the new SAM.gov with users and focus groups in 2017, and the system will deliver more precise results for number, keyword and location searches using new filters.
Users can set alerts notifying them when contract opportunities are updated, and interested vendor lists will transfer to the new site — though non-federal users need an account tied to an entity to use them. New accounts can be created on login.gov.
The other award systems to be retired are the Federal Procurement Data System-Next Generation, Contractor Performance Assessment Reporting System, Federal Awardee Performance and Integrity Information System, Past Performance Information Retrieval System, Electronic Subcontracting Reporting System, and FFATA Subaward Reporting System.