Regulations to govern use of AI in health records could come later this year
A proposed rule from HHS would require electronic health record systems using AI and algorithms to provide information to users about how those technologies work.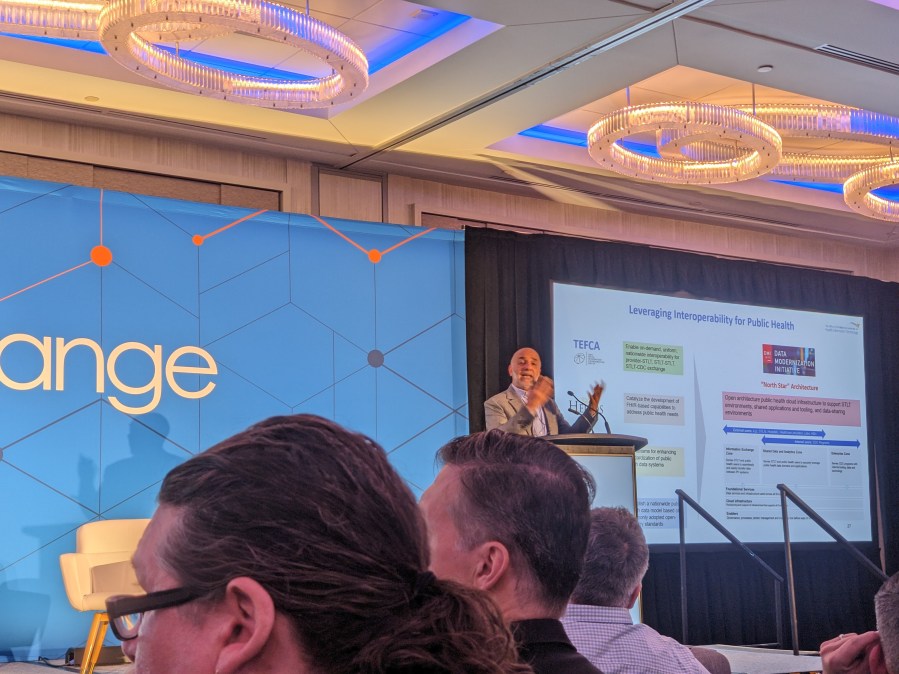 The Office of the National Coordinator for Health Information Technology is leveraging its regulatory powers to mandate a "nutrition label" for artificial intelligence use in the electronic health record systems it vets.
While this proposed rule has received less attention, the inclusion of algorithms represents an important example of how Biden administration regulators are hoping to rein in AI. ONC wants to get that final rule out as soon as possible, "perhaps as early as later this year," an ONC spokesman said in an email.
The proposal — the comment period closed earlier this month — would require electronic health record systems using predictive tools like AI and algorithms to provide users with information about how that technology works, including a description of the data it uses. That would add to a certification process already overseen by ONC.
"The idea is that you should have a standardized nutrition label for an algorithm," Micky Tripathi, who leads the health IT division housed within the U.S. Department of Health and Human Services, said in an interview with FedScoop.
ONC's certification program for health IT — which includes electronic health record technologies — is voluntary. It's incentivized, however, by requirements that hospitals and physicians use certified systems when participating in certain Centers for Medicare and Medicaid Services payment programs.
While ONC hopes that more transparency will help avoid unintended consequences of algorithmic bias, the rule has received some pushback from medical professionals, health IT companies, and associations for both not going far enough and being too hard to comply with. The division will next review those comments and work on finalizing the rule.
The AI and algorithm requirements are part of ONC's proposed rule titled "Health Data, Technology, and Interoperability: Certification Program Updates, Algorithm Transparency, and Information Sharing" (HTI-1), which includes a variety of updates for the division's Health IT Certification Program.
Specifically, the artificial intelligence portion of the rule would build upon its existing certification requirements for clinical decision support (CDS) systems by defining a new category for predictive tools, which includes AI and algorithms.
Artificial intelligence presents "a whole new dimension in this area of clinical decision support," Tripathi said. There are things about AI that are "fundamentally different" and require ONC to again weigh in on how these technologies are incorporated into electronic health records systems, he explained.
ONC doesn't want to be in the position of telling people they can't use a particular algorithm, Tripathi said, which is why it's pointing to transparency as a way to help people "navigate" the technology.
For example, Tripathi said, a user in San Juan, Puerto Rico, might learn that an algorithm in an electronic health record system was trained on data from the Mayo Clinic in Minnesota and question whether that would be appropriate for their patient population.
ONC's emerging approach to AI regulation has won support from a variety of healthcare industry stakeholders, public comments revealed. For example, the College of American Pathologists — a nonprofit with thousands of members — has said that more information about the datasets AI systems are trained on would boost transparency, and also help pathologists with their "AI-related responsibilities."
Ron Wyatt, the chief scientist and medical officer at the Society to Improve Diagnosis in Medicine, said the rule didn't go far enough, and argued that the information that's made available to "end users," like health systems and patients, should also be shared in the public domain — so that it's "exposed to the expert academic research and developer communities that now are sensitized" to the problems with using AI in healthcare.
Unsurprisingly, there's also been pushback. The HIMSS Electronic Record Association, on behalf of 30 companies, has suggested that ONC's requirements for "decision support interventions" would be hard for electronic health record developers to implement, since — they argue — these tools are often created by third parties.
The American College of Cardiology, a nonprofit association that credentials cardiovascular professionals, said the algorithms proposal was "overly broad," could potentially cover "thousands of technology solutions utilized in health care," and may also be confusing for clinicians dealing with software that's defined differently by other agencies.
It's not yet clear how ONC will incorporate this feedback. Still, the proposal and the feedback it received show the mounting effort to regulate AI across the Biden administration.
The Office of Science and Technology Policy, for example, has emphasized fighting algorithmic discrimination in the Blueprint for an AI Bill of Rights, which was released in October. The Department of Justice and the Department of Housing and Urban Development have looked at algorithmic bias in systems used to screen tenant applications. Senator Charles Schumer highlighted fighting bias in the SAFE Innovation Framework he introduced earlier this month.
ONC's own work on artificial intelligence isn't limited to the proposed rule. Separately, Tripathi said the ONC is working on the department's broader efforts to develop AI regulatory strategies and is exploring how to make sure a type of application programming interface (API) used for healthcare interoperability — known as Fast Healthcare Interoperability Resources (FHIR) — is able to interact with AI.
"As ONC, and as the HHS, and as the federal government, we want to balance the ability to allow us to continue to have innovation in a really — what we recognize is — a really important space that could offer tremendous benefit at the end of the day," Tripathi said.