Goals are clear for 'second epoch' of ICITE, intel community CIO says
The second epoch ties to the recent National Intelligence Strategy, particularly the goals of driving intelligence integration and innovation.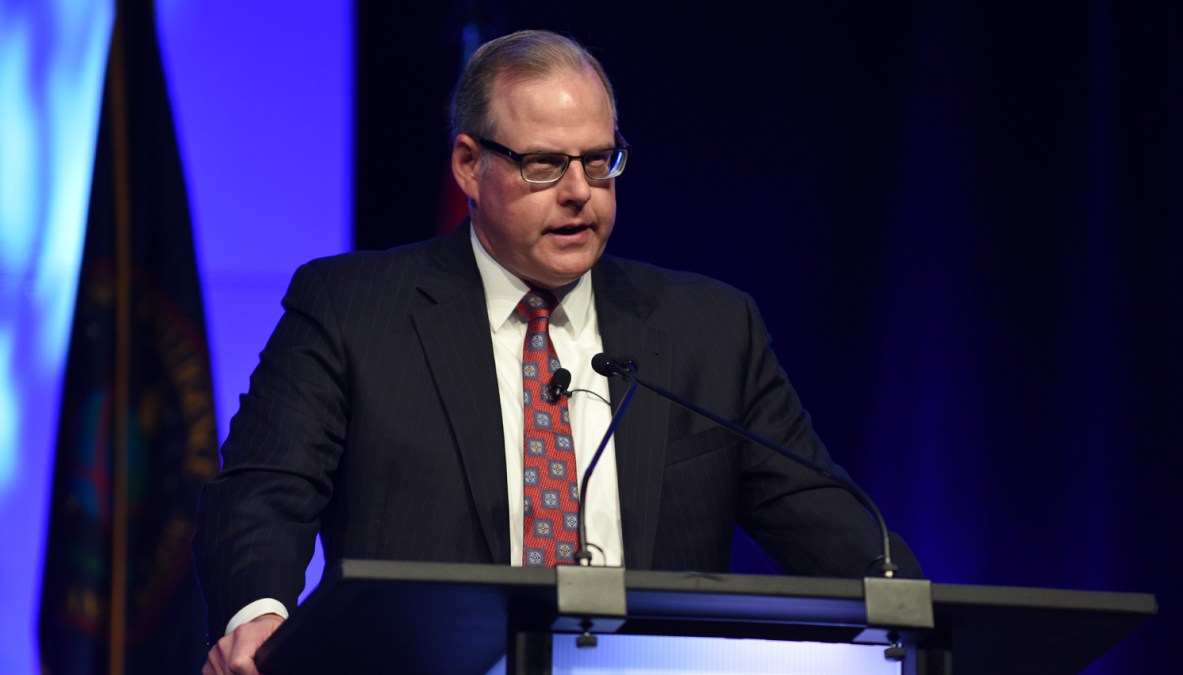 In 2019, intelligence community CIO John Sherman is committed to expanding and evolving the IC's IT Environment as it moves deeper into what he calls the "second epoch" of ICITE.
"We're not in a place right now to pursue routine, peacetime approaches," Sherman said Thursday at AFCEA's IC IT Day. "Our adversaries are moving out quickly in many areas such as cyber, artificial intelligence and machine learning, information and asymmetric warfare, and not to mention other capabilities, such as conventional arms and space."
For the past six years, Sherman said, the IC CIO's role has been about establishing ICITE — the centralized, cloud-based strategy for intelligence sharing among the 17 intelligence agencies. He called it a "huge cultural shift." But in the second epoch, which he introduced last year, Sherman will expand upon that foundation in lockstep with Director of National Intelligence Dan Coats' recent National Intelligence Strategy, particularly the goals of driving intelligence integration and innovation.
"These goals are at the very core of what we're trying to do in the IC [information environment] in terms of reference architectures, securing our systems and what we're trying to achieve with ICITE writ large," he said.
The reference architecture piece is key to ensuring interoperability among intelligence agencies while freeing them up to adopt tools and technologies that are right for them.
"This means that we must to the extent possible ensure flexibility to leverage a range of solutions to include proprietary commercial offerings as well as open source code, tools, and applications to address our mission needs," Sherman said. "Just as the Department of Defense needs its weapons systems to be able to interoperate between ground, air, sea and space domains, our IC technologies need to be able to work together as well."
With reference architectures, he said, "we can ensure elements have standards to which their solutions must apply. We're not seeking a one-size-fits-all set of solutions but we must be able to collaborate at the speed of mission and without overly customized approaches. There must be a balance with a solid focus on being able to keep the IC operating information without seams, duplication of effort or stovepipes, and with approached that scale to the maximum extent possible." The IC is also pushing interoperability with other partners, like DOD, the Department of Homeland Security and international allies, particularly Five Eyes nations — Australia, Canada, New Zealand and the United Kingdom.
Along with that, he explained, comes the natural evolution of adapting ICITE, which originally handled Top Secret information only, to integrate less-sensitive data.
"While we started ICITE on the Top Secret side, we've expanded recently to the Secret fabric and we are working to integrate and architect the unclassified and Five Eyes levels," Sherman said. "We had to start somewhere, on Top Secret, but realized we must strengthen all these domains while likewise ensuring more robust edge capabilities."