IT Dashboard data on federal website functionality runs into technical hiccups
GSA "discovered" that federal website URLs were producing false negatives, which were eventually published.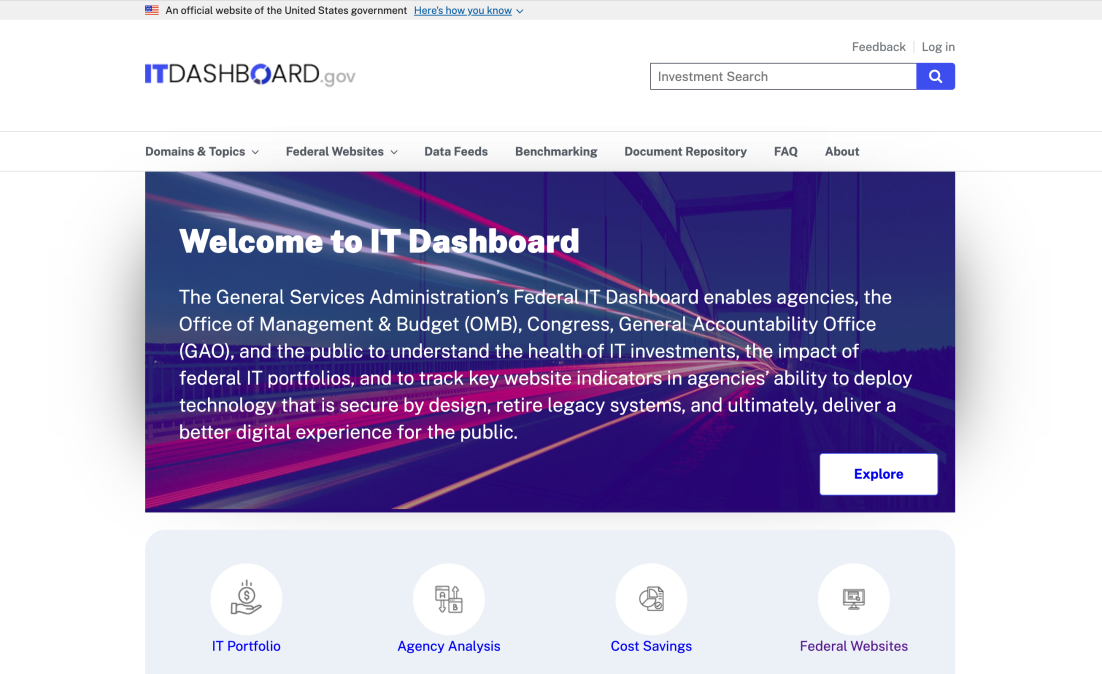 The Federal IT Dashboard, a public government website that tracks the progress and health of federal technology investments, removed published data on agency website performance after the General Services Administration discovered issues with the way that it was collected.
The IT Dashboard tracks metrics related to federal websites such as accessibility, web security, design, and mobile-friendliness. The data is supposed to be published weekly, according to an agency frequently-asked-questions list, and is generated by a scanning program designed to analyze federal government websites.
Originally launched in 2009, the IT Dashboard is meant to shine a "light onto the performance and spending of IT investments," the site explains.
GSA told FedScoop that, before mid-August, it was "discovered" that federal website URLs were producing false negatives, which were eventually published. The agency said that after an investigation and coordination with the Office of Management and Budget's Office of the Federal CIO, the system was adjusted "so as to not falsely depict a negative rating on a given metric when the actual issue was simply a failure to scan the URL."
"Prior to August 15, 2023, it was discovered that a number of URLs were returning false negative results for some of the website metrics and, in turn, being published as a false negative," Matthew Burrell, a spokesperson for GSA, told FedScoop, which reached out to the agency after observing that some of the data was removed. "We are actively working with our Cloud Service Provider on a few issues that are causing the false negatives," he said, though he didn't specify the cloud provider or what the issues were.
These kinds of issues are a common problem in automated tests, noted Mike Gifford, a senior strategist at CivicActions, a government-focused digital services firm. Gifford said in an email that understanding "the methodology that was used to identify the errors is what is most important" and that "[i]deally you would be able to see it all as an open source repository that would allow everyone to look at it." He added that a system used by the agency, Pa11y, incorporates a default tool that is "less effective" than other configurations.
"Having information hidden away in a FAQ isn't great from a usability perspective," Gifford told FedScoop. "There is no reason not to describe the data where it is being accessed or at least point to the section of the FAQ where additional details are available."
Eric Egan, from the Information Technology and Innovation Foundation, commented that the government is clearly still learning about how to accurately evaluate federal websites, but that it was good that that they're "engaged in such activities."
These tools tend to be used by federal employees, said Adam Hughes, who once worked for GSA as an adviser to the Federal CIO Council and is now the founder and president of GovNavigators, a government consulting firm. He said the system brought up questions about the ways these platforms are ultimately used to help improve federal government website customer experience and accessibility.
"This kind of stuff happens. Automated scanning tools? They break, things go awry. Websites come on and they've got to be recalibrated. GSA has been doing this for a long time," said Hughes. "This is also a very simple scanning tool. This is not super complex stuff, so why did it break?"
FedScoop reached out to some agencies with low federal website accessibility numbers on the IT Dashboard to ask about their performance.
"Please note that there are a number of sites listed in the referenced report that are not public facing, for example acceptance or demo environments of a site, or sites that are only accessible to NSF staff," said a spokesperson for the National Science Foundation. "There are also sites that are listed that are effectively retired, such as those with 'beta' in the domain."
The NSF spokesperson added that the department is working on exceeding accessibility requirements as it transitions from legacy web systems to systems that are compliant with the official United States Web Design System.
It's been a top priority of both the Trump and Biden administrations since 2018 to improve the experience of citizens who access federal services — for the same reason, the tracking of federal website metrics is a top element on the Federal IT Dashboard. The 21st Century Integrated Digital Experience Act (IDEA Act) set requirements for agencies to modernize their websites, digitize services and forms, and accelerate the use of e-signatures, among other things.
But progress meeting those goals has been slow, with some current and former federal officials telling FedScoop recently that challenges are the result of misalignment among the Biden administration's top tech teams, including GSA, the Office of Management and Budget, and the U.S. Digital Service.