Suzette Kent teases new modernization efforts coming in 2019
Federal CIO Suzette Kent said that additional workforce reskilling initiatives and new AI policies will be major objectives for OMB in 2019.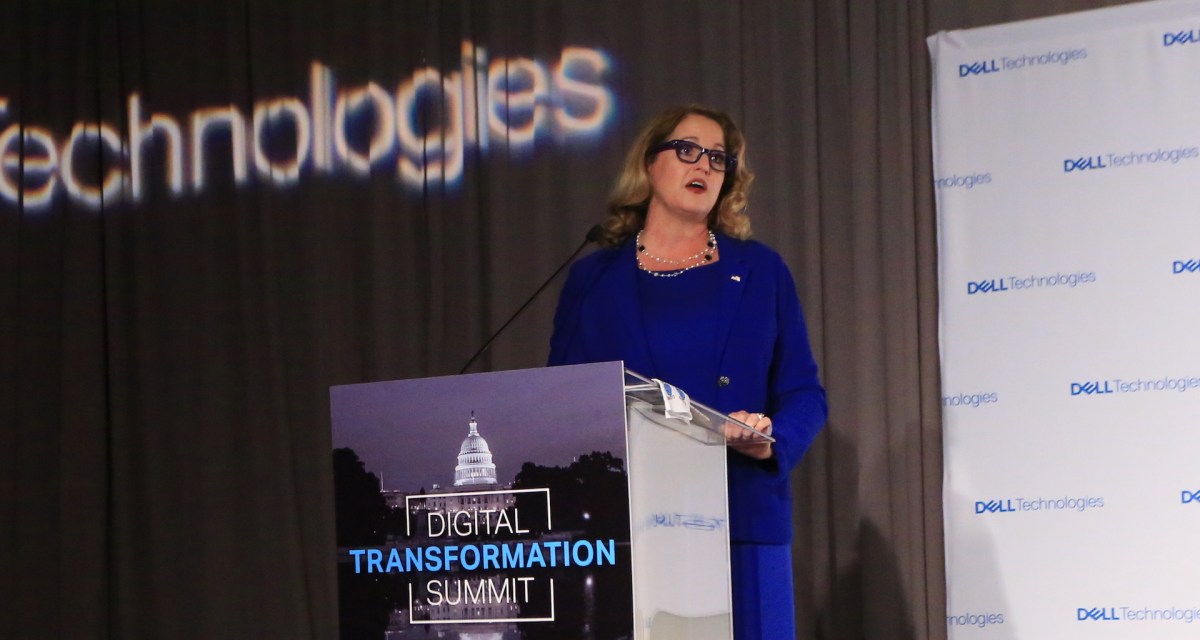 Federal CIO Suzette Kent knows the government's modernization efforts are far from complete, but she stopped briefly Thursday to appraise the milestones achieved in 2018 and spotlight what's ahead in 2019.
"In reflection, 2018 was a year of action," Kent said at the ATARC Federal Technology Modernization Summit. "Part of my challenge in being here in the last 10 months was to build a relationship and a roadmap for partnering with the agencies to deliver on those lofty expectations that we were given in the technology community, both by the administration and by Congress."
So far, Kent said buy-in from federal agency leaders and guidance from the Office of Management and Budget are driving those changes. She noted that OMB has now completed all of the 52 tasks outlined in the 2017 IT modernization report.
Kent said OMB will soon unveil refreshes of policies governing the Trusted Internet Connection and identity access. She also told reporters that the office's focus in 2019 will include new initiatives centered on issues like reskilling the federal workforce and advancing automation and artificial intelligence adoption.
Reskilling
Kent touted the recent launch of the White House's Federal Cybersecurity Reskilling Academy, which aims to take select federal employees not currently working in technology assignments and providing them with new training and skills to fill critical IT and cybersecurity skills gaps.
But the federal CIO said the administration will also launch three additional reskilling initiatives in 2019 — one to provide current IT professionals with additional training to help address skills gaps, a program offering instruction on robotics process automation and a leadership development course to help build a pipeline of senior technology talent.
"If you put all of those together, we're trying to pull every lever for where we have gaps," she said.
She that the programs will be sponsored by the CIO Council but enlist agency partners in a similar fashion to the Federal Cybersecurity Reskilling Academy, which will operate out of the Department of Education. The potential success of those programs could determine whether the CIO Council scales them up governmentwide or allows agencies to incorporate their practices.
"We are using the CIO Council pilot sponsorship as the way that everyone gets to look in and then we are going to make some decisions of what the future of those look like."
AI guardrails
With the growth of robotic process automation and artificial intelligence adoption, Kent said her office is crafting legislation to provide the government with "guardrails" for how to incorporate the technologies and ensure they don't possess bias that runs counter to the mission of agencies.
"Industries that have broadly embraced the use of automated technologies have guidelines for model examination, for how you evaluate data to make sure it's not biased," she said. "We have many agencies that are experimenting, but we don't have that broad scale set of statements yet."
She noted that the Department of Defense and intelligence community were already working on their policies, but OMB will try to address the high-level ethics questions surrounding the incorporation of the technology to accelerate their use.
MGT Act Working Capital Funds
Kent also highlighted the agency engagement around Technology Modernization Fund, which was established this year as part of the Modernizing Government Technology Act as a revolving fund to help finance IT upgrades across the federal government.
The TMF has currently awarded $68.5 million in modernization funding to various agencies and Kent said three of those proposals are currently in the project development phase.
The other aspect of the MGT Act that hasn't achieve as much momentum is agencies setting up their own working capital funds managed by their CIOs and used to help finance future IT projects.
The most recent Federal IT Acquisition Reform Act scorecard noted that only the Department of Labor has established a working capital fund, while the departments of Agriculture and Homeland Security, and the Small Business Administration plan to stand up theirs in the next two years.
Kent said establishing the funds has proven difficult for some agencies, and that the White House and Congress will be providing more assistance to them in 2019.
"The actual process for setting up the working capital funds is not a simple process," she said "I'll be very candid, some of the agencies need assistance in not just how to set it up, but they also have restrictive language in how they fund them and what they can spend it on that needs to get resolved."
Kent stressed the progress made up until this point has been due to the work agencies leaders were willing to do to put the policies in action.