Meet your 2017 FedScoop 50 winners
Wednesday night, FedScoop celebrated its FedScoop 50. Here are the winners.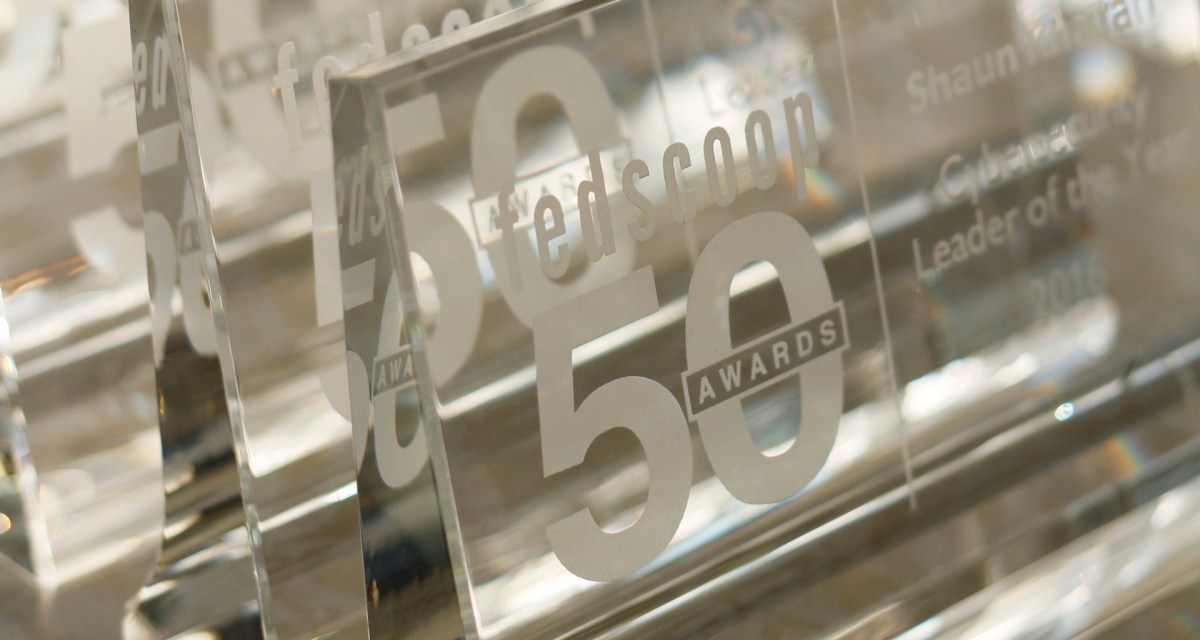 It's that time of year again.
Wednesday night, FedScoop and the Scoop News Group celebrated the FedScoop 50 — the top 50 leaders in the government technology space who've made a lasting impact on the community in the last year.
While the federal IT landscape saw countless changes in the past year, one thing remained unchanged: the tireless dedication and quality of leadership among those responsible for ensuring the systems and technologies that are the backbone of our federal government in the 21st century. While many familiar faces stepped away at the end of the last administration (as tends to happen during a transition), new innovators and trailblazers emerged and picked up where they left off.
"The FedScoop 50 Awards celebrate the significant achievements of the top leaders in the federal IT community," said Goldy Kamali, FedScoop founder and CEO. "The FedScoop 50 awards were created as an opportunity to recognize the extraordinary achievements of the leaders in our community who are doing big things that impact us all."
FedScoop received more than 400,000 votes between August and October to narrow down the top 50 leaders from the thousands of nominees in eight categories.
This year's recipients, alphabetically by each category, are:
Golden Gov: Executive of the Year
Rob Cook, Deputy Commissioner, TTS, GSA
Mary Davie, Deputy Commissioner, FAS, GSA
Lesley Field, Acting Administrator, Federal Procurement Policy, OMB
Sue Gordon, Principal Deputy, Office of the Director of National Intelligence & Deputy Director, NGA
Margie Graves, Acting U.S. CIO, Executive Office of the President
Congressman Will Hurd, R-TX, U.S. House of Representatives
Robert Joyce, Cybersecurity Coordinator, Executive Office of the President
General Alan Lynn, Director & Commander, DISA/DODIN
Bill Marion, CIO & Deputy Director, Plans & Integration, U.S. Air Force
Essye Miller, Deputy CIO, Cybersecurity, Department of Defense
Mike Rogers, Director of NSA, Commander of the U.S. Cyber Command & Chief of Central Security Service, NSA
Grant Schneider, Acting U.S. CISO, Executive Office of the President & Senior Director for Cybersecurity, NSC
David Shulkin, Secretary, Department of Veterans Affairs
Gary Wang, Deputy CIO, U.S. Army
Federal Leadership
Jonathan Alboum, Senior Procurement Official, USDA
Christine Calvosa, Acting CIO, Technology & Resiliency, FCC
Soraya Correa, Chief Procurement Officer, DHS
Matt Cutts, Acting Administrator, USDS
Adrian Gardner, CIO, FEMA
Sanjay Gupta, CTO, Small Business Administration
Frank Koneiczny, CTO, U.S. Air Force
Matt Lira, Special Assistant to the President for Innovation Policy & Initiatives, Executive Office of the President
Rajive Mathur, CIO, Social Security Administration
Paul Morris, CISO, Executive Director, TSA
Tracie Owens, CISO, Office of the Administrative Assistant to the Secretary of the Air Force, U.S. Air Force
Keith Rineaman, Branch Chief, FAS, GSA
Bobby Saxon, CTO, CMS
David Shive, CIO, GSA
Alan Thomas, Commissioner, FAS, GSA
Robin Thottungul, Chief Data Scientist & Director of Analytics, EPA
Frontis Wiggins, CIO, Department of State
Renee Wynn, CIO, NASA
Bill Zielinski, Deputy Assistant Commissioner for Category Management, GSA
Industry Leadership
Kimberly Baker, SVP & GM, Public Sector, Red Seal
Steve Harris, SVP & GM, Federal, Dell EMC
Karina Homme, Senior Director, Microsoft Azure Government, Microsoft
Ken Kartsen, VP of Federal Sales, McAfee
Mike Maiorana, SVP, Public Sector Markets, Verizon
Johnny Overcast, Senior Director, Government Sales, Samsung Electronics America
Dave Rey, EVP, Salesforce
Anthony Robbins, VP of North America Public Sector, NVIDIA
Dave Ryan, Senior Director, Business Development & System Integrators, Government Education & Healthcare, VMware
Brian Strosser, President, DLT Solutions
Chris Townsend, VP, Federal, Symantec
Disruptor of the Year
Neil Bonner, Branch Manager, Agile & Mobile Services, TSA
Cybersecurity Leader of the Year
Greg Crabb, CISO, USPS
Karen Evans, National Director, U.S. Cyber Challenge
Melinda Rogers, CISO, Department of Justice
Tech Champion of the Year
Kristen Honey, Senior Adviser, Office of the CIO, Executive Office of the President, OMB
Justin Herman, Emerging Citizen Technology Lead, GSA
Most Inspiring Up & Comers to Watch
Brandon Pye, Product Manager, PEO EIS, U.S. Army
Innovation of the Year
Continuous Diagnostics & Mitigation, DHS