Air Force's shift to multi-domain operations depends on networks
The future of battle in multi-domain operations "will depend less on discrete warfighting platforms and more on the networks, data and IT infrastructure that binds them all together," acting Secretary Matt Donovan said.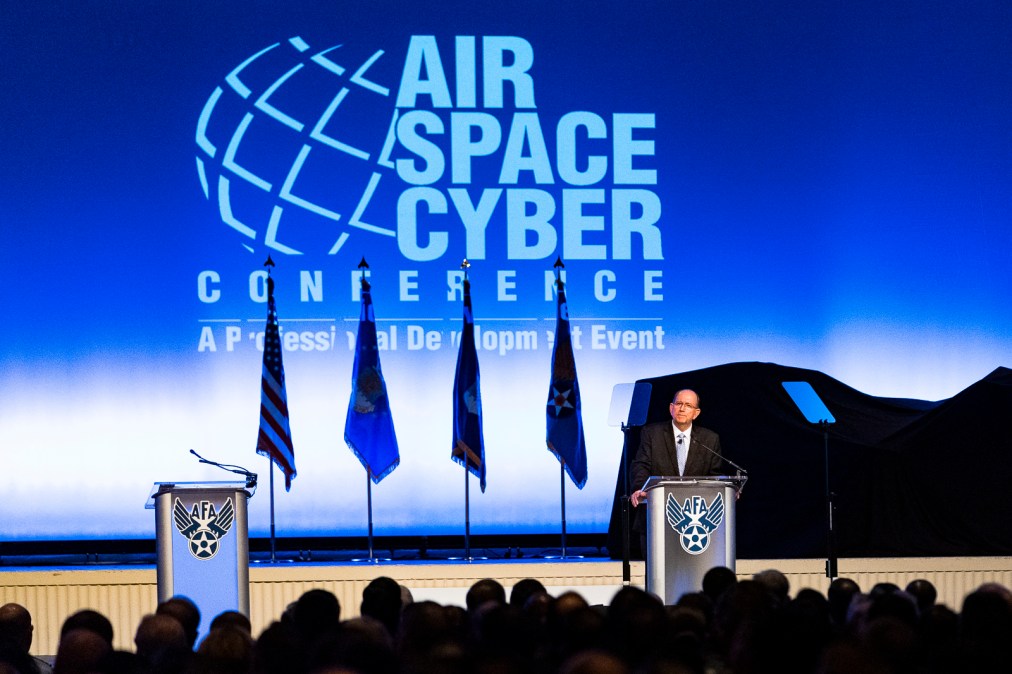 As the Air Force embarks on a new strategy of multi-domain operations, building out a modern network to integrate those disparate domains will be essential, the service's top leadership said this week.
The multi-domain operations strategy looks to link together air, sea, land, space, cyber and information assets to better identify and eliminate threats. Acting Secretary Matt Donovan said the future of battle "will depend less on discrete warfighting platforms and more on the networks, data and IT infrastructure that binds them all together."
"It will take true teamwork across all forces and domains to meet the difficult challenges posed by future adversaries. That is the power of multi-domain operations: In effect, it integrates and synchronizes military activities instead of just seeking to deconflict them. This creates simultaneous dilemmas for our adversaries, overwhelming them with more challenges than they can deal with at one time," Donovan said at the Air Force Association's Air, Space and Cyber Conference.
This strategy will be powered by the Air Force's in-development Advanced Battle Management System — a system-of-systems approach for force integration and information sharing.
"The Advanced Battle Management System, or ABMS, is our first real step in operationalizing this type of command and control required for multi-domain operations," Donovan explained. "Instead of relying on one specific platform for future command and control, we're developing a robust, open-architecture family of systems that includes air, ground, remotely piloted and space assets, and synchronizing them onto a single network."
'Connecting every sensor to every shooter'
Indeed, the network is key, said Air Force Chief of Staff Gen. David Goldfein, and for multi-domain operations to work for the force of the future, the service today must build out that network and change its way of thinking around it.
"I don't actually know standing here today what's going to actually go in the bay of that B-52 or that X-37" or in the weapons systems of the future, said Goldfein, the Air Force's top uniformed official. "Nor do we have to. … Our job is to connect them. Our job is to build the network and to build the highway that these platforms and sensors and weapons are going to ride on to be able to do the work" needed in the digital age.
Donovan echoed that point: "The key is not the individual platform. The key is connecting every sensor to every shooter."
This will require the Air Force shift its thinking from "platform-centric" to "network-centric," Goldfein said. "The questions for us is can we look beyond the devices, can we look beyond the trucks, can we look beyond the platforms and actually focus on the highway we've built for the future?"
Recently, Goldfein traveled to Silicon Valley, where described himself to major tech companies as the "chief of staff of a garage startup," he said. He continued that analogy this, calling the Air Force a hardware startup — i.e. planes, weapons, sensors —that needs to evolve into a software startup.
"We're a garage startup, and today we're sort of a hardware company: platforms, sensors and weapons," he said. "And I'm here because our future is in software. It ain't going to be the device that wins. It's going to be the app. And the questions for us is how do we build the highway to be able to work it?"
This all feeds into the service's Digital Air Force Initiative, in which IT modernization is a key element. The Air Force is partnering with commercial providers to develop the network it needs under its enterprise-IT-as-a-service initiative.
Donovan summed up this future state of the Air Force well. "How do we develop the app that sits on the cloud that's powered by AI that's connected to the warfighter?"
"The same technologies that are revolutionizing business and commerce, such as smartphones, cloud computing and artificial intelligence, are equally influencing the future of war," he said.