HHS roundtable highlights priorities for applying data to the opioid crisis
Joel Gurin and Katarin Rebello of CODE highlight the key findings of a recent HHS roundtable on open data and the opioid crisis.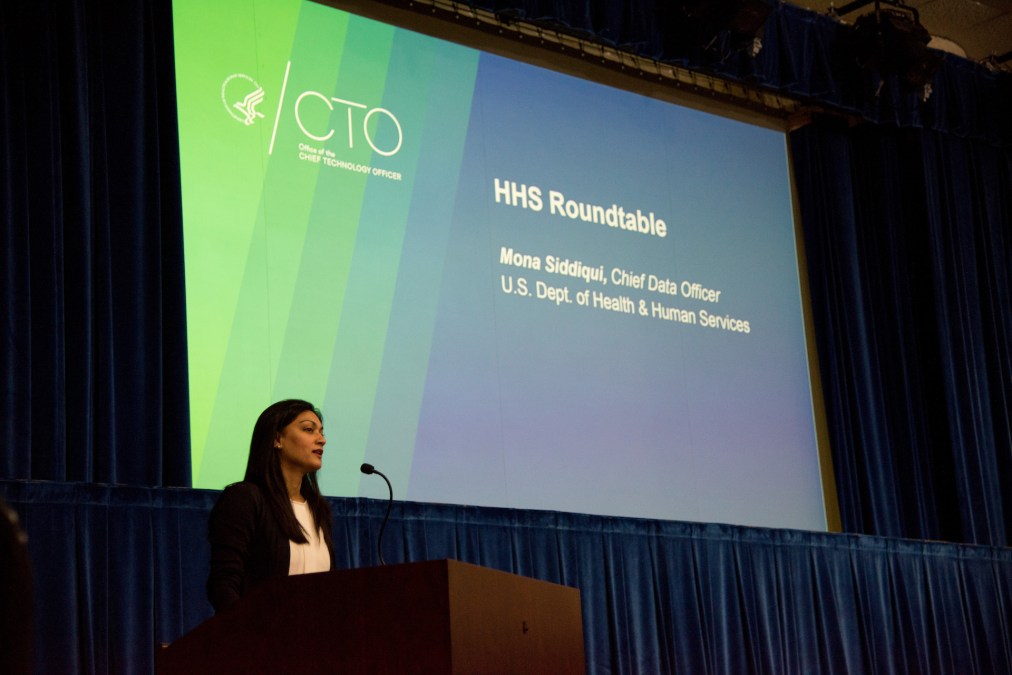 A major objective for the U.S. Department of Health and Human Services (HHS) is applying data to what may be America's most urgent public health crisis: the nationwide opioid epidemic. In December 2017, the HHS Office of the Chief Technology Officer (CTO) hosted an Opioid Symposium and Code-a-Thon, where teams used government data to develop innovative tools and platforms that tackle the opioid crisis in different ways.
Building on this momentum, the HHS Office of the CTO and the nonprofit Center for Open Data Enterprise (CODE) co-hosted a Roundtable on Data Sharing Policies, Data-Driven Solutions, and the Opioid Crisis in July 2018. CODE has just released its report on this event, which brought together over 70 experts from federal, state, and local government, the private sector, nonprofits and academia.
The roundtable included keynotes from HHS Chief Data Officer Mona Siddiqui, HHS CTO Ed Simcox, and HHS Associate Deputy Secretary Charles Keckler, as well as presentations from data innovators, including winners of the Opioid Code-a-Thon: Telesphora and Origami Innovations, the Visionist Inc., and F3 Healthcare. All of these teams used data to address challenges related to opioid prevention, treatment, and use, ranging from helping the public locate drug take-back centers to tracking fentanyl overdoses in local communities.
CODE's new roundtable report recommends ways to improve how health data is used and shared so that other data-driven approaches to combating the opioid crisis can be developed more quickly and effectively. These recommendations, drawn from breakout sessions with participating experts at the roundtable, included several actionable next steps.
Repeal 42 CFR Part 2 and protect substance abuse information under HIPAA requirements. Roundtable participants proposed repealing Title 42 of the Code of Federal Regulations (CFR) Part 2, which places constraints on the use of data related to patients who abuse opioids and other substances. While there have recently been calls to amend 42 CFR Part 2, participants in the Roundtable noted that the regulation could be repealed and that patients would still have adequate protections under the Health Insurance Portability and Accountability Act (HIPAA).
Educate stakeholders on the potential for data sharing under HIPAA. Different government agencies interpret and apply HIPAA in different ways, and many protect data more stringently than the law requires, which unnecessarily restricts research. Roundtable participants recommended that HHS provide new resources to help assuage concerns about HIPAA and promote the sharing of essential health data. For example, HHS could hold workshops on data sharing under HIPAA and provide online tools and resources that easily explain when data can and cannot be shared.
Establish standard data usage agreements. Standard Data Usage Agreements (DUAs) would greatly reduce the amount of time and effort required to successfully share data between and within agencies. These DUAs would allow federal and state agencies to quickly and easily arrange for inter-agency data sharing to address the opioid epidemic and other public health emergencies.
Update the Model Vital Statistics Law. The Model Vital Statistics Law (MVSL), which establishes a standard for all vital statistics including birth and death certificates in the United States, has not been updated in over 20 years. Modernizing the MVSL will help to ensure that there is an improved procedure for updating vital record systems. It does not currently encourage automated data entry and linkage, or provide guidance on when and how data should be shared. Updating the law would make it easier to link death records with data on opioid overdoses, and would greatly improve interoperability between health records systems at the state and local level.
Adopt common data standards. Common data standards are needed to enable policymakers and researchers to integrate data from multiple sources and develop solutions to time-sensitive public health crises. Participants pointed to successes like the National Information Exchange Model (NIEM) and the Common Data Model (CDM) developed through the Patient-Centered Outcomes Research Institute's PCORnet effort. In the context of health and the opioid crisis, participants suggested starting with developing common standards for Prescription Drug Monitoring Program (PDMP) data, which includes rich information about substance abuse but is not easily shared between states. Developing common standards for PDMP data could then serve as a proof-of-concept for future work to improve data standards across the board.
Provide controlled access to sensitive public health data. Participants recommended that HHS Office of the CTO could establish a working group to facilitate controlled access to sensitive public health data and encourage data sharing between government, clinical, and academic organizations. Access would be contingent upon a credentialing system to ensure that sensitive data is only made available to qualified researchers. By providing controlled access to sensitive data, the government could help incubate and accelerate data-driven solutions to the opioid crisis.
Generate a unique patient identifier for health data. Having a unique identifier for each patient would help deliver healthcare to individual patients more effectively, and help researchers and policymakers develop better solutions to public health crises. Using such an identifier would enable practitioners to bring together information about a patient from different sources, equipping them with information to make more informed decisions about treatment, prescription, and follow-up. Policymakers would also be able to track and identify risk factors across time, space, and health intervention, enabling them to craft more effective policies that reduce overdose risks and save lives.
These recommendations, which reflect the collective ideas of a wide range of health and policy experts, could help create new data-driven solutions to address the opioid crisis. They fit into a broader effort by HHS to encourage data sharing for the public good. Today, the HHS Office of the CTO released a report on its own internal study of ways to share data more effectively between its agencies. With a strong commitment from HHS and ongoing input from the Department's stakeholders, there is great potential to use data-driven approaches to improve America's health and well-being.
Joel Gurin is President of the Center for Open Data Enterprise, where Katarina Rebello is Director of Programs. The Center thanks its Open Data Partner, PCORI, and its Open Data Supporters, Booz Allen Hamilton and IEEE, for supporting its work on this Roundtable.