Sen. Schumer's first AI insight forum focuses on 2024 election, federal regulators
More than 65 senators and top tech CEOs debated openness and transparency for AI systems at the first meeting, among other key issues.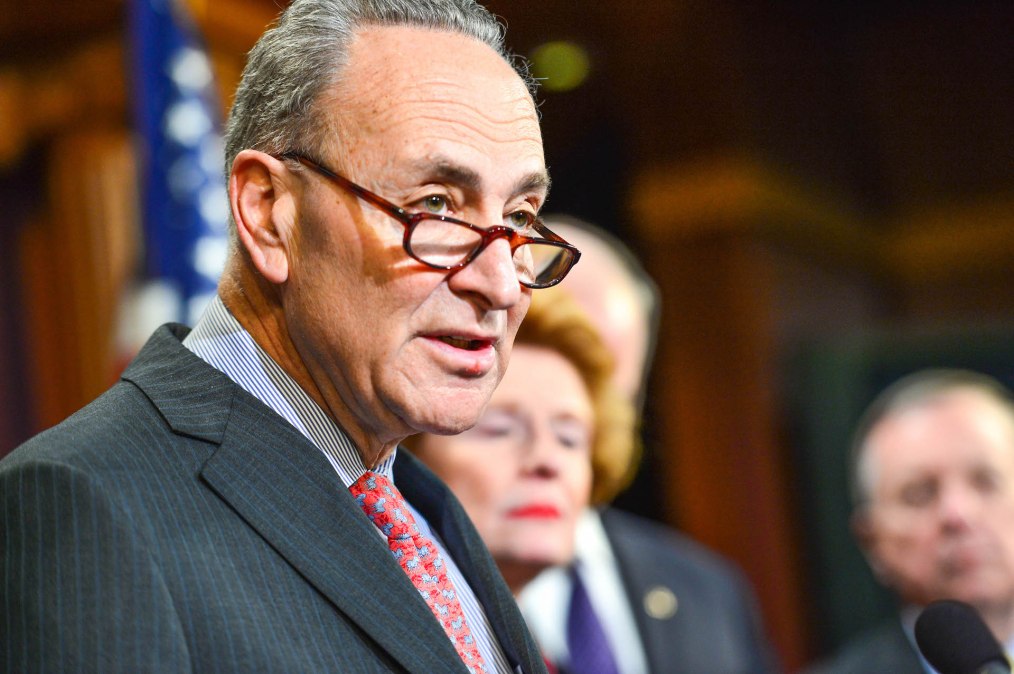 Two-thirds of the Senate along with top tech CEOs and labor and civil rights leaders gathered Wednesday on Capitol Hill to discuss the major AI issues affecting the world and to start sharing preliminary ideas on how the federal government could help solve them.
Senate Majority Leader Chuck Schumer's first closed-door AI insight forum focused on issues including national security, privacy, high-risk applications, bias, and the implications of AI for the workforce, gathering those bullish on AI as well as skeptics and critics of the technology.
"The things we discussed were open AI, and the pros and cons of that, then health care — the amazing potential that AI could have in health care," Schumer told reporters after the first of his nine planned AI insight forums.
"We talked about election law and the need to do something fairly immediate, before the election. We talked about the displacement of workers, both the training of workers into the new AI jobs but also what we do about displaced workers who might lose their jobs or have diminished jobs," Schumer added. "We talked about who the regulators should be – lots of different decisions and questions about that. We talked about the need for immigration. We talked about transparency."
The AI insight forum included tech industry leaders like Google CEO Sundar Pichai; Tesla, X and SpaceX CEO Elon Musk; NVIDIA President Jensen Huang; Meta founder and CEO Mark Zuckerberg; technologist and Google alum Eric Schmidt; OpenAI CEO Sam Altman; and Microsoft CEO Satya Nadella, along with representatives from labor and civil rights advocacy groups.
Schumer said that tackling issues around AI-generated content that is fake or deceptive that can lead to widespread misinformation and disinformation was the most time-sensitive problem to solve due to the upcoming 2024 presidential election.
"There's the issue of actually having deepfakes, where people really believe … that a candidate is saying something when they're totally a creation of AI," said Schumer.
"We talked about watermarking … that one has a quicker timetable maybe than some of the others and it's very important to do," Schumer added.
The top Democrat in the Senate said there was much discussion during the meeting about the creation of a new AI agency and that there was also debate about how to use some of the existing federal agencies to regulate AI.
South Dakota Sen. Mike Rounds, Schumer's Republican counterpart in leading the bipartisan AI forums, said: "We've got to have the ability to provide good information to regulators. And it doesn't mean that every single agency has to have all of the top-end, high-quality of professionals but we need that group of professionals who can be shared across the different agencies when it comes to AI."
Although there were no significant voluntary commitments made during the first AI insight forum, tech leaders who participated in the forum said there was much debate around how open and transparent AI developers and those using AI in the federal government will be required to be.
"I think the main debates during the forum were around openness and transparency for AI systems based on where it is and where it will go in the future," Clément Delangue, CEO of Hugging Face, an AI startup focused on open-source, for-profit machine learning platforms, told FedScoop after the forum.
"We emphasize the importance of openness and transparency because we believe open systems are the way to distribute power and distribute value. We think it's important for the U.S. to create tens of millions of jobs in AI," Delangue added. "To do that, you need open systems, because like companies, especially small companies, they can't start from scratch. They need to work based on the science and the models and the datasets that are available for them. Open systems also kind of like create more inclusiveness for everyone to be at the table, participate."
Rounds said the forums were a way for the U.S. to urgently take leadership on AI regulations and policy-making alongside its existing dominance in development of AI products and tools.
"We need to be the leaders in the international community. And we have the opportunity, we're there now. We don't want to lose that," Rounds told reporters. "And that means that we become the place where we create but we also share in many cases with the rest of the world, that maintains our leadership that came across very strong today as well."
Some participants told FedScoop that there was much more agreement than disagreement in the room regarding AI challenges and policymaking.
"I think this was a framing conversation regarding the AI problems, because the following sessions we'll get into, I think, more detail and try to work out proposals," Eric Fanning, president and CEO of Aerospace Industries Association, told FedScoop during an interview after the forum.
"This was a chance to sort of see where people are more aligned, or maybe less aligned. But I think, on the big issues, there'll be a lot of alignment," said Fanning. "It just was illuminating the different ways, the different perspectives that were brought to the table and the debates. There's a lot of work to be done. It's not going to be an easy thing. Because there's lots of different philosophies on open versus closed, for example."