At VA Center for Innovation's Demo Day, Shulkin gives five tips to would-be innovators
Shulkin also weighed in with his love for the TV show Shark Tank.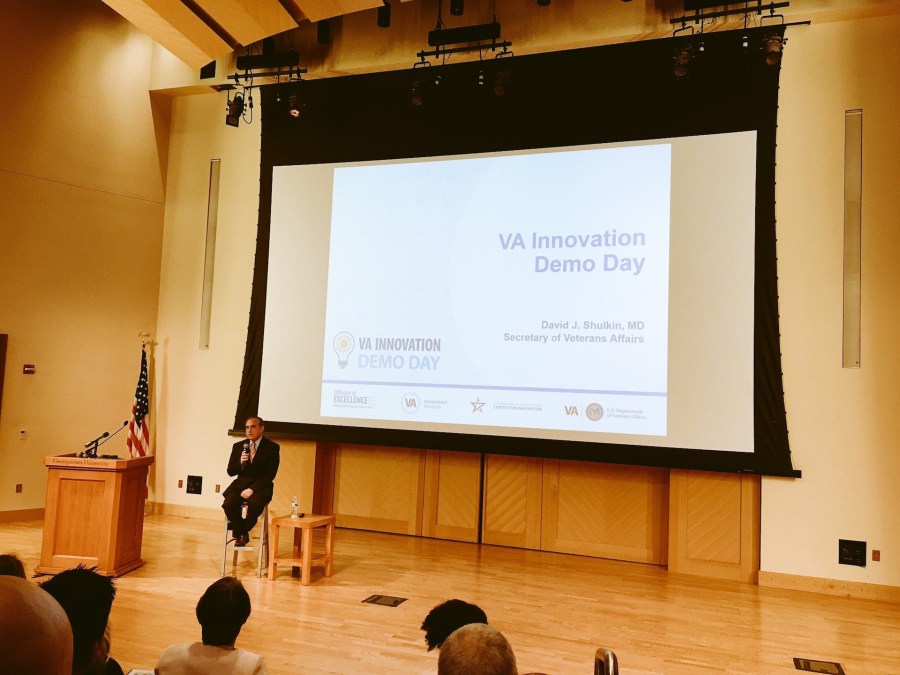 "My favorite TV show is 'Shark Tank,'" David Shulkin, secretary of Veterans Affairs, told the crowd gathered at Georgetown University, many of whom were minutes away from seeing an approximation of the ABC show.
Why "Shark Tank?" Because on the show and in innovation, Shulkin said, only those solving a real-world need survive.
Tuesday marked the VA Center for Innovation's second annual Demo Day, an opportunity for VA providers from across the country to pitch innovative solutions they've developed and tested to panels of agency leaders and outside experts.
In three-minute increments, almost 100 VA insiders explained the nuts and bolts of their big ideas. The expert "sharks," then, had two minutes to provide questions and commentary. Pitches included teams improving cancer treatment with automated care and appointment reminders, teams using regression analysis to identify populations at risk of not adhering to a treatment schedule, a team developing a program for eye care through telemedicine and more. The programs ranged from early-stage ideas to scale-ready systems.
It was sort of like a cross between a startup pitch competition and a series of miniature health care TED Talks, and the day started with a few words from Shulkin.
When he took his job, Shulkin said, he faced a difficult moment of reckoning. Is it even possible to fix the VA? The country's largest integrated health care system isn't exactly known for speed and efficiency. Shulkin told the audience he thinks it can be improved, though, with the help of some outside-the-box thinking in five key areas.
Shulkin called on the "innovators" present to specifically seek out ways to:
Give veterans more choice,
Improve the timeliness of service,
Modernize VA facilities and IT,
Narrow agency focus on "foundational" VA services like PTSD treatment and
Reduce veteran suicides.
"This is really where we need you to innovate on," he said. The subtext? When it comes to the "Shark Tank" of the Department of Veterans Affairs, focusing in on one or more of these five areas is what will bring home the win — and the grant money necessary to make a pet pilot project something more.
All of the projects demoed on Tuesday will now develop a personalized deployment or diffusion plan, depending on what stage they're in, a VACI spokesperson told FedScoop. Some are still in need of further user testing and feedback, while others are ready to put together a plan for national deployment. The timeline depends on the project specifics: Of the 33 projects displayed at last year's Demo Day, 21 have been successfully implemented, according to a VA press release.