Will Hurd: MGT Act will show who best federal CIOs are
"Not all 24 CFO Act agencies are going to be in a position to take advantage of MGT, period. And that's problematic," Hurd said.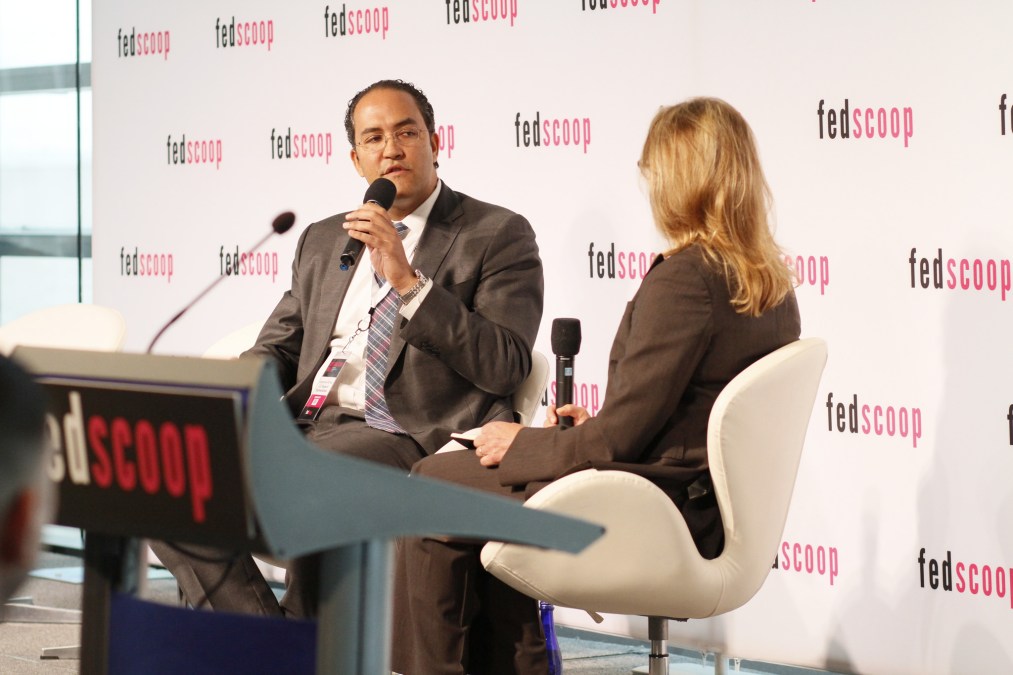 With the Modernizing Government Technology Act making solid progress in Congress, Rep. Will Hurd sees a big test ahead for top-level federal CIOs.
There are varying levels of readiness at the 24 agencies that will be most affected by the IT modernization legislation, the Texas Republican said Monday at the Professional Services Council's Tech Trends Conference, and the government is about to find out which ones have the best CIOs.
"I think over time there will be a correlation between the folks using MGT and the quality of that CIO," said Hurd, the chairman of the House Oversight and Government Reform Subcommittee on IT. "I think the CIO that has built an organization that can take advantage of this is, I think, going to be folks that we see as some of the best in class. And those folks that are coming into tough situations, I think, are going to be able to see this as a real opportunity to change the game."
The MGT Act isn't yet law, but it's closer than it has been all year after passing the Senate last week as an amendment to the 2017 National Defense Authorization Act. Prior to that, the bill passed in the House by voice vote in May. It's possible that House-Senate negotiators on the defense bill will include the MGT Act in their final version.
As the legislation gets closer to the president's desk, Hurd has been checking in on CIOs to see if they're prepared to use the new tool, which allows the 24 agencies covered by the CFO Act to put money saved through IT efficiencies into working capital funds to fund efforts to modernize their technology. It also would create a centralized fund agencies can tap into for modernization.
It could more than year before the federal government would begin to see any results from the bill, he said.
"We've been working closely with [the Office of Management and Budget], working closely the Office of American Innovation on tweaking the MGT bill based on how they want to use it," he said. "Now we have to make sure that the CIOs are going to take advantage of this as quickly as possible to start building up that working capital fund in order to keep modernization going."
However, it's also become apparent that "not all 24 CFO Act agencies are going to be in a position to take advantage of MGT, period. And that's problematic," Hurd said.
One thing he plans to do after passage of the bill is update the scorecard that his House Oversight and Government Reform IT Subcommittee issues regularly on implementation of the Federal IT Acquisition Reform Act. It will reflect agencies' usage of the modernization working capital funds, he said, and it will eventually gauge agencies' total digital hygiene moreso than just their compliance with FITARA.
"Whether or not you use and take advantage of the MGT, I think, is an indication of where your thought process or capabilities are when it comes to modernization," Hurd said.
Speaking of FITARA, he said passage of the MGT Act will continue to spark tense financial conversations about CIO authorities.
"Oh, and guess what: Shocker. We're going to have fights between CIOs, CFOs and agency heads," Hurd said.
"FITARA really is a good piece of legislation for giving the CIO powers they need," he said. "But they don't have complete control over what happens in their organization. So, [we're going to use the MGT Act] to continue to shine a light on that, and bringing the CFO and the deputy agency head or the agency head to ask these questions is a way to force that the senior leaders of the organization understand modernization."
It doesn't help either that many federal CIOs are serving in an acting capacity, Hurd said.
"I think everybody would say we wished there were more permanent people in the position," he said. "If you're not permanent, you're not going to…probably do anything earth shattering, and that's unfortunate. But guess what? These are realities we have… This is a problem we're probably going to deal with for the next couple of months, but it can't stop what we have to do."