Amazon 'unwaveringly committed' to government customers despite employee protests, Teresa Carlson says
"We are unwaveringly in support of our law enforcement, defense and intelligence community," Teresa Carlson said.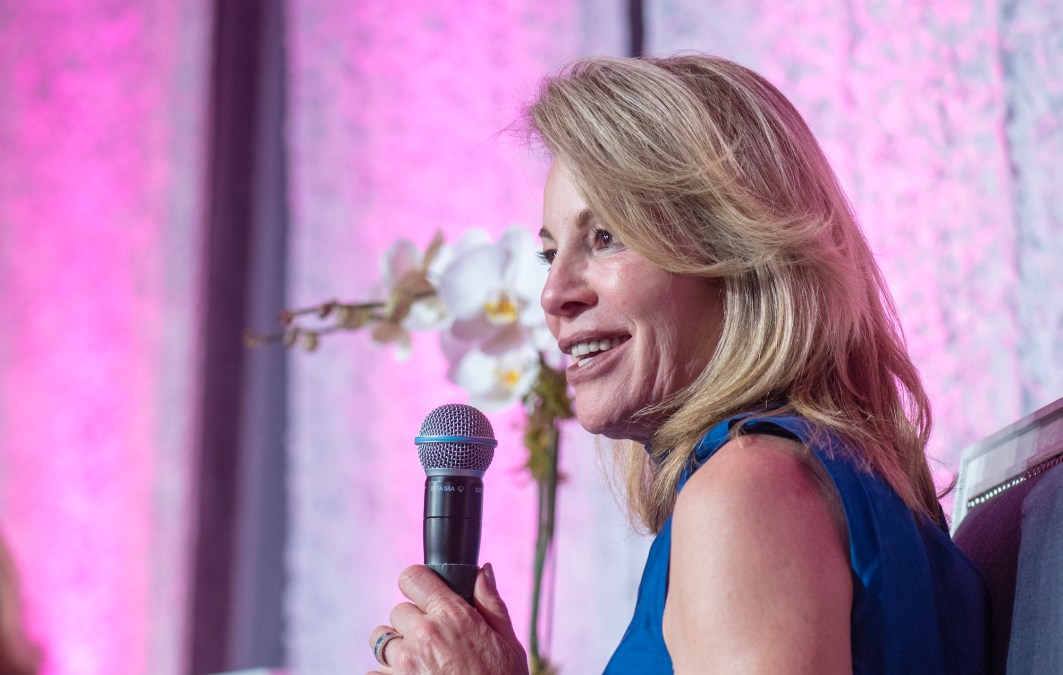 As many Amazon employees protest selling facial recognition technology to the government, the head of the company's public sector cloud computing business said the team remains "unwaveringly" committed to the U.S. government.
"We are unwaveringly in support of our law enforcement, defense and intelligence community," Teresa Carlson, vice president of worldwide public sector for Amazon Web Services, said July20 at the Aspen Security Forum in Colorado.
Asked if the business has "drawn any red lines" around its government work with the news of the protests of its Amazon Rekognition facial recognition software, Carlson said no.
"We provide them the tools, we don't provide the solution application that they build," she said. "And we often don't know everything they're actually utilizing the tool for. But they need to have the most innovative and cutting-edge tools they can."
Amazon hasn't been alone in receiving backlash from its employees and the public for supporting politically charged government programs with its emerging technologies. But it does seem to be dealing with that ethical backlash differently than some of its Silicon Valley competitors.
Microsoft also faced public scrutiny and employee protests for a blog post touting its cloud contract with Immigration and Customs Enforcement, which it said could support "deep learning capabilities to accelerate facial recognition and identification." When word began to get out about it amid the Mexican border crisis, the company deleted the statement. The deletion was noticed by the public, and the company returned the post to normal. Microsoft has since cleared the air, saying that although the contract could support ICE's facial recognition efforts, it currently isn't. The company says it is in favor of government regulation of the technology.
Google has similarly stepped back its work on the Defense Department's controversial Project Maven, the Air Force-led project through which the company offered artificial intelligence and machine learning technology to help analysts make better use of full-motion video surveillance. Thousands of Google employees reportedly signed an internal letter expressing concern over the kind of lethal power the program would grant the Pentagon. Google says it won't renew the contract when it expires in 2019.
'Right tools for the right job'
Speaking about Rekognition in particular, Carlson said there will always be "bad actors" and "we've got to make sure as a nation … people should have a voice and tools should always be used ethically." She acknowledged there are also "ethical use rights" behind such products, "so when the government signs up with us, they still have to have ethical use rights of our tool. So if they're breaking the law, they're doing something, we would pull that for those reasons. And they sign up and they know the use rights of our tools as well."
"Rekognition is such a great tool and it's being used for such great things," she said, pointing to a nonprofit group called Thorn that uses the facial recognition technology for its Spotlight tool to "find children who are being sexually exploited." Carlson explained how challenging — both emotionally and logistically — that process can be, saying "If you can use [artificial intelligence] and machine learning tools to automate that process through recognition of children, that's a good thing."
Carlson stood firmly behind her belief that it is in the United States' best interest to sort out the ethics of emerging technologies, because "we cannot let our adversaries have better tools than we have to defend our nation. So I think that's where we stand in terms of the right tools for the right job when it's necessary." At the same time, she also reasoned, "employees need a voice."
AWS, meanwhile, is a strong contender for the Defense Department's landmark, multibillion-dollar Joint Enterprise Defense Infrastructure commercial cloud contract. While that contract has hit a bit of a pause of late as new CIO Dana Deasy conducts a "full review" of the acquisition, Carlson sat down recently with FedScoop for an exclusive interview to discuss how AWS hopes to support the Pentagon and why she believes its decision to pursue a single award "is a good thing."