Rep. Ken Buck: federal agencies should reconsider future Amazon contract awards
The senior Republican lawmaker says agencies should reassess future contract awards to the tech giant in response to allegations of monopolistic conduct.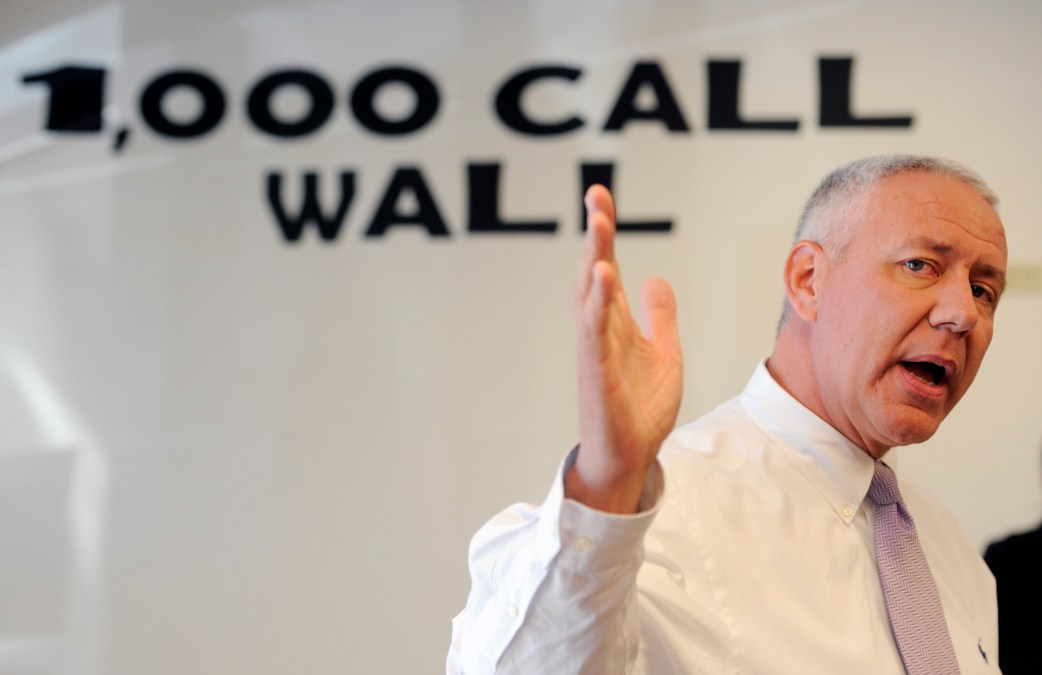 Representative Ken Buck, R-Colo., one of the most prominent anti-Big Tech crusaders in Congress, is calling for the federal government to consider halting the award of future major contracts with tech giant Amazon in response to long-standing allegations of monopolistic conduct.
Buck is a senior lawmaker who has urged the Defense Department to further investigate whether Amazon improperly influenced the procurement process for the Joint Enterprise Defense Infrastructure (JEDI) contract for cloud computing services and has been stonewalled in his attempts to get answers from the company itself.
In a recent interview with FedScoop, Buck talked about his new book on the matter — "Crushed: Big Tech's War on Free Speech" – highlighting why government officials should be concerned about unfair monopolistic conduct by Big Tech companies and areas where the federal government could do more to hold the tech giants accountable.
Buck has repeatedly hammered Amazon for unduly favoring its own products on its website or creating cheaper copycats of existing products using internal data which he says is grossly unfair and illegal while he also supports bipartisan legislation that has been introduced in Congress that would prevent Amazon from such conduct.
"I do think that continuing to give Amazon huge government contracts at a time when they've acted in this way is really suspect. We should think twice about it," Buck said during a wide-ranging interview with FedScoop.
"What Congress can do and certainly what inspectors general can do is to look at the way Amazon has conducted themselves in the bidding process for a contract. And if they have broken laws which they may have, they can be debarred from government contracts," he added.
Buck highlighted that federal civilian agencies as well as intelligence agency employees should be aware of Amazon's anti-competitive activities in the consumer realm because "Amazon is constantly getting large government [cloud] contracts. They use the profits from those large government contracts to subsidize their retail business. Then in their retail business they engage in predatory pricing against their third party vendors to try to wipe them out which is wrong."
For the past two years, Buck was the top Republican on the powerful House antitrust subcommittee and has played a key role in forging a bipartisan agreement in Congress that would rein in Big Tech companies such as Google, Amazon, Facebook, and Apple for anti competitive activities.
Buck highlighted he is no longer the chair of the antitrust subcommittee and so cannot determine what Congress investigates although he hopes the new committee chairman Rep. Thomas Massie, R-KY., will work with him on these Big Tech issues he has spearheaded.
Nevertheless, he would like to use his perch within the Republican party and his new book to place pressure on Amazon to change its behavior or at the least be more transparent with Congress about its actions, particularly around major government contracts.
Buck and Sen. Mike Lee, R-UT., in 2021 aggressively called on Amazon CEO Jeff Bezos and the Acting Inspector General of the Department of Defense Sean O'Donnell to investigate whether Amazon violated antitrust or ethics laws by attempting to influence the procurement process for the JEDI contract for cloud computing services for the Defense Department.
Buck told FedScoop that although Amazon has not engaged sincerely with him regarding his investigation into JEDI and stonewalled his attempts to get answers he remains deeply concerned about Amazon's unethical behavior around JEDI and wants to put pressure on them to open up regarding their conduct.
"I can certainly send them another letter, but they're not going to take it very seriously," he said.
Instead, Buck said that he urges the Defense Department to continue investigating Amazon's actions around the JEDI contact.
The Pentagon's Inspector General (IG) in April 2020 published a long-anticipated 300-plus-page report on the JEDI procurement to probe potential conflicts of interest raised in the early stages of the acquisition process.
The probe ultimately found that personnel who evaluated proposals for the contract were not pressured by the Trump White House to award the deal to Microsoft over Amazon and that the use of a single-award contract was legal.
The Defense Department IG report has since received sustained criticism from Republicans including Buck and Sen. Chuck Grassley, R-IA., who called it "bureaucratic whitewashing" in a scathing letter to the DOD's Inspector General in January 2022.
Buck has also referred Amazon's anti competitive practices in the consumer realm to the Justice Department for a criminal investigation.
Buck is pushing the DOJ to look into potentially criminal conduct by Amazon and its senior executives due to Amazon's "pattern and practice" of misleading conduct that appeared designed to "influence, obstruct, or impede" the House antitrust subcommittee's investigation into competition in digital markets.
"What the Department of Justice is doing hopefully will bear fruit," Buck said.