American Technology Council's call to 'modernize' is a familiar refrain
Don't look now, but the Trump administration seems to have found an Obama-era government policy it'd like to keep around: modernizing government IT.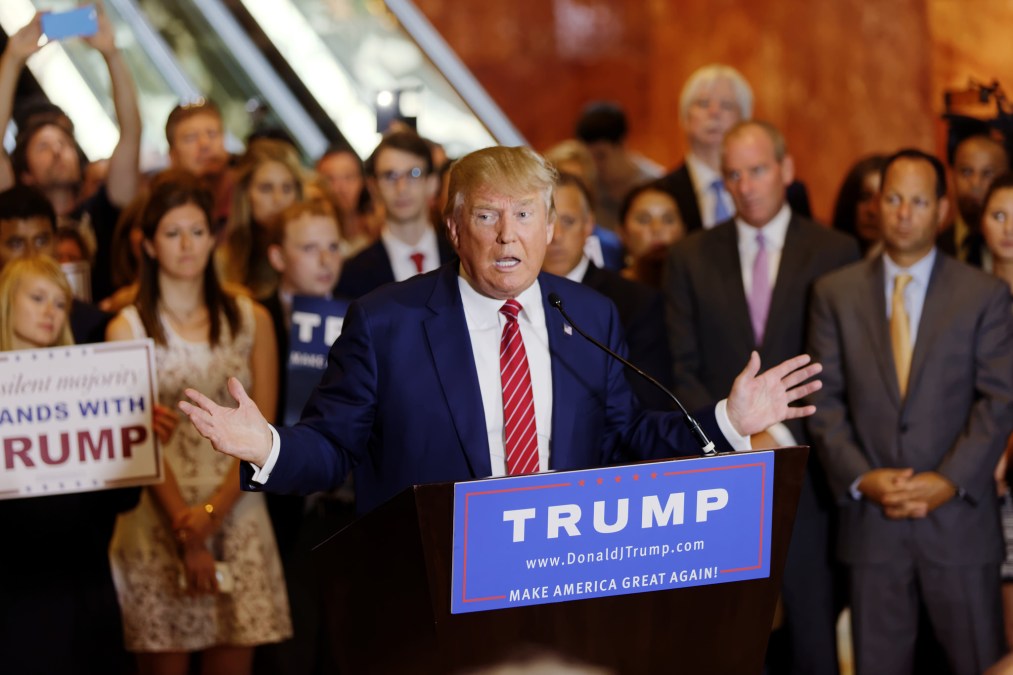 Don't look now, but the Trump administration seems to have found an Obama-era government policy it'd like to keep around: modernizing government IT.
On Monday, President Trump's American Technology Council met for the first time. The room was filled with leaders from government, academia and tech, including big Silicon Valley names, like Apple CEO Tim Cook and Amazon CEO Jeff Bezos.
"Our goal is to lead a sweeping transformation of our government's technology," Trump told the gathered crowd in his opening comments. Modern government IT systems will provide better services for citizens, greater protection against cyberattacks and a lot of taxpayer savings, he added. His comments, especially on the potential savings, echoed those made by Chris Liddell at FedTalks.
And this isn't just talk, Trump said. His administration is already working on specific modernization projects. By way of example the president mentioned how the government is fixing the way veteran's medical records are sent from the Department of Defense to the Department of Veterans Affairs, ensuring that doctors at VA hospitals and other non-military facilities have easy access to veterans' electronic medical history when they leave service.
"We'll have it fixed very soon," Trump said, referring to the transfer process that he said has "been a problem for many, many decades."
This issue may sound familiar — the Pentagon and VA have been working to achieve electronic health record interoperability since the 1990s, and DOD has recently enlisted the Defense Digital Service to find a solution. The DDS, of course, is an agency arm of the U.S. Digital Service, which was created by President Obama in 2014.
That said, there's been movement on the issue since Trump took office too. Earlier this month, VA Secretary David Shulkin announced that the department will transition to the same electronic health record system as the DOD — a big step in better coordination between the two agencies.
The continuity in policy is noteworthy for an administration that has been otherwise largely non-continuous. Just in the past month President Trump has withdrawn from the Paris climate accords and set in motion a course reversal on Cuba, walking back Obama administration priorities in both areas.
But when it comes to tech, at least so far, Trump seems to want many of the same things Obama did. Tony Scott, former U.S. CIO during the latter years of Obama administration who was at the summit Monday, told FedScoop he was "not too surprised" by the similarities in Trump's priorities compared those of his predecessor.
"If anything I'd say I'm pleasantly surprised," he said. "At the end of the day good IT is good IT."
Aaron Snow, co-founder and former executive director of 18F, agrees that this is exactly how it should be. "I'm happy that the work is continuing," he told FedScoop. "The results are far more important than anything else."
Snow added that 18F has tried to remain outside the realm of politics from the start, specifically to encourage this kind of continuity. "18F's process for project evaluation and selection has always been nonpartisan," he said. "I hope it stays that way to ensure there will always be a team helping our government build and buy digital that's focused on delivery and effectiveness, not politics."
But politics is never far from view. Tesla CEO Elon Musk grabbed headlines when he stepped down from various Trump advisory councils after Trump announced his intention to withdraw from the Paris accords. Musk wasn't present at Monday's meeting. Also noticeably absent was Facebook CEO Mark Zuckerberg — the company cited scheduling conflicts.
In this climate, Code For America founder Jennifer Pahlka wrote a Washington Post op-ed and a Medium post sharing why she chose to attend the meeting, despite her personal disagreement with various Trump policies.
"Decisions are made by those who show up," she wrote on Medium. "Government is supposed to serve the people, not the person who sits in the Oval Office. If I am to act in accordance with that belief, I need to show up and speak up for that principle, and for the ways we've learned to put that principle into practice."