Americans deserve government tech that delivers
GSA Administrator Robin Carnahan explains how her agency is committed to ensuring government technology works for everyone and taking responsibility when things go wrong.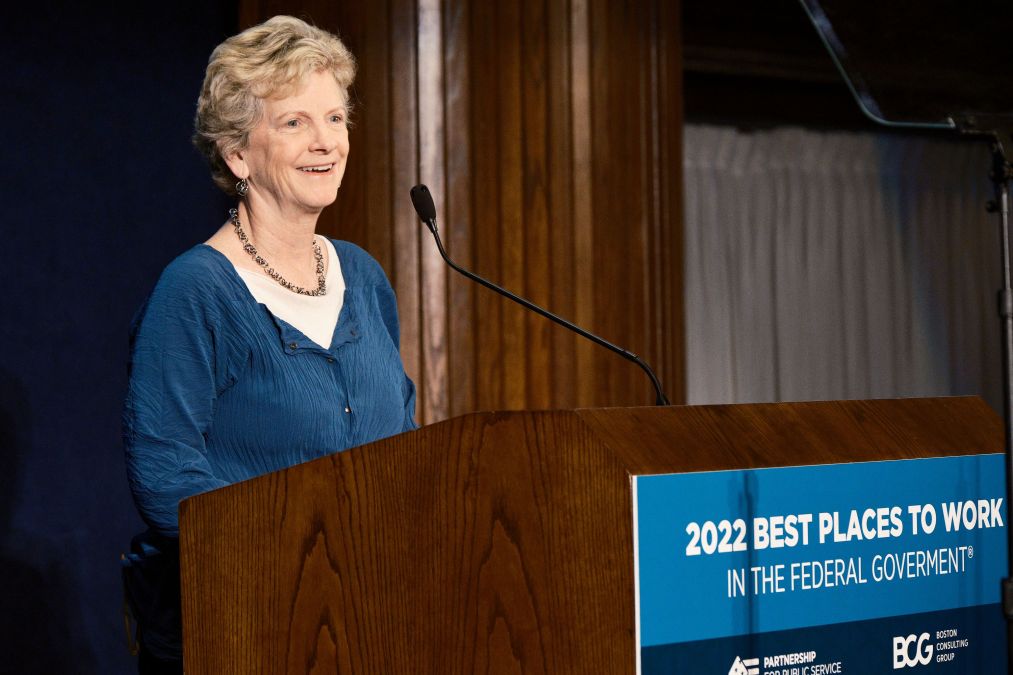 As we emerge from the pandemic, millions more Americans have come to rely on digital delivery of services, including those from government. They expect publicly funded technology and websites that they can trust. They want interactions to be simple, streamlined, and secure. And that's exactly what they deserve.
At the U.S. General Services Administration, which I lead, our Technology Transformation Services (TTS) works across government to help federal agencies meet that expectation. This work represents an essential component of what has always been GSA's core mission: helping government deliver efficiently and cost-effectively for the American people. In other words, providing a strong digital infrastructure that gives the public what they need is a natural evolution of GSA's long-standing work to deliver value through federal acquisitions and real estate.
As we do this work, we're guided by some fundamental principles. We believe government websites should work for all Americans, including vulnerable communities. We believe government technology should be developed for the public benefit, not private gain, and that individuals – not corporations – should control access to their own sensitive information.
Above all, we believe that accessible, equitable, and secure digital infrastructure – developed for the public by an accountable government – is vital to delivering the services Americans need, when they need them.
Our commitment to accountability also means owning up to mistakes and taking responsibility when we fail to meet the high standards taxpayers expect and deserve.
For example, over a year ago, GSA leadership found out that Login.gov, a secure sign-on service operated out of TTS, had been representing that it was compliant with a technology standard when, in fact, it wasn't.
Misrepresentations like that are unacceptable, and we spent the last year working to bolster trust and transparency with Login.gov customers, to strengthen oversight and management controls, and to take other steps to prevent something like that from happening again. This included alerting the Inspector General, putting in place new leadership, and improving the Login.gov product offering. As a result, Login.gov is now stronger than ever — offering enhanced anti-fraud controls, 24×7 bilingual customer support, and in-person identity verification at over 18,000 U.S. Postal Service Post Office locations nationwide.
We know there is still work to be done to restore trust with our customers and the public, and I'm committed to seeing that work through and to delivering secure, effective, and accessible digital services to the millions of people we serve.
The ability of the American people to securely and equitably interact with their government online is critically important, and we are committed to making sure government technology works for everyone, including those who need it the most.
That's why we're working in a comprehensive way to strengthen and expand our technology programs so they can deliver even more effectively for the American people.
We established a new Technology Law Division within the Office of the General Counsel to support programs like Login.gov. We're strengthening the leadership team TTS-wide, hiring a new TTS director in December and, this month, a new deputy director and a new senior adviser for operations. And we're ramping up our efforts to deliver impactful, lasting solutions that save money for taxpayers and help agency partners deliver excellent customer experiences for the American people — from veterans seeking healthcare to seniors accessing Social Security benefits to farmers and ranchers needing consistent and streamlined information.
After all, technological advances in areas like artificial intelligence make it more important than ever that our government recruits talented, dedicated technologists to thoughtfully and responsibly buy, build, and oversee government technology in ways that are consistent with our values and serve the public interest.
Turning away from that responsibility is not an option, and this administration will continue to scale up its commitment to technology modernization as we prepare for the future.
Robin Carnahan currently serves as Administrator of the U.S. General Services Administration.