Army's newest command looks to the future from downtown Austin
Gen. John Murray will lead Army Futures Command after receiving a fourth star. It's the latest move by the military to grow its presence in the Texas capital.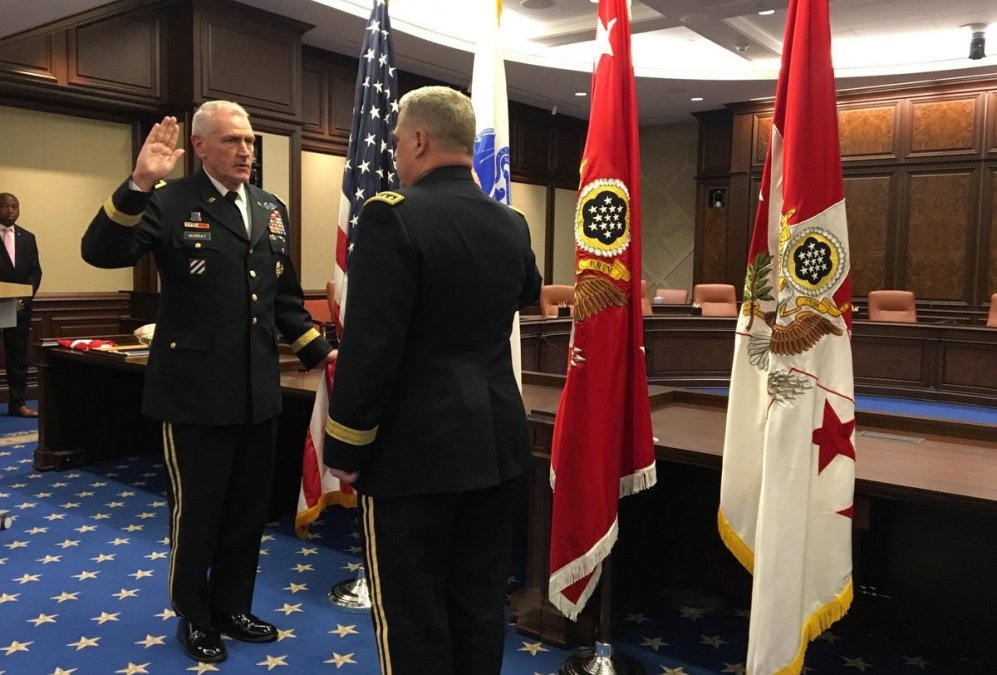 The new command devoted to modernizing the Army can officially get to work.
At a ceremony Friday in downtown Austin, Army Futures Command began its mission. Earlier in the day, John Murray, its leader, was promoted to four-star general. The Senate confirmed Murray's appointment earlier this week.
"For too long we have focused only on cost, schedule and performance," Murray said Friday in his remarks. "We must now also focus on value. Value to the young men and women that will be operating the equipment we build, and utilizing the concepts we develop."
The new command, as Army Secretary Mark Esper described it in July remarks from the Pentagon, is "consolidating the Army's entire modernization process under one roof." One of the factors driving the decision to create the command, Esper said at the time, is recognizing that in today's environment the service must be able to design, develop, test and procure more quickly and more affordably than it has in the past.
Army Futures Command will be focused broadly on advancing the service's six modernization priorities: long-range precision fires; the next generation combat vehicle; a future vertical lift platform; the Army network; air and missile defense; and soldier lethality, according to an Army publication.
Friday marked the "activation" of the command, but it's just the first step, Army Chief of Staff Gen. Mark Milley said Friday in a press conference. The Army has said it's shooting for "full operational capability" around summer 2019, by which point the headquarters would have about 500 personnel.
"What AFC looks like now may not be what AFC looks like in a year, or two years," Esper said during Friday's press conference. "I think what we have to do is be willing to operate in the grey for some number of time as the commander figures out what is the best organizational structure to help him accomplish his mission?"
The command will have about 75,000 square feet of space at three different locations in the city, according to an Army publication.
"Its footprint will include a 20,000-square-foot incubator hub, where 100 personnel from the command will work with small and large companies as well as entrepreneurs to develop technology to help modernize the Army," according to that Aug. 15 publication.
Army Futures Command joins several other Defense organizations in Austin. AFWERX opened a new hub this summer, joining the Defense Innovation Unit at Capital Factory, a co-working space.
Locating the command in Austin, Esper said Friday, "demonstrates the type of bold change needed to excel in today's complex environment."
Austin Mayor Steve Adler said that the city's culture is one of several reasons it was chosen — the community in general is innovative, creative and entrepreneurial, "and bottom line, it's weird."
"'Keep Austin Weird' means to me that in this city it's OK to take risks," Adler said. "It's OK to fail in this city so long as you do it quickly, and then you innovate and you iterate and you keep trying until you succeed."
Murray said Friday he is actually returning to Texas. His family has spent a collective 10 years or so there, he said.
"I'm absolutely convinced that the singlemost key to our success will be our ability to tap into the talent, the entrepreneurial spirit and the access to key partners that are present today in Austin," the newly-minted commander said.
The Army started with 150 prospective cities to choose from for the new command, before narrowing down to five: Austin, Boston, Minneapolis, Philadelphia and Raleigh.
The Army announced in July that it had selected Austin for the command's headquarters, noting in a video that Austin had been chosen for its "quality of life and proximity to commercial technology, research and development, and academic innovation."
In remarks on Friday, Gov. Greg Abbott said the selection is a "natural partnership" given what he called a "long enduring bond" between the State of Texas and the U.S. military.
"And Austin, Texas, and the University of Texas have become the epicenter of innovation and transformative technology," Abbott said. "This headquarters takes the next step in the shared mission that we all have been working towards."