Code for America's Pahlka debunks govtech myths, takes on Oracle at SXSW
Government "absolutely" will still work with vendors, she said. "They just need a different set of rules."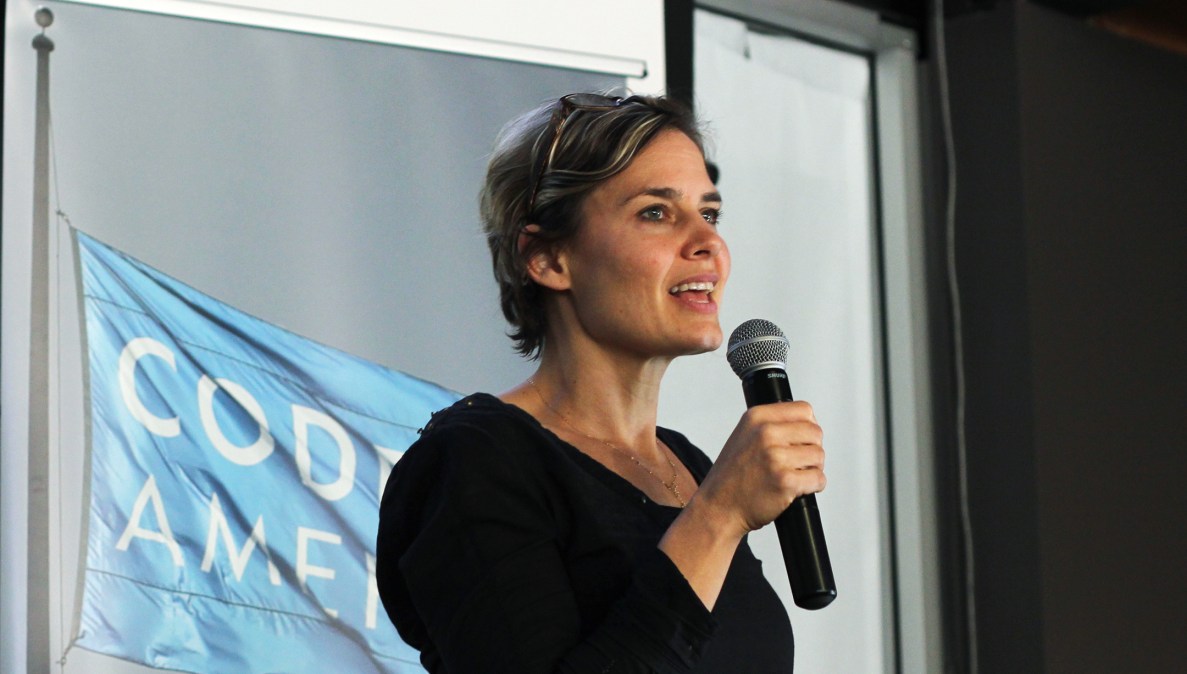 To make change in government, you often have to be willing to "do a debunking of myths," Code for America Founder and Executive Director Jennifer Pahlka said Friday at South by Southwest.
During her talk "We Must Fix Government Now: It's Up to Us," Pahlka did a little debunking of her own, criticizing vendors who she says have discouraged government from developing its own tech talent and from changing its ways of doing business.
Pahlka in particular challenged Oracle for public comments it submitted last year to the Trump administration regarding IT modernization. The letter the company filed caught attention and criticism at the time, FedScoop previously reported.
Kenneth Glueck, a senior vice president at Oracle, wrote in the company's submission that there were three "false narratives" steering the government off course. Among them, Oracle described "In-house government IT development know-how is critical for IT modernization" as a perpetuated false narrative.
"In-house government procurement and program management expertise is central to successful modernization efforts," Glueck said. "Significant IT development expertise is not."
Pahlka, who also wrote a Medium post last year criticizing the comments, lambasted the viewpoint as false during her talk in Austin.
"Those folks who are saying government should not have technology talent, should not build capacity and competence in digital — yeah that's an un-American thing to say, that's saying that our government should be incompetent," Pahlka said. "And I think we really have to start standing up to that and saying 'Sorry, we the people disagree, and we're going to keep going.' And your elected officials need your backing."
Oracle is "actively lobbying," through this particular comment and through other efforts at the local, state and federal levels, "to make sure that the ways don't change, because they profit from it very well," Pahlka said.
When asked for comment on Pahlka's statement, Oracle replied by criticizing a major government cloud services competitor.
Oracle isn't the only party dragging its heels on change, Pahlka said, but she added that "most" government technology vendors "are actually pretty happy about the changes."
What changes are necessary? Throughout her talk Pahlka gave examples of how a user-centered, iterative, data-driven approaches lead to much better technology and solutions that actually work.
"You really have to get out there and work with people through their concerns about change," Pahlka said.
Often public servants may think a new approach is illegal, she said.
"It's not illegal. It's not illegal to do an agile procurement. It's not illegal to talk to users," she said. "But many public servants had been told that so long that you have to really show them, no here's how it works. And it takes a while. It takes a long time."
Advocates for change need to "democratize" and "demystify" concepts like user-centered design, and help government realize anyone can do it, Pahlka said.
Many government officials are good at procurement, she said, citing as an example that the Department of Defense has "over 100,000 procurement officers." A DOD spokesperson, however, couldn't confirm that figure.
"So you have these 100,000 procurement officers who know how to do it the old way, and we really have to make them feel like they can be valuable in the new way," she said. "And they absolutely can. There's just tons of evidence of this."
But Pahlka said this problem isn't solved by just taking "10,000 coders," and putting them into government.
"Because you're not going to do much coding," she said. "It's to take people with digital skills and user-centered design, and put them in, and help them get these procurements right."
During her talk, Pahlka also attempted to dispel another "false" narrative: the idea that if digital service teams are created "in every level of government," they are going to take over all of the government's software development. She called that theory "crazy."
What they will do, she said, is make government better at building and buying technology.
"And also help government think about technology not as something that you just buy, but as digital services that you run," she said. "That you don't build it once and just hope it works, but that you have the capacity to change it over time, whether it's your technology or your policy, and that those things can change together when you realize what's not working."
Government "absolutely" will still work with vendors, she added. "They just need a different set of rules."