OPM's Pon wants broad direct-hire authority for STEM, cybersecurity jobs
The OPM director said he hoped to infuse agencies with more flexibility to attain top technology talent.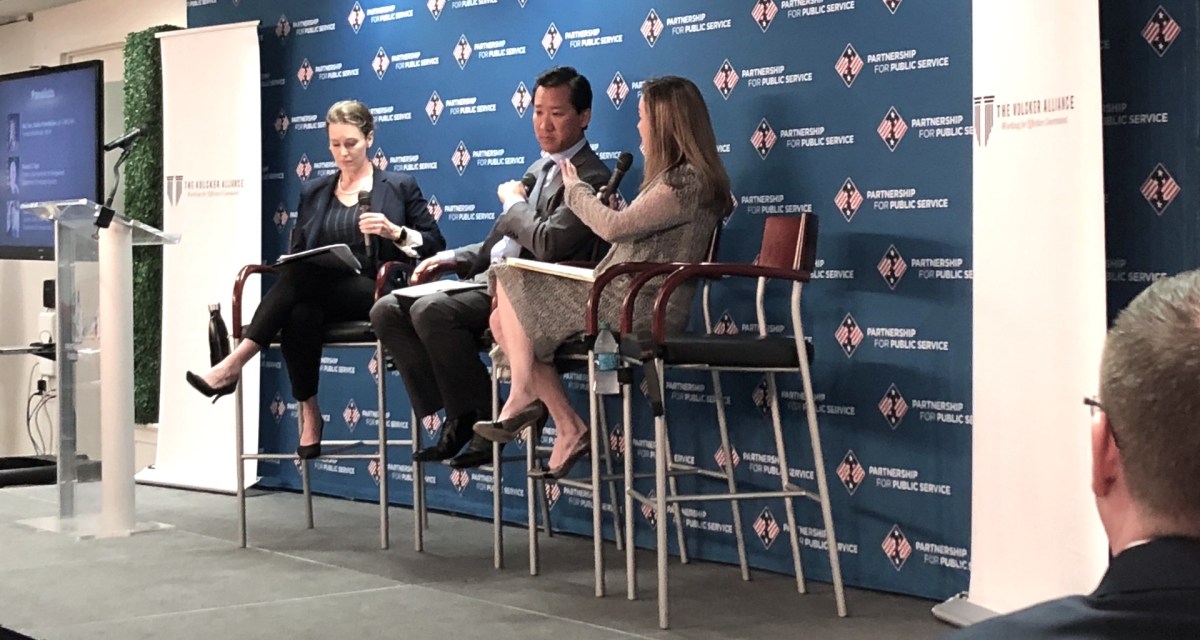 Office of Personnel Management Director Jeff Pon said Wednesday that part of his efforts to overhaul the civil service system will include broadening hiring authorities, starting with defense and intelligence-related agencies looking to procure more STEM talent.
Pon said that OPM would soon be "making an announcement" about providing more direct-hire authority when it comes to science, technology, engineering and mathematics-based positions, but didn't specify which agencies in the defense and intelligence communities would receive it.
OPM can grant direct hire authority to agencies who have a "severe shortage of candidates" for certain positions, allowing them to suspend veterans' preference and "Rule of Three" policies that require agencies to rank qualified military veterans alongside nonveteran job seekers and award a job to one of the top three candidates based on a scoring system.
By granting direct-hire authority on a broader basis, Pon said he hoped to infuse the agencies with more flexibility to attain talent that is in heavy demand and will help drive the goals of President's Management Agenda.
"We are going to be making a big push," Pon said at the Partnership for Public Service's Public Service Town Hall, joined by the Office of Management and Budget's deputy director for management, Margaret Weichert. "We are not giving up merit-systems principles. We are going to enhance veterans' practices of hiring, but we need to make sure we have these agencies lead with the new skills that we need in the federal government."
The PMA ties goals to reform the civil service and its compensation system to efforts to upgrade the federal government's IT, data and cybersecurity infrastructure. But with technology talent in short supply, Pon said that OPM would soon be rolling out a number of executive hiring initiatives while also pushing for "aggressive" legislative reforms.
Citing the success of direct-hire authorities being used at the Department of Homeland Security to fill cybersecurity positions, Pon said he would be looking at how to expand them through legislative vehicles like the annual National Defense Authorization Act, as well as funding bills tied to DHS and the Department of Veteran Affairs.
"Why wouldn't I have, as the director of OPM, the power to do that for the rest of government," he said. "If we are changing many of the things [surrounding hiring], should we do it piecemeal, agency by agency or occupation by occupation? I intend to do that with some of the authorities of OPM, but there's also the power of the president with executive orders and also agencywide type of authorities."
The OPM director said the moves are intended not only to bring the civil service's 40-year-old talent framework closer to market compensation and flexibility, but also provide incentives to bring STEM talent to the government straight from college.
"We need to make sure we have like a GI bill for certain critical occupations and start getting partnerships with our colleges, universities and two-year vocational schools and start having them come on-board noncompetitively," he said.
And while Pon has proposed reskilling current federal employees to fill technology jobs, attendees noted that the proposals come as the Trump administration has called for freezing federal employee pay and cutting retirement benefits in fiscal 2019.
The OPM director said he was collaborating with employee unions on the policies, but stressed the importance of driving for the reforms while there was the momentum to get them done.
"I need to make sure we keep on making progress every single day, because there is a window of opportunity for us to change the civil service and make sure we accomplish the things in the PMA," he said.