USAID administrator: E-gov app played key role in securing funds for Ukraine
Samantha Power says Ukraine's Diia app helped to allay lawmakers' concerns because of the unprecedented insight it provides on how funds are distributed.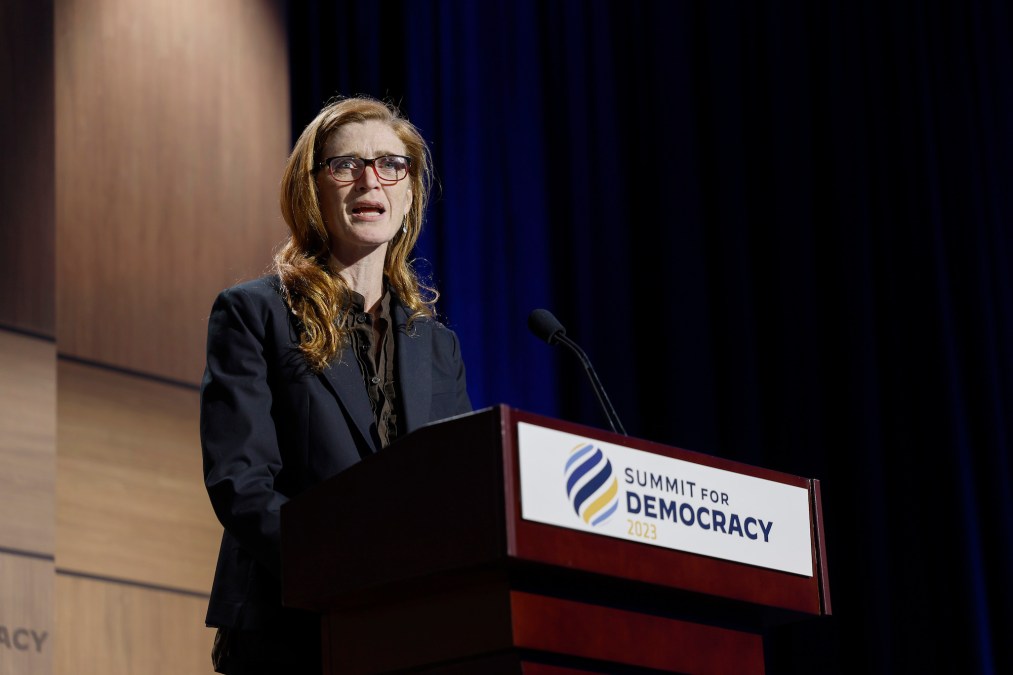 An e-government application built with support from the U.S. government and American technology companies played a crucial role in securing financial support from Congress for Ukraine, according to the administrator of the U.S. Agency for International Development.
Speaking at an event Tuesday focused on Ukraine's Diia application, Samantha Power said the app, which is used by about 19 million Ukrainians, helped to allay lawmakers' concerns because of the unprecedented transparency it provides on how aid funding is spent.
Diia is a so-called "super-app," which allows Ukrainian citizens to access services ranging from filing taxes and registering marriages to reporting damage caused by Russian missiles from their smartphones.
"One of the things Congress has given USAID since this full-scale invasion began is an unprecedented amount money in direct budget support, which sounds kind of obvious – of course we want to do that we want to stand with Ukraine – but [this kind of investment is] totally unprecedented," Power said.
She added: "I don't know if we could have gotten that money out of Congress, if not for Diia. What Diia allows us to do is that direct budget support goes yes to the Ukrainian government but then it goes to pay teachers, to pay health care workers, to pay first responders. And there's a digital trail. It's not, you know, some official deciding this or that. It is going directly into the bank accounts in a manner that would have been untraceable in a prior regime."
Since the invasion of Ukraine in February 2022, the U.S. government has provided over $20 billion in development and humanitarian assistance to the country through USAID.
Diia, which was first established as a prototype in 2016 and launched in its current form in 2020, allows Ukrainians to access a wide array of government services from their smartphones. In addition to the digital civic services it enables, it also allows the Ukrainian government to make direct tax transfers to citizens securely.
Ukraine also expanded the app's use cases for since the Russian invasion to include a service for reporting any recorded movements of Russian Federal tanks and troops. Diia also has a portal through which Ukrainian citizens can report damage to homes and buildings, allowing the government to provide swift reimbursement for reconstruction work.
Officials say that such technology has helped to stamp out corruption in major sectors by disintermediating government officials where possible.
Speaking alongside Power at the launch event, Ukrainian Deputy Prime Minister and Minister for Digital Innovation Fedorov said: "[W]hat we are focused on right now – our task – is to remove the role of human agency in those services where corruption risks are the highest. What we are trying to accomplish is that information that needs to be verified and shared in the registries is done automatically without human involvement."
Fedorov added: "So, when an individual wants to start a construction [project[ and they file an application for a permit, registries automatically verify — one registry talks to another registry to see if there are any restrictions imposed for certain construction. So it's impossible that there will be a subjective decision of an official to say: 'I'm not going to allow this.' The principle of our work is all services are launched automatically. You can always arrange it in such a way so that the human factor can be minimized."
Editor's note, 5/25/23: This story was updated to clarify that the U.S. government has provided more than $20 billion in support to Ukraine through USAID since February 2022.