EPA CISO Kelley says recent health IT developments inspired his move to Leidos
It turns out the thing that made Sean Kelley want to leave the federal government is the same thing that got him into it in the first place: health care.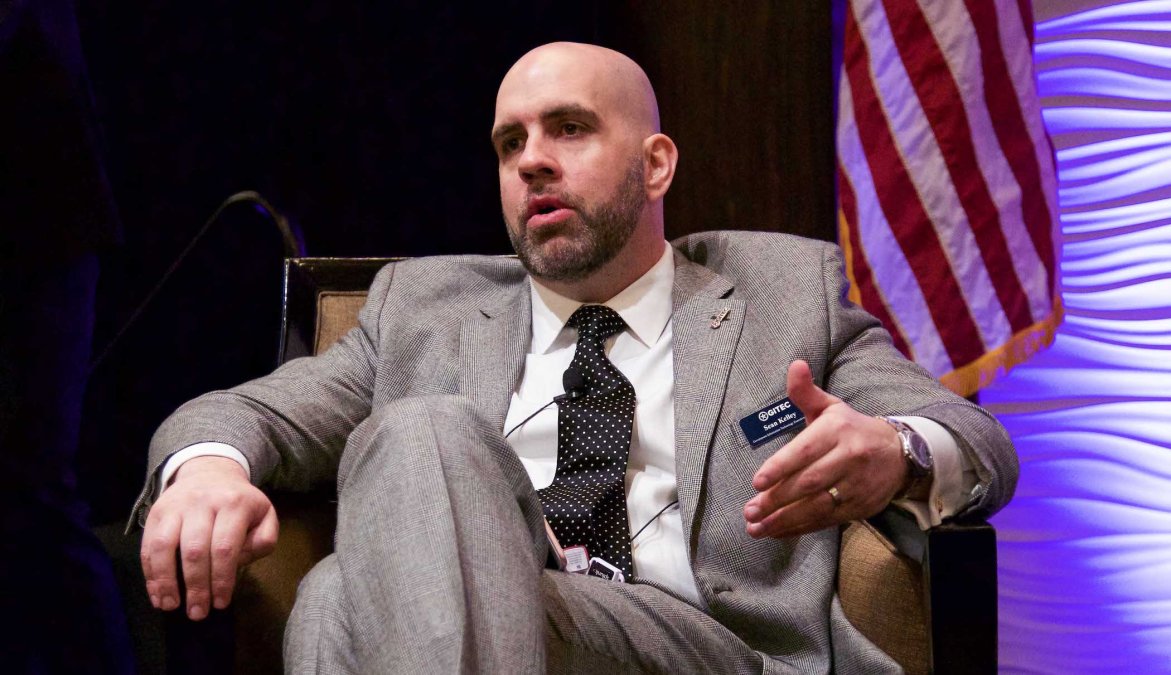 It turns out the thing that made Sean Kelley want to leave the federal government is the same thing that got him into it in the first place: health care.
The Environmental Protection Agency's chief information security officer announced recently he was leaving for a position with defense contractor Leidos after serving eight months on the job.
Kelley, a former IT executive at the Department of Veterans Affairs, said recent developments in health care IT — including the VA's June decision to procure an electronic health records system similar to the Defense Department's based in software created by Cerner — led him to explore the possibility of venturing to the private sector and Leidos, the prime contractor on the DOD's EHR contract.
"As I approached the five-year mark of federal service, and with everything that was going on in the health IT world, I said that this might be the right time to make a decision," Kelley explained in an interview with FedScoop.
Kelley was hired as EPA CISO in January following the departure of VA CIO LaVerne Council at the end of the Obama administration.
After beginning his public service career at the VA five years before as a health IT business analyst — later becoming Council's chief of staff in the VA Office of Information and Technology in July 2015, and deputy CIO and IT account manager for the Veterans Benefits Administration in 2016 — Kelley said the innovation Ann Dunkin had spurred during her tenure as EPA CIO drew his interest in taking the CISO job prior to her stepping down, like Council, in January at the change of administrations.
"Ann was and is an amazing IT leader," he said. "When I heard about a lot of the things that were going on over at EPA from cloud to the digital services team and the maturity that she was bringing it really got me excited about joining.
"I was a cyber guy and then my career kind of went off into the IT-realm, so this was an opportunity to get back into cyber," Kelley told FedScoop. "I think I underestimated how much I would miss health care though."
Kelley's departure comes at a time when a number of senior IT executives have been heading for the exits. In the span of a week, Office of Personnel Management CIO Dave DeVries, Navy CIO Rob Foster, Department of Agriculture CIO Jonathan Alboum, VA cloud strategist Roopangi Kadakia and Kelley announced they were either leaving government or changing roles within their agencies. Not long before that, Treasury CIO Sonny Bhagowalia was reassigned within the department, and Department of Homeland Security CIO Richard Staropoli stepped down just months into his role.
This led some to speculate the heavy turnover might be somehow correlated to the newly seated Trump administration — that perhaps the White House was even purposely ousting IT leaders to replace them with more politically aligned executives.
For Kelley's part, he said there was no pressure from the administration for him to leave his role at EPA. The early deployment of the Pentagon's electronic health records system, MHS Genesis, coupled with the VA's move to develop a commercial off-the-shelf EHR system and the Coast Guard's decision to further pursue a new EHR system this spring reignited his passion to be part of the interoperability challenges of health IT.
"When you are impacting something that is really on the verge of huge transformation — and you chose six to eight months before that to leave — and you are really seeing [the Defense Health Agency] really start to deploy their EHR system and you are seeing VA's decision, which led to Coast Guard's decision, and I think there will be others," he said. "You're like, 'Okay, I really miss health care.' That's what it really came down to."
Kelley credits EPA acting CIO Steve Fine and his staff for their leadership of the agency's IT infrastructure and added that Rob McKinney, who served in the CISO role prior to Kelley's arrival, could take over just fine where he leaves off.
He added that the administration's focus on cybersecurity and IT modernization shows the government is headed in the right direction, though the crucible of maintaining legacy systems and facilitating cloud adoption remains.
"I think that cybersecurity across the federal agencies will get better," he said. "I think that [the WannaCry attacks] not having a real impact on the federal agencies really is a sign that we are getting better. I think there are still a lot of challenges, but as a cyber community, we are optimistic about where it is going."