Exit interview: Former Transportation CIO says team has network improvement plan
The Transportation Department may be without a new chief information officer for now, but its former IT leader says he left behind a plan to continue to make changes to the department's network architecture.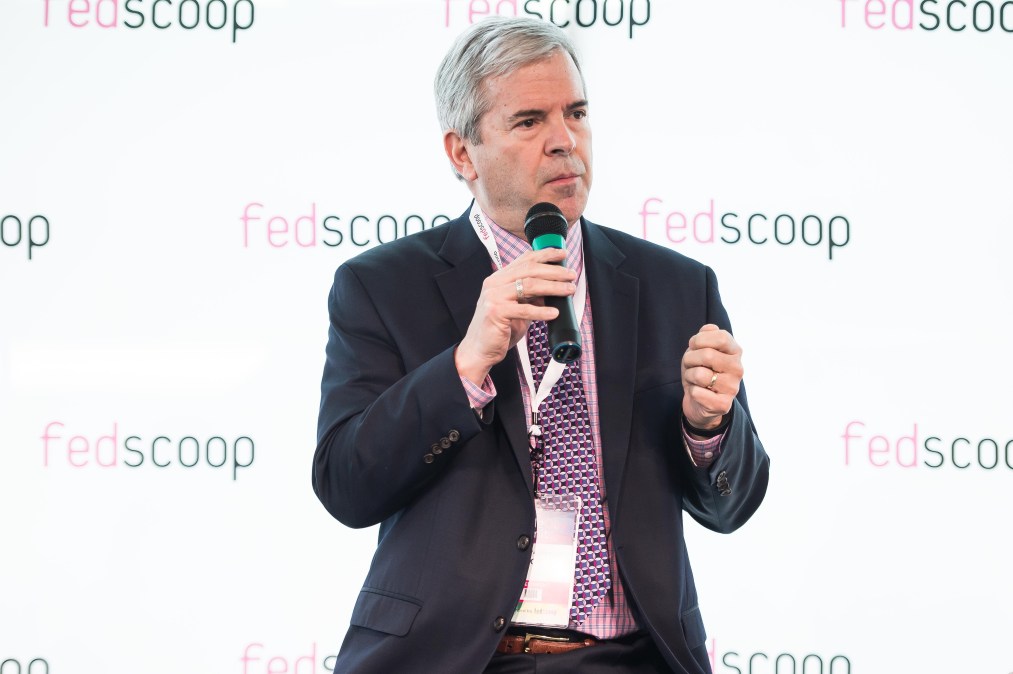 The Transportation Department may be without a new chief information officer for now, but its former IT leader says he left behind a plan to continue to make changes to the department's network architecture.
In an interview with FedScoop, Richard McKinney outlined how a seemingly simple decision to move to Microsoft Office 365 catalyzed a review of the department's entire network, and a subsequent plan to improve its architecture for the future. And though he is now gone, McKinney says the team he built at DOT is armed with that "game plan."
The Transportation Department moved its mail and messaging to the cloud, a lift that moved about 400 terabytes of mail and thousands of users, McKinney said during an August 2016 FedScoop webinar. But the department ended up taking an indirect path to get there.
"When we announced that to the CIOs at the operating administration level, that we were going to do this, I got some pushback from folks about, well, will our network handle it?" McKinney told FedScoop last week. "That kind of troubled me because it seemed to me to indicate that if they didn't have confidence in their network, then I thought that warranted some investigation."
The department commissioned a network analysis, which found some hygiene issues: Some equipment was behind on patches or needed stronger passwords, McKinney said. The analysis also found about 200 pieces of equipment attached to the network that were not a part of the components' inventory.
Dave Powner, director IT Management Issues at the Government Accountability Office, said McKinney's moves elevated the conversation about DOT's technology.
"I think it's a good example of a way to get attention when you might not have the attention of all the operating components," Powner said. "And I think what he did there was really quite good."
Indeed McKinney said the analysis also afforded him the opportunity to get the word out that it's not acceptable to put in equipment without going through the change management process. And the department's implementation of Riverbed, which helped them conduct the network analysis, also gave DOT the capability to "detect immediately any piece of equipment that's added to the inventory that Riverbed doesn't know about" and block it if necessary.
"It's going to immediately flag it for our operators and say, 'hey, I've got a new piece of equipment here," McKinney said.
McKinney said he also shared his story with other federal CIOs, and former federal CIO Tony Scott.
"We're probably not the only department that found its network drifting a little bit on them," McKinney said. "I've shared this story broadly in hopes of inspiring other federal agencies to consider doing a similar discovery."
The job left to do
While the department fixed the hygiene problems and mandated that rogue equipment be replaced with industrial-grade technology, McKinney said the project is not finished, since he and his team ran out of time to get DOT's network to the end-state recommended by its contractor, Dexisive, now known as Secunetics.
"It's different from our as-is state," McKinney said of the plan. "And so they gave us a game plan for how — sort of very sequenced-out steps that we could take to move from our as-is state to the to-be state. And the team that I built at DOT, and now moves on without me … they have a game plan to execute on."
The game plan, he said "is a bunch of very deliberate steps that will be taken over the next few years in order to get to a more desired end state."
In particular, he said that Dexisive told them their network was very flat, which makes it easy for someone to hop across the network once they have access.
McKinney said upfront that it will probably take the DOT team a few years to complete the plan, "because it is the proverbial changing the plane as you fly the plane."
"You can't just shut down your network and make these changes, you have to do this you know, in a live environment," he said.
When McKinney came into the CIO role he said he was troubled by the lack of a clear understanding of the network.
"And what I mean by clear understanding is that: We had no blueprint," he said. "You know there was nothing, there was nothing where somebody said to me, 'This is the definitive inventory of our network, and you know all devices, where they are and how everything's connected.'"
He said he is happy he was able to leave one behind for DOT — and for its future IT chief.
"Whoever sits in that chair after me, when they come in and get briefed on all this I think — I know if it was me I'd be very grateful that 1, there's this good as-is drawing of here's where we are. And by the way, here's where we ought to be, and here's the plan to get us there," he said. "I would think whoever sat in that chair would be very grateful of the fact that there was an executable game plan ready to go, and a team more than capable of pulling it off."
That team understands its job and is excited about it, he said.
"I look forward to hearing about how they successfully pulled this off," he said.