FedBizOpps to be shut down by year's end so a new awards site may rise
Nine other legacy systems will be consolidated within the streamlined beta.SAM.gov.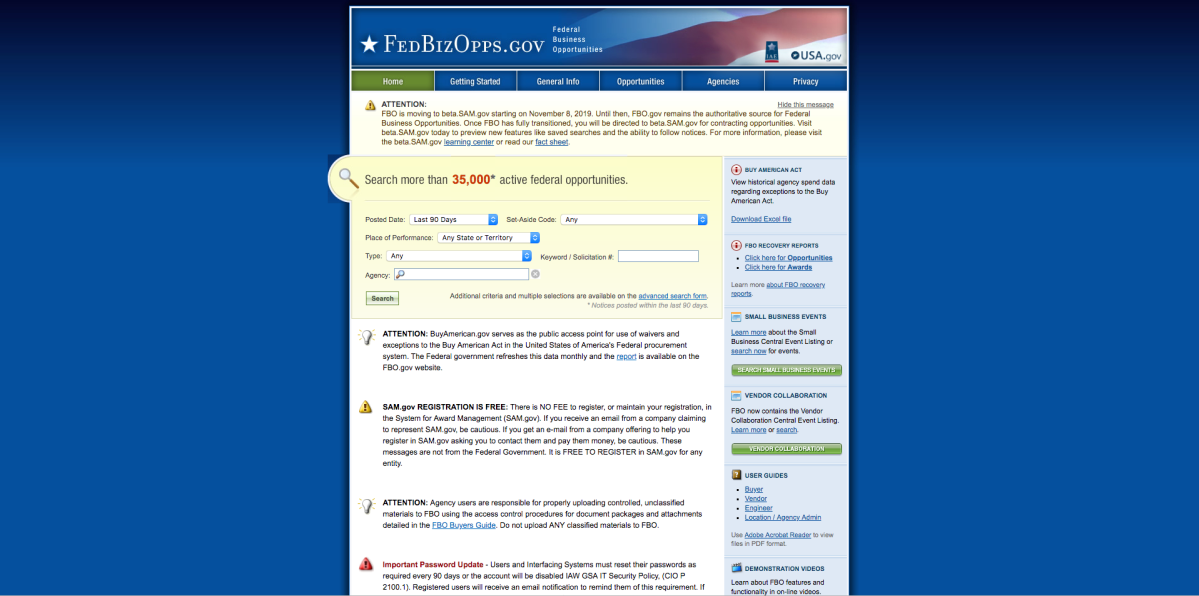 The government plans to change the website it uses for federal awards in the first quarter of fiscal year 2020, as the General Services Administration merges its legacy sites into one system.
Federal Business Opportunities, or FedBizOpps.gov, will be decommissioned in favor of beta.SAM.gov, which will deliver more precise results for number, keyword and location searches using new filters.
A new user workspace will allow people to set alerts notifying them when contract opportunities are updated. Previous versions of opportunity notices will also be made easily accessible and headers clarified.
"The entire process of building beta.SAM.gov has been a collaborative effort between and among our users and stakeholders," reads the GSA fact sheet. "This remains true with the transition of FBO.gov."
Several features will change names: Watchlist becoming Follow for contract updates, Search Agent becoming Saved Search, and Archived becoming Inactive for closed notices.
Interested Vendor lists will transfer to the new site, but non-federal users need an account tied to an entity to use them. Lists will be linked to a specific notice, sortable and searchable.
Public-facing application programming interfaces from departments and agencies will be available for download. All data feeds can be found under the data services section of the new site.
Users will need to create a new account on beta.SAM.gov via login.gov. Government-issued common access cards and personal identity verification cards can also be used to log in.
Government officials with roles on FBO can simply provide their active username and password to switch over seamlessly. Some roles will change names during the transition: engineers and limited buyers will be relabeled contract specialists, buyers relabeled contracting officers and agency administrators truncated to administrators.
Beta.SAM.gov consolidates nine other federal, legacy systems: the Catalog of Federal Domestic Assistance, Federal Procurement Data System-Next Generation, Systems for Award Management, Wage Determinations Online, Contractor Performance Assessment Reporting System, Federal Awardee Performance and Integrity Information System, Past Performance Information Retrieval System, Electronic Subcontracting Reporting System, and FFATA Subaward Reporting System.