FedScoop's Top Women in Tech 2017: Joyce Hunter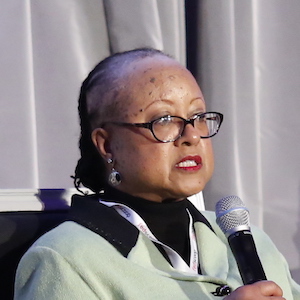 Joyce Hunter, CEO, Vulcan Enterprises
Joyce Hunter recently left government after serving as deputy CIO for policy and planning at the Department of Agriculture.
Before coming into government she ran an IT consulting firm, Vulcan Enterprises, and she has returned to that CEO role. She helps businesses "who want a better idea how to work with the federal government."
Was there a person for you or an event in your life that really inspired you to get into IT?
Funny you should ask that … I had no plans on going into IT. … I was living in Kansas City, Missouri, doing my internship at Hallmark Cards. I thought for sure my lot in life was to be a market researcher, because I had my MBA in marketing. I thought I was just going to work on Hallmark Cards doing analysis. This is before the days of data analytics, but that's what we were doing. We would go around to the card stores, the physical card stores, after a particular season and count the number of cards that were left on a shelf and plug that into one of those big mainframes. And it would spit out the statistics on the success rate of that card, which we would then turn into trying to duplicate that card for another season or another.
I ended up relocating to Colorado Springs. A very large computer company at that time called Digital Equipment Corporation was hiring people for their new IT sales training program. I said it was a job. I just applied, I got in, we went through the training and the rest is history.
Why do you think it's important to empower women and to empower other minorities to join more technical and tech related fields? Why is it important to you to really advocate for that?
Because I think diversity makes better decisions. Everybody has different perspective and different backgrounds. I think if you want to get the "Westworld," "Stepford Wives" … it does not lend to good decisions for everybody. We're made up of multiple cultures and ethnic groups and perspectives, and that's what makes America great.