From one U.S. CIO to the next: Tony Scott on Suzette Kent's fit, challenges
"I spent a good amount of time on the phone with her," former U.S. CIO Tony Scott told FedScoop, "and I was impressed."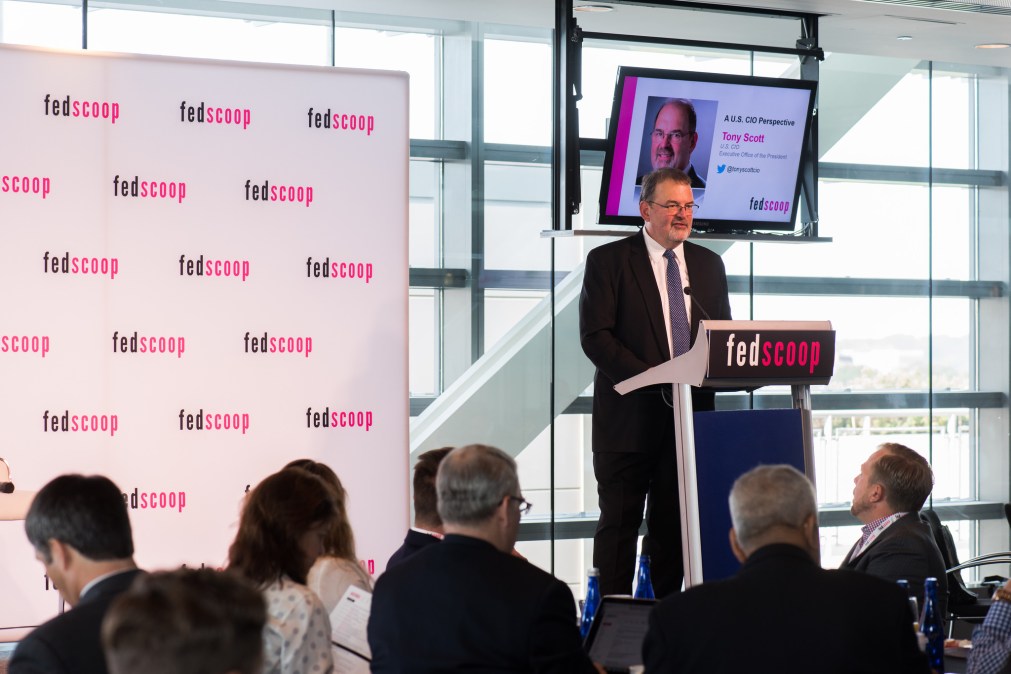 There are few people better suited than Tony Scott to advise Suzette Kent on the work ahead of her as U.S. CIO. And fortunately for the government IT community, they've been talking.
Scott, who resigned from U.S. CIO job last January before the change in administrations, said he spoke with Kent leading up to her acceptance of President Donald Trump's appointment to be administrator of the Office of Electronic Government within the Office of Management and Budget (OMB). The position is recognized as the U.S. CIO, with domain over IT policies for federal agencies and a seat atop the Federal CIO Council.
"I spent a good amount of time on the phone with her, and I was impressed," said Scott, who now splits time leading his eponymous consulting group and as a cybersecurity adviser to Squire Patton Boggs.
Kent, who has spent her career in the private sector largely working in financial services roles, most recently as a principal with Ernst and Young, is "pretty smart," according to Scott, who said she "asks a lot of really great questions and doesn't come at this from a 'I know everything, I'm going to tell you how to remake the world in seven days' kind of perspective, which I thought was a great way to get started. She's a very quick study."
That willingness to learn is a necessity, particularly for someone — like Kent, and Scott before her — entering the government for the first time at such a senior level, explained the former U.S. CIO.
Recently, Scott shared with FedScoop details of his discussion with Kent, his thoughts on her fit for the role and what her most immediate challenges will be upon entering office. Here's a brief glimpse into that discussion.
On her financial services background and the absence of a major CIO role on her resume: "She's got different experience than I did, and I had different experience than my predecessors as well. My view is it's good to have people with different backgrounds in these roles."
"Although she's not held a big CIO job, she's done business transformation, which included a lot of IT transformation in some really large companies. She's had exposure to how large institutions work and how to bring about change in a very large and complex environment. And I think that will be great background in this role."
How to navigate government as a first-timer: "The OMB team is quite experienced, and you can lean on them for a lot of the things you need to learn. One does that just by asking questions and the people at OMB are really good about even just dropping by" and offering themselves as resources. "If I were coming into government, OMB is one of the better places to come in, because in the one agency you have people who are really familiar with all aspects of the federal government, not just their tiny piece of it. In one building you've got a built-in resource of pretty significant cross-agency expertise."
"It's an institution unlike anything else. It has different rules and different norms and different cycles. It can seem daunting at first, but what I did was just pay close attention and ask a lot of questions the first couple two or three months. It's not something that's unlearnable. You just have to be a little patient."
Kent's immediate challenges and opportunities: "I told her one of the things she'll need to focus on right away is making sure that the cybersecurity team is fully staffed. There's been a fair amount of turnover there in the absence of leadership. And that's a really critical function within the CIO's purview. And she got that, obviously, right away."
"There's a bunch of vacant CIO roles in each of the federal departments. Hopefully she can play a leading role in helping recruit the right talent into those vacant slots. Because it's through that leadership team, the CIO Council, that the federal CIO gets a lot of things done. When you have acting people in place … it acts as a showstopper in terms of really making transformational kind of progress."
It should also be a priority "getting out from under the continuing resolution but then also lining up the Modernizing Government Technology Act avenue for funding and for delivering programs is going to be key and critical for these next couple years."
"I think implementing MGT is going to be one of the big challenges…and big opportunities. Obviously, the OMB staff has been working on the implementation plans for some time. To the extent that Suzette can accelerate that, I think it'd be great."