HHS code-a-thon on opioid crisis puts an emphasis on the human dimension
Despite the potential power in the numbers, officials reminded the crowd that this is a crisis affecting people.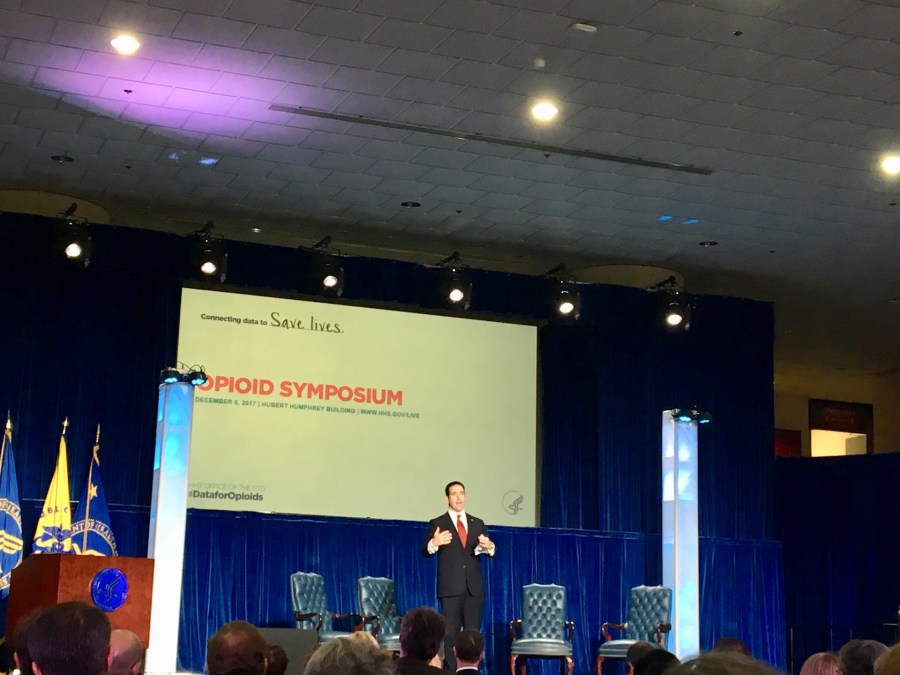 The Department of Health and Human Services estimates that there were 64,000 drug overdose deaths in the U.S. last year. That's 140 per day, with 91 of those from opioids.
The numbers are staggering, but they're not the whole story. The epidemic is also a deeply personal tragedy for so many Americans, affecting mothers, fathers, daughters and sons — each person more than just a data point.
The tension between these two realities played out onstage at HHS's Opioid Symposium and Code-a-Thon on Wednesday morning. The kickoff for the 24-hour coding challenge convened representatives of federal and state government, academia and the private sector. All in all, the event laid out a compelling vision for how more data — and better data sharing — will help the public health community understand and respond to the crisis.
Speakers discussed the prevention-and-response power of maps that show real-time information about the locations of overdoses. The little colored dots on the maps, though, represent a lot more than just a few pixels.
"This crisis is about people," acting HHS secretary Eric Hargan reminded the crowd as he wrapped up his keynote address.
There were other tensions too — between the realities of opioid abuse and the realities of the chronic pain that plagues so many patients. Or between prescription opioids and the illegal street-level drugs that people turn to after their scripts expire.
For HHS CTO Bruce Greenstein, those complications weigh on all aspects of the code-a-thon.
"There's something very special when a government admits to its polity that it's stuck, and it needs help," Greenstein told the crowd. This kind of "humility," he said, is important for government.
So HHS has humbly asked for help. Specifically the agency has invited 50 teams of computer programmers, health advocates and other innovators into the Hubert Humphrey building to spend 24 hours building tools to combat the epidemic. The agency has opened up nearly 70 datasets from across HHS, other federal agencies, state and local partners and private sector companies for the occasion, HHS chief data officer Mona Siddiqui said.
Teams will present their work at the end of the 24 hours, and three winners will each take home a $10,000 prize.
Moving forward, Greenstein hopes to "franchise" the opioid code-a-thon process, and hold further versions in communities across the country. "This is the beginning of something big," he said.