Pentagon's Project Maven responds to criticism: 'There will be those who will partner with us'
Artificial intelligence has the capacity to help warfighters accomplish their missions faster and with less collateral damage, leaders said Tuesday. Google employees recently criticized the surveillance project.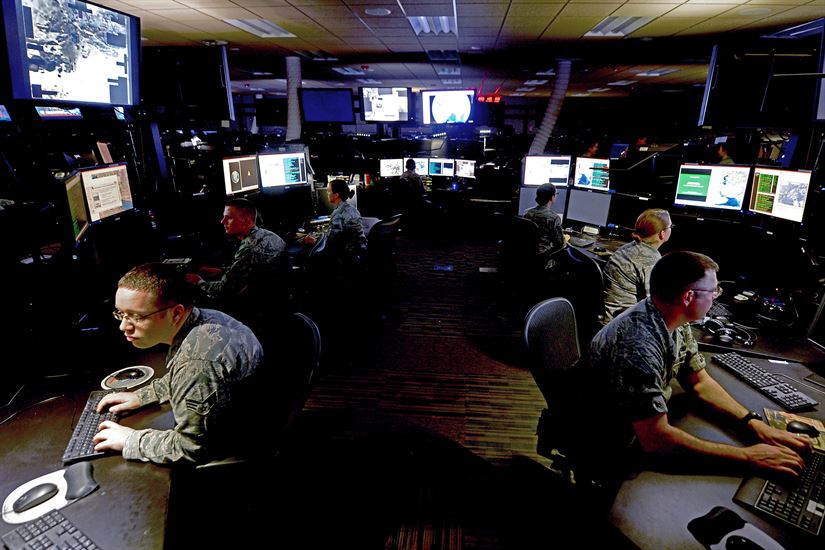 Silicon Valley might not like the idea of war, Lt. Col. Garry Floyd said Tuesday, but it happens. And when it does, the military wants to be sure that America's forces have the best technology possible — not only to win the fight but also to minimize its footprint.
In delicately delivered comments at this week's Modular Open Systems Summit, Floyd, who serves as deputy chief of the Algorithmic Warfare Cross Functional Team (also known as Project Maven), spoke about the status of his work, identified key lessons learned and responded to recent criticism from the West Coast.
Project Maven, which is led by Air Force Lt. Gen. John "Jack" Shanahan, is an artificial intelligence and machine learning project that aims to help Air Force analysts make better use of full-motion video surveillance. Instead of having human operators sift through hours and hours of surveillance video, Project Maven deploys an AI algorithm that can aid with some of this grunt work.
The Project Maven team is small, but it has some assistance from industry leaders, including Google. However, not everyone at Google in on board with the idea.
In April, the New York Times reported that "thousands" of Google employees had signed a letter urging the company to cease involvement with Project Maven. "We believe that Google should not be in the business of war," the letter reads. The individuals who signed the letter are concerned about an increase in drone strikes. Google, meanwhile, has described its involvement as "non-offensive."
Floyd sees the situation a little differently. In his eyes, the "business of war" is unavoidable. What's negotiable is the tools one has available while on the battlefield.
"Those of us who are in uniform — we know that the call will come and that we will go down range and we'll answer the call," Floyd said. "That will happen. It will happen more often then we want it to happen, but we know it will happen… so we hope that we'll have the best tools we can possibly have to help us do our jobs."
"A good decision means you accomplish your mission quicker," he continued. "A good decision means you minimize things like collateral damage, unintended casualties and all those other things."
And AI systems like Project Maven, Floyd said, show promise in helping warfighters make good decisions more often.
"I think what you'll see is there will be those who will partner with us and will help us do the things that we need to do to be successful," Floyd said. "Because success revolves around accomplishing the mission rapidly so we can all come home safe and so that we keep collateral damage to a minimum."
While Project Maven is still in "very very early" stages, Floyd said, it has already been deployed to five or six combat locations including the United States Africa Command. There, the team is testing its "prototype warfare" strategy — deploying a capacity that is around "80 percent" there and getting comfortable with the idea of making improvements "on the fly."
There's a button right in the Project Maven user interface, Floyd said, that says "train AI." This allows for the retraining and improvement of the algorithm based on new data, and it's a key capacity. After deploying Project Maven to AFRICOM in December, Floyd told the crowd, the team updated the algorithm about six times in five days.
"It's not all that different, if you think about it, than a young airman," Floyd said. "On their first day of work its going to take them a little while to understand what's going on, to understand the mission … you see a similar version of that with the AI."