Senior lawmaker raises ethics waiver concerns involving VA CIO
The VA currently does not have a formal process in place to document recusals from Kurt DelBene and other senior executives, according to Rep. Mike Bost.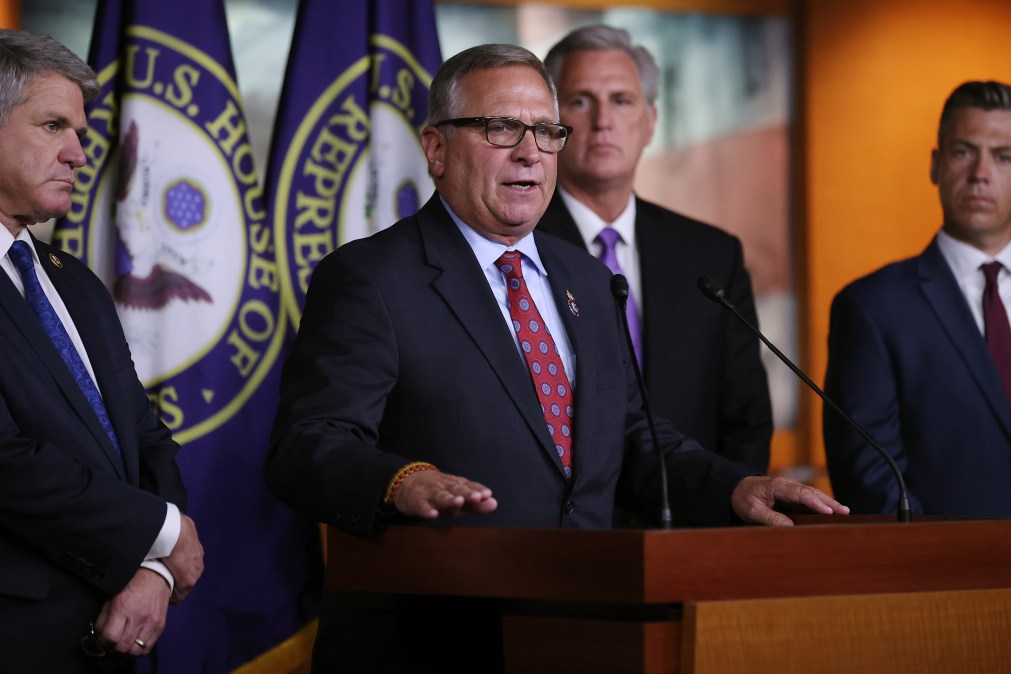 A senior Republican has called on the Department of Veterans Affairs to provide clarification about how the agency documents recusals and ethics waivers held by the agency's chief information officer and other key officials.
In a missive sent on June 5 to Department of Veterans Affairs Secretary Denis McDonough, Mike Bost, R-Ill., said that the agency has so far failed to provide requested documents setting out how the agency collects information about recusals.
According to Bost, House Veterans' Affairs Committee staff in late April held a meeting with VA CIO Kurt DelBene and VA Special Counsel Michael Waldman, during which it was established that the VA did not have a formal process in place for recording ethics waivers.
Bost wrote: "[VA Special Counsel] Michael Waldman confirmed that VA currently does not have a formal process in place to document Mr. DelBene's recusals – or for that matter recusals of any of its executives – including recusals relating to former employment. Mr. Waldman acknowledged that it may be a good idea to start a formal recusal documentation process and volunteered to start discuss the idea internally and inform the Committee of their conclusions."
"I am concerned that, more than a month after meeting with Mr. DelBene, I have not received a response from you or your staff," he added.
In a previous note sent to Denis McDonough on May 10, Rep. Bost said that during the previous late-April meeting, DelBene noted that he had only twice interacted with Microsoft or its employees: once to discuss a problem VA was experiencing with Microsoft Teams software, and once when he had dinner with his former chief of staff to provide career advice.
In the May 10 note, Bost requested that the agency provide a written summary of its plan to document the recusals of DelBene and other senior executives, or its reasoning for not adopting such a measure.
All federal employees are required to abide by the ethics stipulations set out in the Code of Federal Regulation, and failure to do so carries criminal penalties.
These include a requirement that federal officials take appropriate steps to avoid any actual or appearance of loss or impartiality in the performance of their official duties, including through personal or another "covered relationship."
Prior to his confirmation as VA chief information officer in December 2021, DelBene was an executive at technology giant Microsoft.
Earlier in his career, DelBene worked in the Obama administration for a brief time, during which he led improvement work on Healthcare.gov as a senior adviser to the secretary of the Department of Health and Human Services. While working on Healthcare.gov, he helped to troubleshoot issues encountered during the first open enrollment period.
DelBene is also married to Rep. Suzan DelBene, D-Wash.
In a statement to FedScoop, a VA spokesperson said: "The Biden Administration and VA are committed to the highest ethical standards for public officials. Consistent with those high standards, before joining the VA, CIO Kurt Delbene agreed to an Ethics Agreement whereby he was recused from involvement in Microsoft specific matters, including a number of specifically enumerated procurements and programs."
He added: "VA and CIO Delbene have scrupulously adhered to that Agreement. In recent meetings with HVAC staff, it was requested that VA develop a formal process to document procurements or programs from which Mr. Delbene may be recused. VA has been working on finalizing such a formal documentation process and expects to respond to the Chairman Bost and the Committee shortly."
Editor's note, 6/6/21, 4:12 p.m. ET: This story was updated to include comment from the Department of Veterans Affairs.