New House bill taps Silicon Valley for 'smart' border wall
Two days after calling for more technology to support border security, Hurd introduced new legislation to provide just that.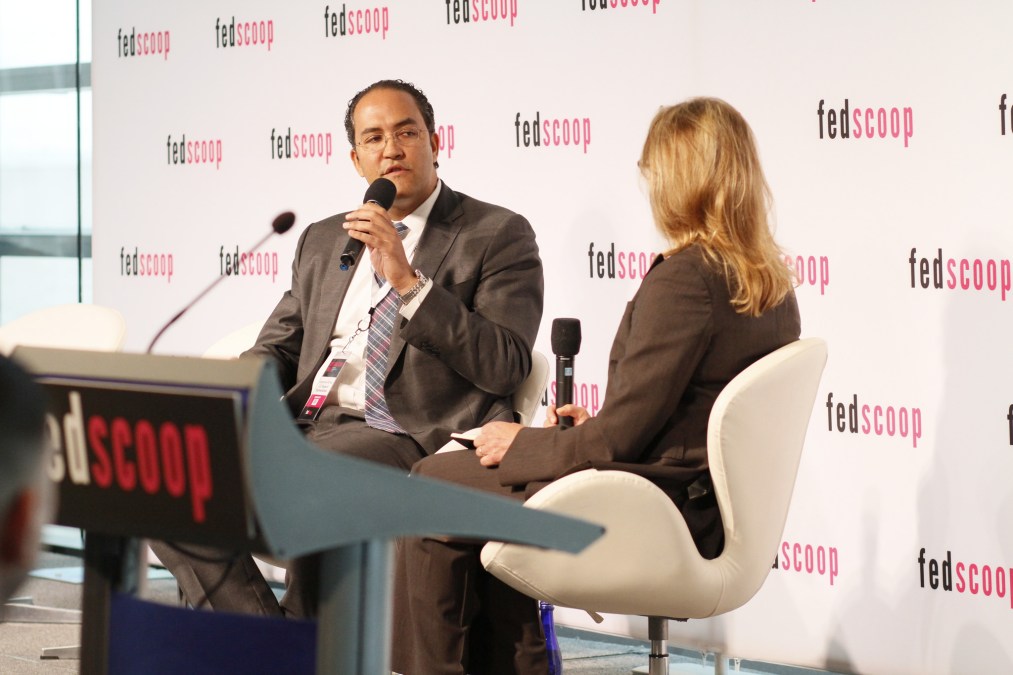 It seems Rep. Will Hurd understands the importance of building a little buzz around an idea.
Two days after calling for a "smart wall" in a House Homeland Security Subcommittee hearing on technology use in customs and border operations, the Texas Republican co-sponsored legislation to provide just that.
CNN first reported that Hurd would introduce the Secure Miles with All Resources and Technology Act, or SMART Act, on Thursday. It would leverage a mix of technology and U.S. Customs and Border Protection assets to the secure the U.S.-Mexico border for a fraction of the cost the White House's proposed physical wall.
"Violent drug cartels are using more modern technology to breach our border than what we are using to secure it. We can't double down on a Third Century approach to solve 21st century problems if we want a viable long-term solution," Hurd said in a statement. "We need a Smart Wall that uses high-tech resources like sensors, radar, LIDAR, fiber optics, drones and cameras to detect and then track incursions across our border so we can deploy efficiently our most important resource, the men and women of Border Patrol to perform the most difficult task — interdiction."
Hurd represents 800 miles of border in his district, more than any other member of Congress.
The president requested $1.6 billion in fiscal 2018 for border wall construction, and the House included that provision in its own budget proposal last week. The funding would cover primary and secondary fencing, as well as levee walls, over a combined 74 miles of the border, in addition to planning and development.
The SMART Act would require the Department of Homeland Security to initially deploy more technology to secure the border while it crafts a more comprehensive strategy, which could later include physical construction elements.
The report said Hurd had worked with Oculus VR founder Palmer Luckey and his defense technology company Anduril Industries on cost estimates for the technology required.
In talking about how to deploy technology in border operations at the July 25 committee hearing, Hurd basically telegraphed the plans for the SMART Act.
"You can deploy a lot of off-the shelf technology to do [interdiction with integrated technology] for half-a-million dollars a mile. And if we add this out to the additional 1,350 miles of the border that doesn't have fencing, that's $33 billion," he said. "I can use $32 billion of that for other things, like give y'all's folks more pay for the hard work that they do."
The new bill projects that securing the border with technology would cost $500,000 a mile, or 98 percent less than $24.5 million a mile Hurd estimates it would take to build a physical wall on the border.
CBP officials testified that physical barriers often prove more successful in urban settings, while technology and watch towers serve more of a role in rural areas.
Agency officials added that they are hoping to acquire more interoperable technology systems that can work in concert for border operations. But the Government Accountability Office also recently recommended that CBP apply more performance metrics to its technology and barrier assets to determine their effectiveness in life cycle cost estimates.
Officials said they are looking to employ a mix of technology and physical barriers to meet administration guidance on border security.
The bill would also authorize $110 million to enhance work among CBP and state, county, tribal and other governmental law enforcement at the border, and create a two-year grant program to improve emergency communications in the southern border region.
Reps. Henry Cuellar, D-Texas, David G. Valadao, R-Calif., Steve Knight, R-Calif., Steve Pearce, R-N.M., Brian Fitzpatrick, R-Penn., and Keith Rothfus, R-Penn., signed the bill with Hurd.
"This bill provides a pragmatic approach to secure our borders," Cuellar said in a statement. "It calls on DHS to deploy the most effective security technology — such as sensors, aerostats, and cameras — and rather than building walls to meet campaign promises, it takes a measured approach by directing DHS, in conjunction with state and local agencies, to conduct a comprehensive study and analysis of the different tools and solutions available to provide security on our borders."
"A giant wall is nothing more than a 14th century solution to a 21st century problem," he said.