Coding it Forward's sequel summer sets up a bright future for fellowship program
This year's demo day featured presentations that vibrant, honest and refreshing. The program's success last year helped this year's crop of fellows get access to interesting, high-impact projects.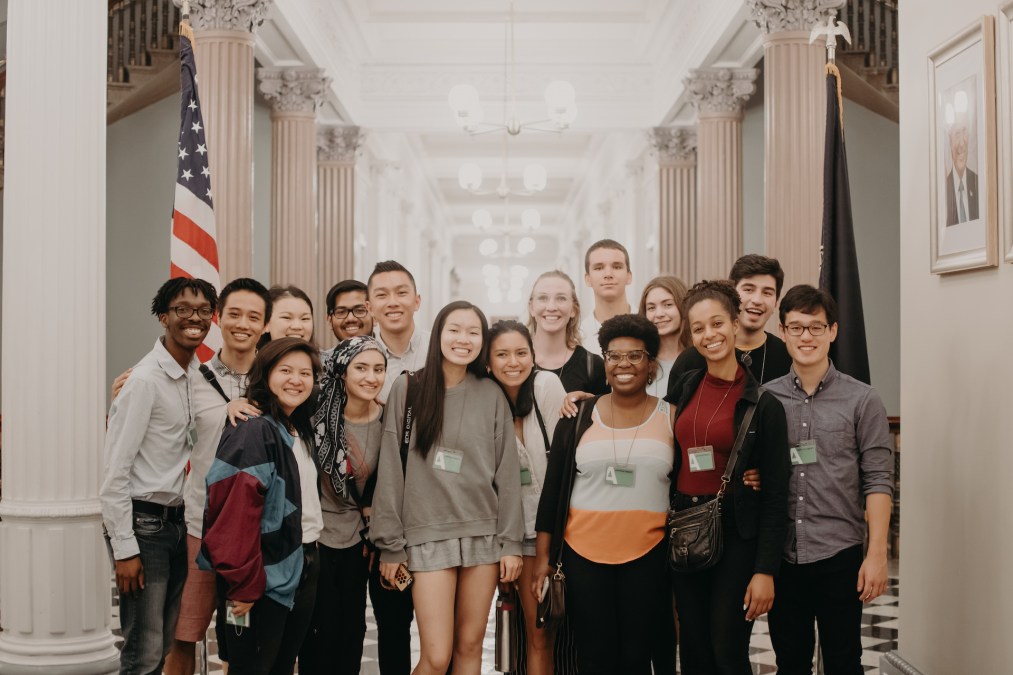 As the Coding it Forward fellowship program wraps up its second summer, the participants are proving again that the federal government still holds an allure for ambitious, impact-driven young people.
This year's crop of 36 Civic Digital Fellows worked at six different agencies, getting hands-on experience with the State Department's website, the GI Bill program, the government's efforts to fight the opioid epidemic and numerous other projects. The students were undergraduate and graduate students — 30 and six, respectively — and predominantly from computer science, data or design educational backgrounds.
At a "demo day" at the Partnership for Public Service on Thursday afternoon, the fellows stood before a room full of mentors and managers and allies — members of the federal "innovation family" — to show off what they've worked on for the past 10 weeks. It was clear that the program is keyed-in to the dominant conversations in the civic tech community, and this granted the students access to interesting, high-impact projects.
The projects were wide-ranging, but they clustered around the topics of human centered design and data. For example, Omar Abdul-Rahim (Cornell University), Nora Benson (Parson's School of Design), Cleo Forman (Pomona College) and Rachel Stone (Brigham Young University) worked with the Department of State on the forthcoming State.gov modernization, designing and building things like a more user-friendly "domestic impact" map — a map showing the impact that the department has on states across the country.
Over at the Department of Veterans Affairs, R Matthews (Brandeis University) and Mariam Mayanja (University of Washington) helped make the GI Bill School Feedback Tool, a tool veterans use to rate and review GI Bill-approved schools, easier to use and understand. The improved tool will eventually live on the revamped VA.gov.
Meanwhile, at the Department of Health and Human Services, where data is a major focus, Amy Fan (Duke University) helped combine relevant datasets to analyze the type of health care a patient received before dying of an opioid overdose. Ronnie Fecso (Virginia Tech) also worked on a project tied to the ongoing opioid epidemic — he helped build a dashboard showing the Health Resources and Services Administration's (HRSA) wide and varied investments in combatting the crisis.
And those are only a fraction of the projects in progress for the fellows in Washington, D.C., this summer. In presentations that were vibrant, honest and refreshing, they described some of the idiosyncrasies of government, often with a kind of amazed disbelief.
Michal Porubcin (Columbia University), for example, talked about how in the days before appropriate cross-state tracking, doctors who had lost their license in one state could just move to another and keep practicing. Better data, of course, makes this less likely. And fellows showed a little personality, too, like when Mariam Mayanja revealed how happy she'd been when a veteran test user had told her that using the new GI Bill School Feedback Tool "made him feel warm and fuzzy inside."
But the presentations were also well-rehearsed, and the fellows themselves were polished spokespeople for the kind of work civic technologists can do — and the potential impact that work can have.
"I truly believe that all the fellows you'll meet and hear from today are among the best and the brightest of the next generation — our generation of government innovators," fellowship cofounder Chris Kuang said in his opening remarks.