Pentagon's Joint AI Center is 'established,' but there's much more to figure out
Brendan McCord, DIUx's head of machine learning, gave the Defense Innovation Board members an update on the center at the board's recent public meeting.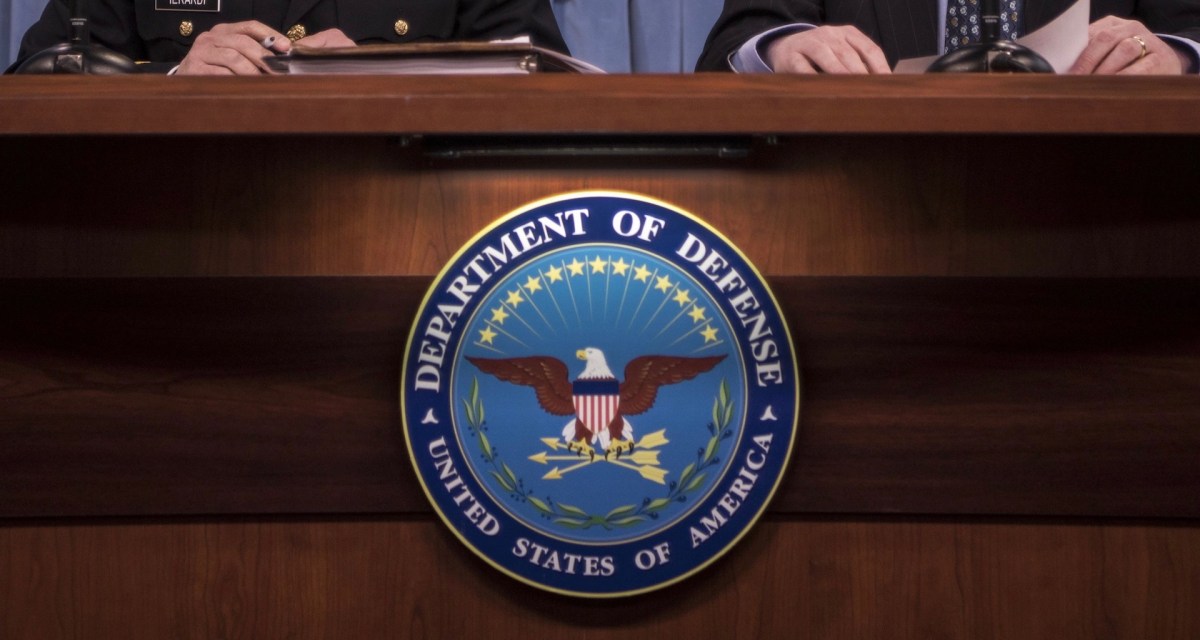 The Department of Defense has set up a new center with a specific mandate to explore and develop the agency's use of the "profoundly significant" technology that is artificial intelligence. But there are still some basic things about the center — like its physical footprint and staffing — that haven't quite been figured out.
The Joint Artificial Intelligence Center (JAIC) was officially established by memo at the end of June. It will fall under the purview of DOD CIO Dana Deasy, and will have primary oversight of high-budget department AI projects. Inside Defense reported that the Pentagon has requested that $70 million be added to its fiscal 2018 DOD-wide research, development, test and evaluation account for the establishment of JAIC.
When FedScoop reached out for more details on JAIC, a spokesperson said much hasn't yet been decided.
"We are still in the process of developing the details on the Joint AI Center and will plan to share additional details in the near future," Lt. Col. Michelle L. Baldanza, a defense spokesperson, told FedScoop in an email.
It is clear, though, that JAIC has high-level support — from DOD leaders and from the Defense Innovation Board (DIB), which includes representatives from the private sector, academia and nonprofits.
"This is the beginning of a very, very large program that will affect everyone," Eric Schmidt, leader of the DIB and technical adviser at Google's parent, Alphabet, said at a recent public meeting. "In a good way."
Ideas in place
The concept behind JAIC has been in the works for some time. In fact, it grew out of an early recommendation from the DIB, from October 2016, that pushed the agency to "establish a DOD center for studying artificial intelligence (AI) and machine learning (ML)."
So it was fitting that, at the most recent DIB meeting, DIUx's head of machine learning, Brendan McCord, was on hand to give the board an update about the center.
"We're in the midst of an exciting and crucial time in the development of AI," McCord said in his remarks. AI is a "step change" in what computers are capable of, and it will have broad impact across the DOD, from HR to training to the actual warfare and beyond.
McCord highlighted four main themes of JAIC. First, the center will "accelerate results" by coordinating work on AI "National Mission Initiatives." These include, for example, an initiative like the Air Force's Project Maven. That project — via which the Air Force is automating the review of full-motion video surveillance — has been plagued by controversy. Google, one of the companies involved in the project, announced that it will not seek to renew its contract after employees protested and some even resigned.
Second, JAIC will help increase the department's collaboration with the private sector, academia and military allies on the development of AI capabilities. It will do this, McCord said, but helping to communicate the department's needs to outside partners.
Third, "JAIC will attract and cultivate a select group of mission-driven, world-class AI talent," McCord said. Part of the task for this talent, McCord added, will be to work on developing an ethics framework — he asked for the DIB's help, too, in developing what he called "AI principles for defense."
This, too, is easy to see in light of the Project Maven kerfuffle. After Google announced that it will step back from the project, the company released its own set of principles for AI work which, notably, make it clear that the company will not pursue AI for weaponry. The DOD's values will likely look a little different.
Fourth, and finally, McCord said that JAIC will aid in the National Defense Strategy. AI, he said, can be a "force multiplier" toward the goal of keeping the peace.
DIB members praised the DOD for working so quickly to get JAIC underway. "Congratulations," Schmidt said, when McCord had finished his presentation. "This is something that, in DOD terms, occurred brilliantly fast."