Pentagon plans drone event for new VC, startup matchmaker program
Ellen Lord said there's a Trusted Capital Marketplace Program outreach event planned for October looking to bring together UAS startups and investors.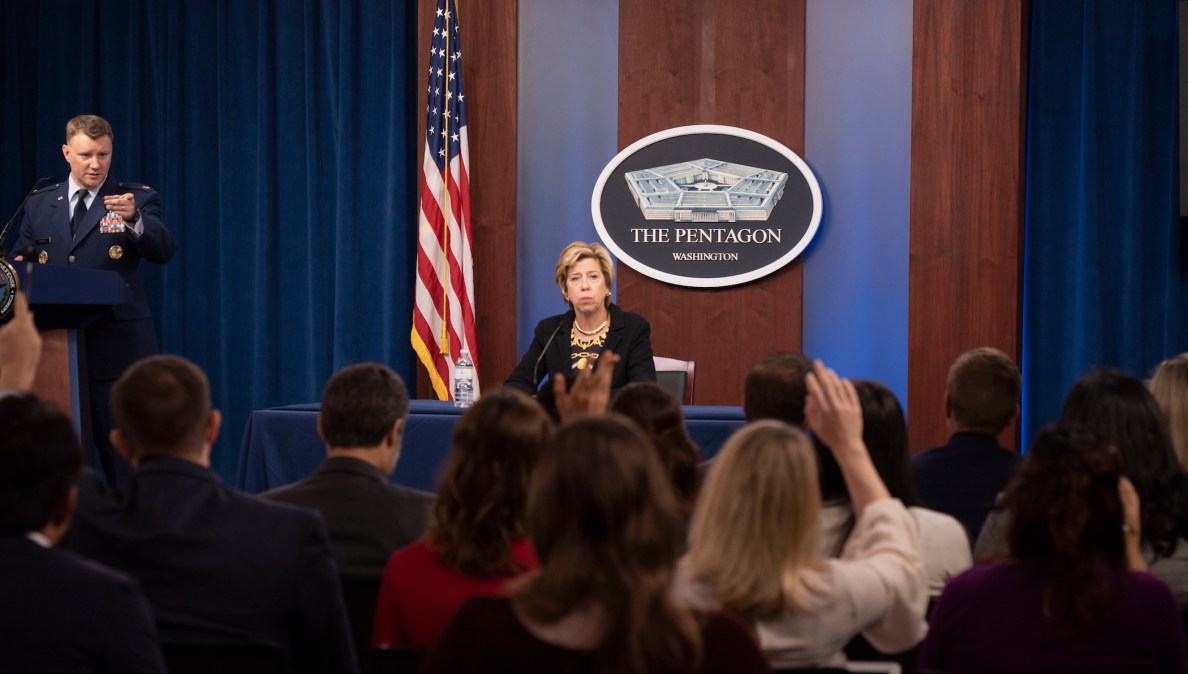 The Department of Defense will look to engage small, innovative businesses that develop small unmanned aircraft systems (UAS), as part of the first industry outreach event for its newly created startup and investor matchmaking program.
Ellen Lord, undersecretary of Defense for acquisitions and sustainment, told reporters at a briefing this week about the small-UAS outreach event planned for October and the progress of the Trusted Capital Marketplace Program — "a public-private partnership that will convene trusted sources of private capital with innovative companies critical to the defense industrial base and national security."
"[W]e stood up our team to manage both capital vetting requirements and industry outreach and matching efforts," Lord said. "We have identified the first industry sector target goals, and we hope to have an industry outreach event in October which will focus on small UAS."
Though she didn't talk dollars or specifics on the companies or how many will be involved, she said she's "encouraged we're moving forward."
The program chose small UAS — or what many call drones — as its first item of focus because of "where we are right now in terms of having our entire U.S. marketplace eroded," Lord said. It's "also because it's very intuitive, people can understand what these small quadcopters are and so forth."
Lord pointed the finger at Chinese-based drone developer DJI for eroding the market.
"So essentially, we don't have much of a small UAS industrial base because DJI dumped so many low-price quadcopters on the markets," she said. "And we then became dependent on them, both from the defense point of view and the commercial point of view, and we know that a lot of the information is sent back to China from those. So it's not something that we can use."
DJI, the world's largest commercial drone maker, is facing a ban from all U.S. military purchases over cybersecurity concerns and allegations of links to the Chinese government, as Lord suggested. The company, however, says the allegations are "obviously false" and "unsubstantiated speculation."
A DJI spokesperson contested what Lord said, claiming that no data is automatically sent back to the Chinese government "or to any unauthorized party." The spokesperson told FedScoop, "If our U.S. customers choose to share any data with DJI, this data is housed and stored on secure Amazon Web Services servers located in the United States."
The U.S. wants to "rebuild that capability," Lord said, adding that any developments around small unmanned systems made in the defense sector could also benefit the commercial sector. "We actually have had a lot of work going on in the department about architectures for small UAS, whether they be fixed wings or quadcopters. So we thought it was a good time to stand it up."
Elaborating on the function of the marketplace, Lord said "we are going to be in different cities around the country convening groups where we would invite the capital providers, as well as the industry representatives. We're working on who all those people are right now. And then we would provide a mechanism for them to work with one another."
Lord said in May, when she first announced the program, that its mission is to support "small, innovative companies that, frankly, don't either have the resources or the sophistication in terms of the contacts to reach sources of capital." The 2018 National Defense Authorization Act required a pilot of such a program "that supports small and medium-sized companies to manufacture 'emerging defense and commercial technologies,'" she said.
DOD also wants to figure out how it can get in on the potential investments," she said. "What we're working on right now is how we, as DOD, can invest a little bit in many of these companies as well, so they could be branded as having DOD contracts. We think that would be helpful."
Lord alluded to the marketplace team having "a whole list of other areas" it's considering as future focuses. She hopes to plan another meeting for January and host event "every couple months."