Matt Lira outlines government's 'relay race' to bring modernization, shared services
Lira said that modernizing the federal government will have to transcend administrations if it is to succeed.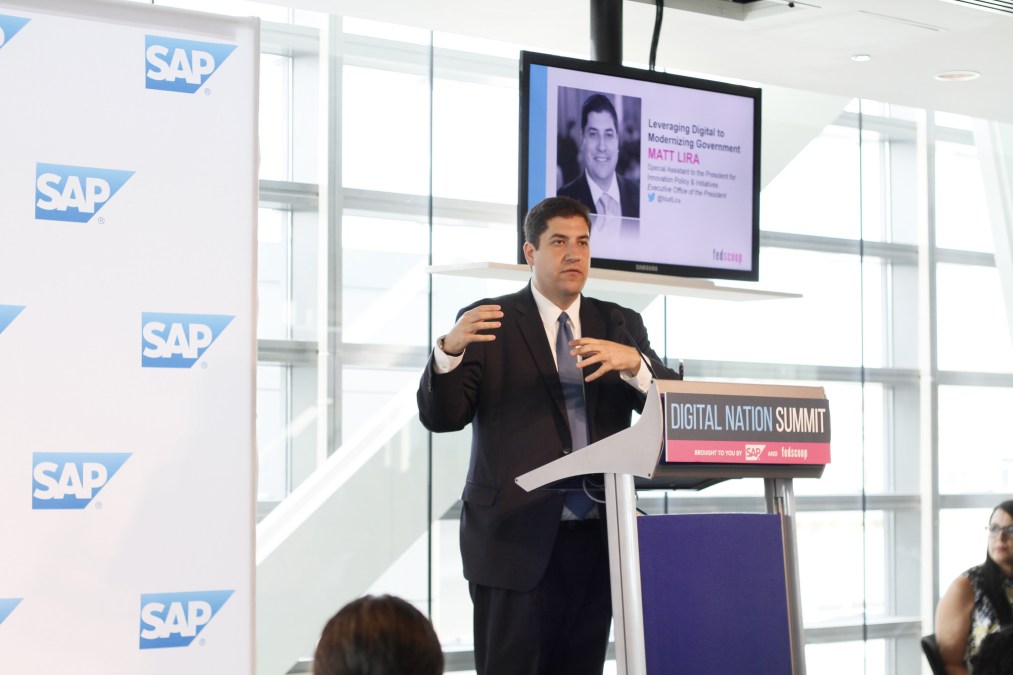 Matt Lira knows that Washington partisanship isn't going anywhere, but he thinks it shouldn't get in the way of good governance.
Lira, special assistant for Innovation Policy and Initiatives at the White House's Office of American Innovation, said at the Shared Services Summit Tuesday that modernizing how the federal government operates will have to transcend administrations if it is to succeed.
"We can't have a scenario where every four or eight years we go from zero to one or from A to B because this is a generational challenge," he said. "What we need is an enduring generational consensus that this is the approach that we are going to bring to solve these problems."
From issues like IT modernization to stronger cybersecurity, Lira said he sees the Trump administration and OAI in a kind of relay race where the baton has been passed from the previous administration as a way to continue improving the government and how it serves its citizens, regardless of party stripe.
"One of the things I like to say is that Alexander Hamilton and Thomas Jefferson hated each other so much that 200 years after they died, they made a musical about how much they hated each other," he said. "They clearly had differences of opinion about what the policies should be, but they worked together to make sure that the system worked."
He hopes that same focus on progress can be applied to tech in today's politically charged times.
"I think there is a lesson to be drawn there from when we think about the delivery of government services and the business practices of how the federal government operates, both inside it, and the ecosystems and markets that exist around it."
The administration and OAI — which Lira referred to as "almost a consultancy" that oversees the long-term progress of innovation policy goals — have strongly advocated for the use of shared services as the method to provide both better efficiency and possible cost savings to federal operations.
But among its biggest hurdles in achieving those goals, Lira said, is establishing the structure that would underlie the shared services model and encourage agencies to adopt them governmentwide.
"I think this is an area where structure and the incentives that those structures create are incredibly important," he said. "Right now, most agencies are not incentivized to make these longer-term investments, as you know, because they have an annual budget process and they have the need to make sure the current systems don't fail."
One of the ways the White House is hoping to incentivize agencies is with the Modernizing Government Technology Act, which has been attached as an amendment to the fiscal 2018 National Defense Authorization Act.
The bill allows agencies to reprogram unspent budget and direct it towards modernization efforts, which Lira said could give agencies the carrot to save funds to improve mission delivery but will be different from agency to agency.
"Hopefully that creates a scenario where you are able to achieve the savings that you've outlined, but also, if you aren't able to kickstart the process to get to those savings, then it's kind of a notional thing," he said.
Ultimately, Lira said the Trump administration is looking to lay the groundwork for what will hopefully be a collaborative culture that lasts beyond the 45th president.
"We're very aware of the fact that this is a long-term structural challenge," he said. "This is not a problem that is going to be solved overnight. Frankly, it's not a problem that can be solved over the context of several years. The nature of technology, the nature of business practices, the nature of service delivery is that they will constantly be evolving as the society itself revolves around those issues."