Esper has 'no firm timeline' for JEDI review
"I want to make sure I get to the point where I'm comfortable enough to know it," the secretary says about a decision on the $10 billion cloud contract.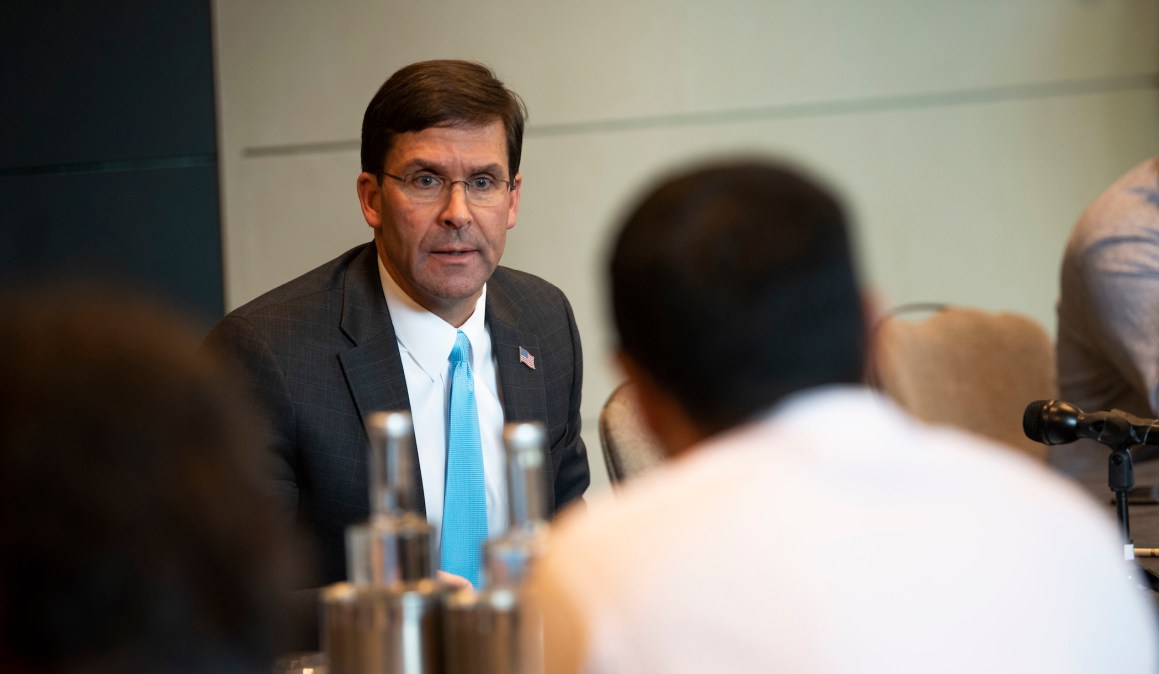 Defense Secretary Mark Esper has been receiving weekly briefings on the Pentagon's $10 billion Joint Enterprise Defense Infrastructure cloud contract. However, he doesn't have a "firm timeline in mind" on when he will decide on the acquisition's future.
En route to visit the U.S. European Command, Esper told reporters he's been receiving two-hour briefings each week "for the last two or three weeks." But he's not ready to make a call on the contentious JEDI commercial cloud acquisition. "I want to make sure I get to the point where I'm comfortable enough to know it," he said.
Esper said he's also been studying on his own, referencing "House language about JEDI and the concerns they have" as well as independent reports and letters from concerned lawmakers "on all sides of the issue."
Of course, Esper's review isn't the only roadblock holding DOD back from issuing an award. The department's inspector general is also reviewing the handling of the contract and investigating potential conflicts of interest that may have impacted the acquisition strategy.
"So in some ways, the timeline isn't completely mine," he said, referencing the IG investigation. "The DOD would have to finish its report. So I don't have any hard timeline in mind."
Despite Esper's review effectively pumping the brakes on the JEDI contract, he acknowledged the military's need for enterprise cloud, particularly for artificial intelligence.
"I do know that cloud-based AI capability is important to the warfighter. I know that. And so we need to move in that direction, and sooner rather than later," he said. "And the question is, as I said before, is JEDI the right strategy? Was it handled properly? Is it fair to the taxpayer? All those things. That's kind of what I'm trying to understand."
If the Esper and IG reviews allow JEDI to move forward, the contract should be extremely close to an award. The competition is down to just Microsoft and Amazon Web Services, as it has been for months.
But Oracle, whose bid was denied because it failed to meet gate criteria, will not give up its pursuit to derail the contract as-is through lawsuits. Though a federal court recently denied the company's lawsuit against the Department of Defense's development and handling of JEDI, Oracle last month filed an appeal, breathing new life into the contract's nearly two-year-long bid protest saga.