The future of the Air Force CIO, according to Matt Donovan
Two key Air Force offices are being merged and will be headed by an elevated CIO. Undersecretary Matt Donovan says it will help consolidate oversight of management, information and data.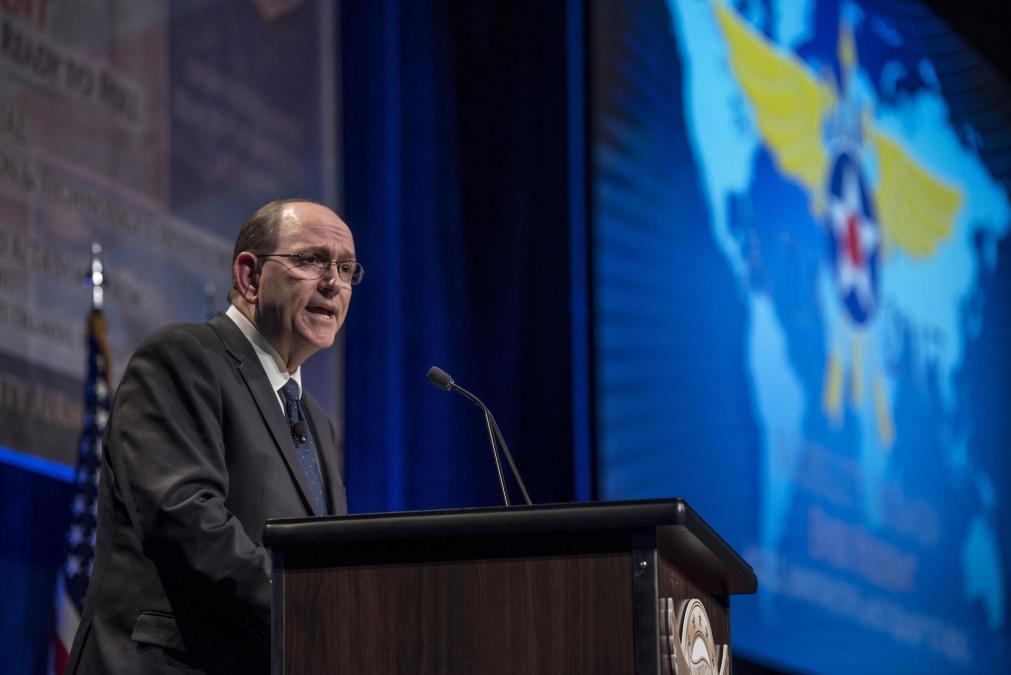 The Air Force CIO role — and the enterprise IT operations under it — will look a lot different in 2019.
In October, Secretary Heather Wilson announced a restructuring of the Air Force's digital operations, combining the offices of Intelligence, Surveillance and Reconnaissance (A2), and Information Dominance and Chief Information Officer (A6). Wilson named Undersecretary Matt Donovan as the CIO of the service, coupled with his existing role of chief management officer, and directly above the Air Force chief data officer.
Donovan said at a Mitchell Institute event Friday "we're integrating these functions to spearhead a digital Air Force initiative," recognizing that "data will power next-generation combat."
"We must control and manipulate massive volumes of information to outthink and out-maneuver our opponents," Donovan said. "We want every system in our Air Force to connect, to share and to learn."
By reorganizing the offices in such a manner, Donovan said, it gives "undersecretary oversight" to the management, information and data offices.
"We took a look at it and said 'Is that the optimum way of doing this?'" he said.
Ultimately, it's something that will impact the entirety of the Air Force as digital warfare becomes a bigger piece of its mission, Donovan said. "It will affect our operational warfighting, our maintenance and logistics, readiness tracking and prediction, and resource allocation. This won't be an easy task as it requires a shift in our culture … but it's absolutely necessary for us to remain an effective joint warfighting force."
Donovan said Lt. Gen. Veralinn "Dash" Jamieson, who currently heads the A2 ISR office, was nominated late last year to lead the newly merged A2/A6 office. With the new Congress, he said, the Air Force is working through the process to "recertify" Jameison's nomination in hopes that she will be Senate confirmed to the role soon.
Prior to Donovan's appointment, Deputy CIO Bill Marion had served as acting CIO of the service.
Enterprise IT-as-a-Service
At the operational level, there's another restructuring in the works that will affect the Air Force's day-to-day IT.
The Air Force wants to get out of the business of doing the most basic networking and communications and outsource it to contractors, letting airmen focus instead on mission-related cyber-operations. Dubbed Enterprise IT-as-a-Service, the idea is "to give the people who do networking and those kinds of communications jobs to the people who do that the best, and that really is industry," Donovan said. Currently, "we have a whole bunch of people that we call cyber-operators that are really just doing that communications job — you know, running cables."
The service awarded $121.7 million to AT&T and Microsoft in a pair of experiments focusing on the network-as-a-service portion.
The undersecretary called it a "common backbone" for an Air Force with "structured and enforced data standards that allow diverse systems to communicate, merge data and extract insights at rapid speed." In the next year, he said, the Air Force hopes to migrate 100 mission applications to the cloud as part of that, with the ultimate goal of ensuring "our airmen have uninterrupted access to the data they need where and when they need it," Donovan said.
"We want our airmen transitioning from running email and boxes to focusing on cyberdefense," Marion said last year. "Every time we move to the cloud, the intent is to free up cyber-operators for the Mission Defense Teams."
He continued: "The strategic intent is to focus on our core competency. Our core competency is 'fly, fight, win' in air and space. It is not to run email servers or configure desktop devices."