NGA prepares for a future of AI-supported intelligence
The National Geospatial-Intelligence Agency is all-in on integrating artificial intelligence, augmentation and automation — the "AAA" technologies — into the way it achieves its mission.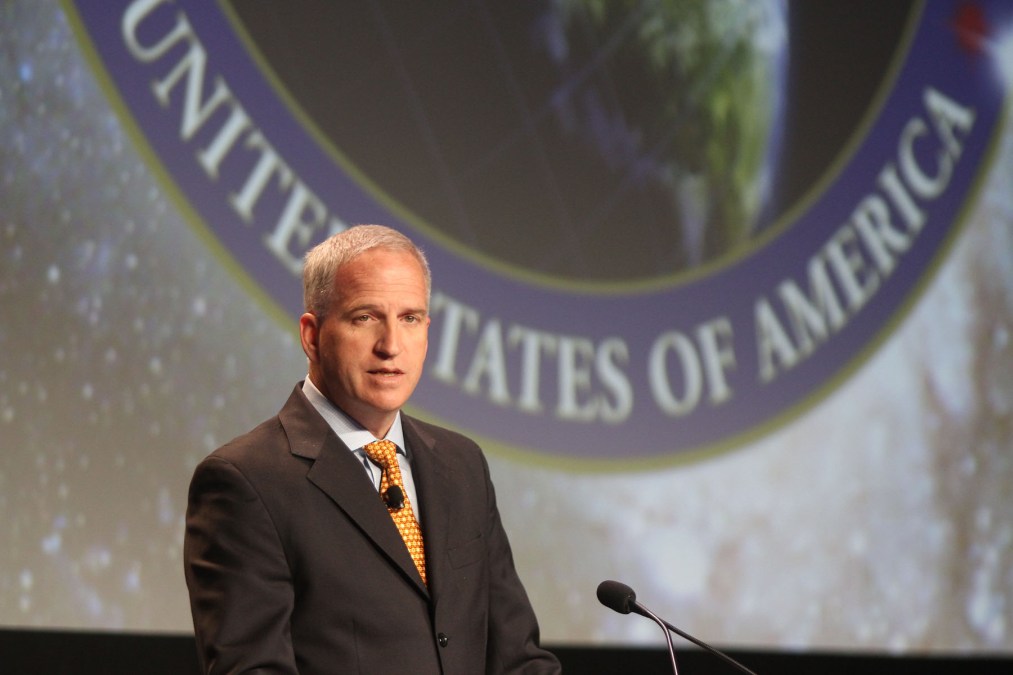 The U.S. government's "eye in the sky" is looking ahead to a future where much of its work will likely be aided by automation, artificial intelligence and machine learning.
And this week at the 2018 GEOINT Symposium in Tampa, Florida, the National Geospatial-Intelligence Agency explored in depth how it is preparing for that future, in everything from talent recruitment to contracting.
That future is not so far away, NGA Director Robert Cardillo said in remarks Monday — NGA is acting now to begin incorporating AAA technologies (which stands for artificial intelligence, augmentation and automation) into the way it achieves its mission.
Since last year's symposium, NGA has launched "dozens" of AAA projects, Cardillo said Monday. In one recent proof of concept, the agency used "thousands of historic data points" to train a machine to identify "objects of interest," which then automatically populated into a database.
"Since we've started this project we've yielded more than 3,000 human-driven, computer-generated unique database updates," the director said. "This may sound very straight-forward. Trust me it's not – especially as we scale this across our enterprise. It is a profound change. And it is our future. And it's happening today."
Right now an expert reviews and approves reports before they are entered into a final database. But Cardillo said the agency plans to fully automate the process once it has the governance structure in place and acceptable levels of accuracy.
"We plan to apply AAA to every image we ingest at NGA by the end of this year. That is 252 days from now," he said. "And I have some teammates who believe we can do it even sooner."
NGA believes its future also depends on building a team of individuals with diverse educational backgrounds.
NGA isn't forgetting about liberal arts graduates in pursuit of a workforce strong in STEM skills, NGA Chief Ventures Officer Christy Monaco told FedScoop. In fact, Monaco said that liberal arts graduates were discussed often this week at the symposium as "the future of GEOINT."
"And as a liberal arts type myself, I am like 'Yay, we're not being left in the dust,'" Monaco said.
The agency certainly isn't deemphasizing STEM, Monaco said, but realizing that it needs "people from all different kinds of backgrounds in order to make all this work."
"What I think we're getting at now is… looking for a time beyond when AAA technologies are where we need them to be. Who are the people we're going to need to have around?" Monaco said.
Cardillo's remarks Monday even focused around the idea of the "art and science" or "science and art" of the GEOINT profession.
He said the agency is "pretty good" at STEM and has identified the data science skills needed for what he calls "Team GEOINT." Indeed in the next three years, the agency intends to train its employees in computational thinking and basic coding, Cardillo said.
But "different perspectives are essential to multi-faceted teams," he said, so the agency isn't forgetting the importance of adding "art" to the STEM mix.
"His point there was we need people with kind that liberal arts education, that critical thinking," Monaco said. "It's not just going to be about technological know-how. You also need to be able to apply critical thinking because it's our responsibility to ensure that as we apply AAA sorts of capabilities to the business of GEOINT that we … let the machines do what the machines can do and let the humans do that which the humans are destined to do."
Monaco said she envisions a future where artificial intelligence and humans work together to "generate some really interesting insights in a responsible way."
The discussion of technology and people's respective roles in intelligence work was addressed too in a panel discussion Tuesday at the symposium.
David Gauthier, head of strategy at NGA, said that NGA needs to look internally to determine for what reasons it wants to employ artificial intelligence. He proposed three — the first of them being to improve productivity, and the second to aid with complexity.
"And this is where we have to be clever in that the human mind can't keep more than a few streams of hypotheses going simultaneously, but a machine can keep thousands or millions of those hypotheses going simultaneously, and can help us find those complex nuggets that we need to find," he said.
The third, he suggested, was that NGA actually use these tools "to get back to our humanity."
"In an odd way, and maybe a paradoxical way, we look to training machines to be better at our business in order that our humans can get back to what the humans are good at, and offload some of those cognitive skills and get back to the real human part, aspect of intelligence," Gauthier said.
Though NGA officials seemed to emphasize during the symposium the importance of keeping a human involved in analyzing geospatial information, Foreign Policy reported in January that some NGA employees feared their jobs would be replaced by technology before it was ready to handle such work.
The agency's reported push to enabling technology to do the analysis currently done by humans, Foreign Policy said, is "worrying some veteran imagery analysts who fear that their jobs might drastically change, and the technology being pushed isn't mature enough to replace human skill and analytic capability."