Intelligence agency taps FCC's David Bray to lead new innovation office
The NGA has tapped FCC CIO David Bray to lead its Ventures and Innovation Office starting next month.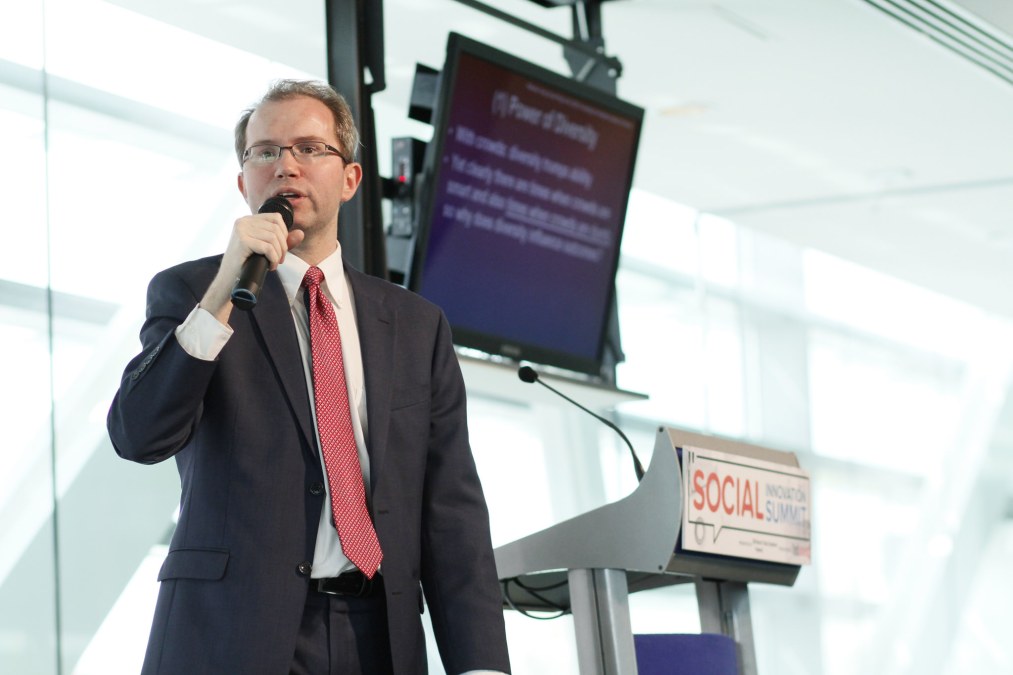 FCC CIO David Bray will head a newly launched National Geospatial-Intelligence Agency office focused on driving innovation both internally and externally, the agency's director announced Monday.
Bray will make the move later next month to lead the Ventures and Innovation Office as NGA's — and the federal government's — first chief ventures officer, Director Robert Cardillo said in a keynote at the GEOINT Symposium in San Antonio, Texas.
"David is a true change agent, who's currently serving as the CIO at the FCC and I expect big things from him," Cardillo's prepared remarks read.
Bray confirmed the move in an email to FedScoop, saying it's one that's been in the works for the past nine months.
Bray detailed his upcoming role as chief ventures officer in greater detail in a note to FCC staff about his coming departure.
"The expectations for me in the new leadership role will be similar to what we collectively have accomplished at the FCC: encourage strategic change to meet evolving internal and external demands on the Agency. In the new role, I will direct teams of #ChangeAgents and serve as a Strategic Advisor to the NGA Director, Deputy Director, and Director of Plans & Programs — with the added dimension of leading the broad mission-focused adoption of automated and machine learning algorithms into the workforce, workflows, and acquisition pathways of NGA. This will involve changing the Agency's business processes and behaviors to shift from mapping the world to 'mapping and modeling the world,' while exploring public-private partnerships to accelerate this shift."
Christine Calvosa, FCC's deputy CIO for technology and resiliency, will take over as acting CIO when Bray leaves the commission later this summer. Bray has led the agency's IT operations since August 2013.
Director Cardillo spoke broadly Monday of NGA's push to enhance its public-private partnership with industry centered on innovation, proposing the creation of a "data investment brokerage." The NGA provides geospatial intelligence to the military, intelligence agencies and some civilian agencies as well.
"NGA would invest our data, our analysis and maybe even our data exhaust – the byproducts – into promising startups, companies and ideas," he said. "The goal would be to obtain a return on that data in the form of new or transformed data, new algorithms, trained machine vision approaches or an application of linked software. Our approach to this initiative is now in formation, and we look forward to developing this type of data-centric synergy with any and all interested partners."
To highlight this effort, NGA will host a data challenge focused on using mapping data to combat illegal trafficking.
"Our challenge, simply stated, is this: Using your knowledge, skills, resources and only open source material, how would you help NGA and our partners model, track and deter trafficking?" Cardillo said.
But there's a twist, he said, that emphasizes the agency's dedication to driving a strong public-private partnership: "We're not simply giving away money."
"We'll work together to test and implement your ideas from the challenge," the NGA director said. "We'll negotiate the release of unique NGA data. And you'll be able to share the outcome of the cooperative project."
Cardillo said more on the challenge will come soon.