OPM director urges agencies to permit telework as wildfire smoke blankets D.C.
In a memo Thursday, Kiran Ahuja said U.S. government departments should use flexible working practices to protect the health of their employees.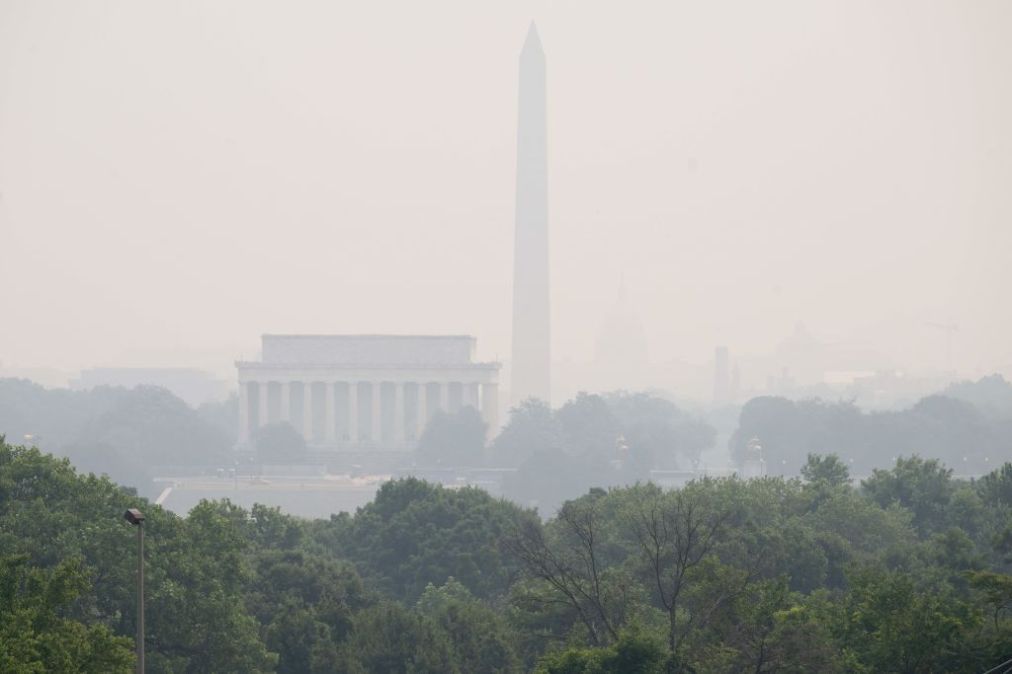 The head of the Office of Personnel Management has written to agencies across the federal government instructing them to take "all available" steps to protect the health of employees from wildfire smoke, including by permitting telework.
In a memo sent Thursday, OPM Director Kiran Ahuja said federal agencies, where possible, should allow staff — especially those considered high-risk — to work from home.
"As much of the country experiences dangerous air quality conditions from the ongoing Canadian wildfires, the U.S. Office of Personnel Management (OPM) is reminding Federal agencies to be proactive in protecting the health and wellbeing of our Federal workforce," Ahuja wrote.
She added: "OPM would also like to remind agencies of the various workplace flexibilities that may be used to reduce health risks associated with dangerous air quality levels. Agencies are encouraged to permit employees, particularly those with high-risk medical conditions, to telework from home on a day when air quality conditions are dangerous."
The OPM chief sent the missive to all government chief human capital officers, as thick smoke from Canadian wildfires blanketed Washington D.C., along with other major cities in the northeast, Ohio Valley and Mid-Atlantic regions of the U.S. According to the Washington Post, air quality is likely to be severely reduced in these areas for at least the next 24 to 48 hours.
In her missive, the director noted that agencies can deploy other measures to help protect the health of their staff, including by allowing those with flexible work schedules to adjust arrival and departure times to avoid peak commuting hours and to request the use of annual leave or earned compensatory time off.
While telework is not an option for certain government employees, including those working on national security issues or handling certain sensitive data, some agencies have retained a degree of flexibility for staff following the COVID-19 pandemic.
In January, the National Archives and Records Administration reached an agreement with the American Federation of Government Employees union, as part of which all permanent positions at the agency will now be eligible for telework.
At the end of November, the National Science Foundation signed a four-year collective bargaining agreement with the AFGE that included expanded telework and remote work for employees.
Advocates of the increased use of telework at government agencies say that it can be especially beneficial for recruiting staff in areas such as cybersecurity and IT because departments can seek potential candidates from across a wider geographic area.
However, telework has also proved politically contentious, with some lawmakers arguing that fewer employees in the office has resulted in the reduced availability of government services.