Shanahan on DOD's commercial cloud: It's 'not our goal'
"Our goal is to get a lot of the data into an environment where we can start making better decisions," said the Pentagon No. 2.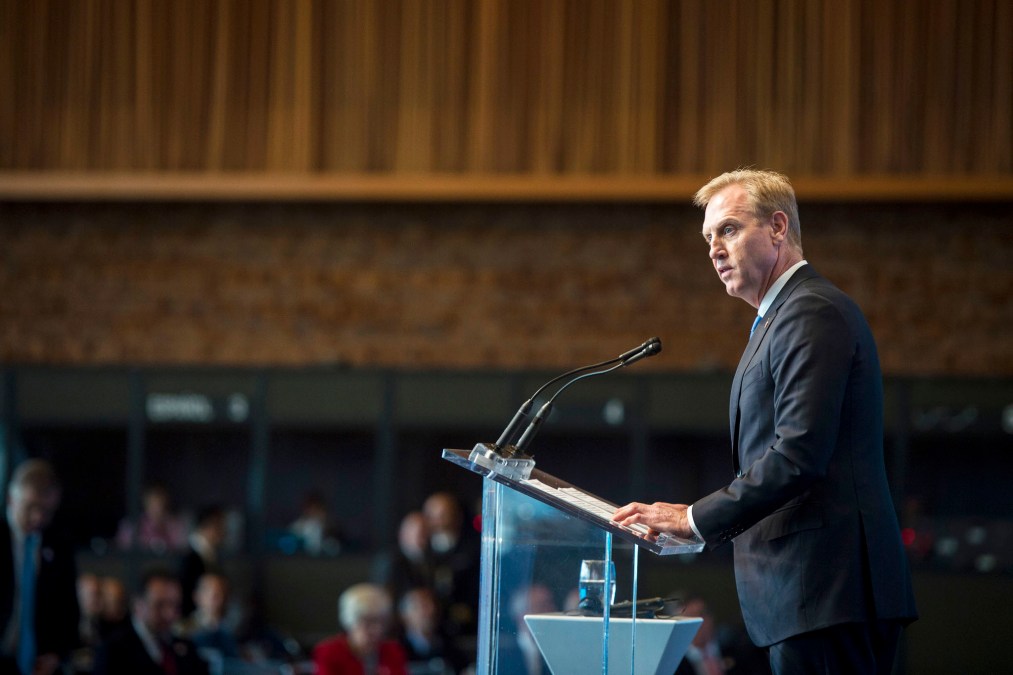 The Defense Department sometime this year plans to award a multibillion-dollar, 10-year contract for an enterprisewide commercial cloud solution. But when asked this week about the latest in DOD's commercial cloud strategy, the top Pentagon official who's been leading the effort since last September told reporters "the cloud is not our goal."
To be clear, Deputy Secretary Patrick Shanahan wasn't trying to cast doubt on any migration to the cloud. Instead, he was saying that the technology isn't the absolute end goal. It's part of a larger business goal for modernization and efficiency that exists in private industry but has eluded the Pentagon.
"Our goal is to get a lot of the data into an environment where we can start making better decisions," Shanahan told reporters at the WEST 2018 conference in San Diego.
He added: "Cloud is a huge enabler so that we can get to doing things across the department that industry has done for a long time — that is have enterprisewide services."
Shanahan launched the effort last September with a sweeping memo directing the creation of a cloud steering group "to devise and oversee the execution of a strategy to accelerate the adoption of cloud architecture and cloud services, focusing on commercial solutions." The program is known as the Joint Enterprise Defense Infrastructure, or JEDI.
He pointed to financial management systems as an immediate beneficiary of the cloud move.
"By creating an environment like the cloud, now I can migrate all the different financial management systems that we have in place today so that I can develop a financial management system for the department," Shanahan explained.
"The Army has its own financial system, the Navy [too], that's all redundancy and that all comes with cost," he said. "So cloud will enable that."
For that reason, the effort fits nicely with the Pentagon's hope to deliver its first financial audit this year.
"The audit tells us what resources we have so we can have confidence about where they are and how to manage them," Shanahan said. "If we know where the resources are, then we can move them. If we understand what resources we have, we can cost them."
Indeed, he said that historically when the department is able to deliver that kind of information to personnel, they do some of their best work. "When we give people the data about how the department is working, they're on it," he said.
Shanahan didn't mention specifically when the JEDI contract would drop, but estimated it would be sometime in the summer. But again, he downplayed the significance of the contracting process and focused more on the larger transformational effects.
"The individual contracts aren't as important as the cloud strategy that we're putting in place," he said. "The things we're working on right now is to get an approach to be able to scale departmentwide, and it isn't just about moving to the cloud. If you're going to move to the cloud, then you have to stop doing something that you're doing today," i.e. operating legacy systems.
But he did stress the need to "make sure that we can make it competitive long-term."
"You will not see us making a decision to just pick one person," he said. "So it's all about maintaining low or no switching costs if you want to move to another provider. That's how we ensure competition, that's how we ensure innovation."
With Jay Gibson now leading the cloud effort as DOD chief management officer, Shanahan will likely spend less time focused on this cloud effort than he has of late, instead dedicating his efforts to "modernization and readiness" of the forces, he said.