With Air Force's Skyborg, autonomous drones could be coming soon
Skyborg will be an "autonomous unmanned air combat vehicle system" with open artificial intelligence software architecture and modular hardware.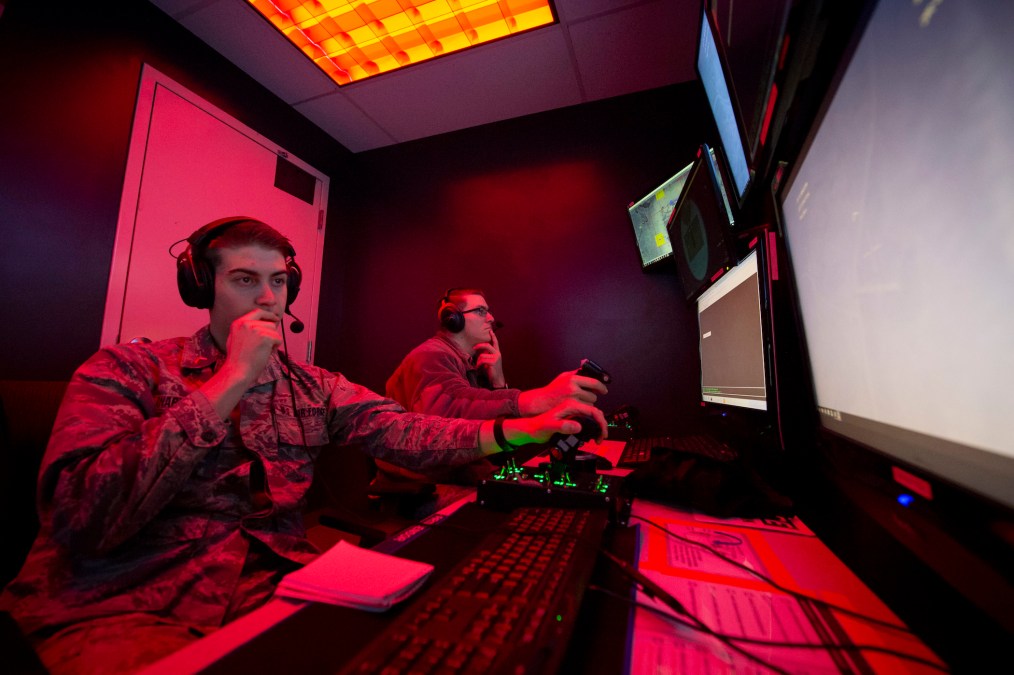 The U.S. Air Force wants to rapidly field autonomous drone prototypes through a program it's calling Skyborg.
Skyborg will be an "autonomous unmanned air combat vehicle system" with open artificial-intelligence software architecture and modular hardware, the service said in a request for information.
The Air Force desires a system that can use AI "avoid other aircraft, terrain, obstacles and hazardous weather," take off and land autonomously, modularly adjust payload and flight architectures, and mission planning software that integrates with the service's next-generation "mission planning tools that emphasize modularity and openness." And ideally, pilots with limited engineering or drone-flying experience could operate the system.
"The United States Air Force (USAF) must leverage [AI] capabilities to maintain its strategic position, prevail on future battlefields, and safeguard its competitive advantage," the RFI says. "However, before operational AI innovation can occur, the USAF must field an autonomous system that meets an immediate operational need and can serve as an iterative platform to jumpstart complex AI development, prototyping, experimentation, and fielding. That system is Skyborg."
Skyborg won't replace the pilot (drone pilot in this case), though, but rather it will be like R2-D2 was to Luke Skywalker, helping him pilot his X-Wing in "Star Wars," as Will Roper, Air Force assistant secretary for acquisition, technology and logistics, recently explained. It will allow pilots to do more, he said. "We're going to ask them to fly that plane and then quarterback a team of planes with them."
The Air Force looks to move Skyborg along an "accelerated timeline," though it doesn't define that further, other than that information gathered from this solicitation will be used "in determining specific requirements for planned FY19 solicitation(s) and a FY19-FY20 autonomous airborne system experimental campaign."
More broadly, Roper is thrilled by the potential to operationalize AI across the Air Force, he said at a recent Center for Strategic and International Studies event, talking about exciting pitches he received at the first Air Force Pitch Day, earlier this month.
"Companies that have technologies that allowed images to be automatically detected and pattern of life projected based on historical data make me really excited," he said. "Because as we get back into competing powers, we can't have so many airmen looking at computer screens, looking at video."
AI can free airmen up from the monotony of actively seeking out objects of interest from a drone feed, he said.
Instead, "they're being shown objects of interest, and then they take the next step, which is more strategic, at a higher level," Roper said. "You could collapse the number of people that are doing that work. Rather than you watching the feed from one drone, why couldn't you manage a fleet of them? So we can shift airmen to where we need them now, which is thinking about the Pacific and Europe and peer competition."
This isn't the Air Force's first foray into operational AI, however. It developed Project Maven to do just what Roper explained above — image and pattern recognition. But that program has faced criticism, particularly from Google, the commercial partner that had helped the Air Force develop the technology but since backed out of the work. It's possible that Skyborg may receive similar criticism down the line for its mix of autonomy with warfare.