VA Digital Service unveils new VA.gov in time for Veterans Day
All the tools on user-centered Vets.gov have been migrated to the agency's primary web address.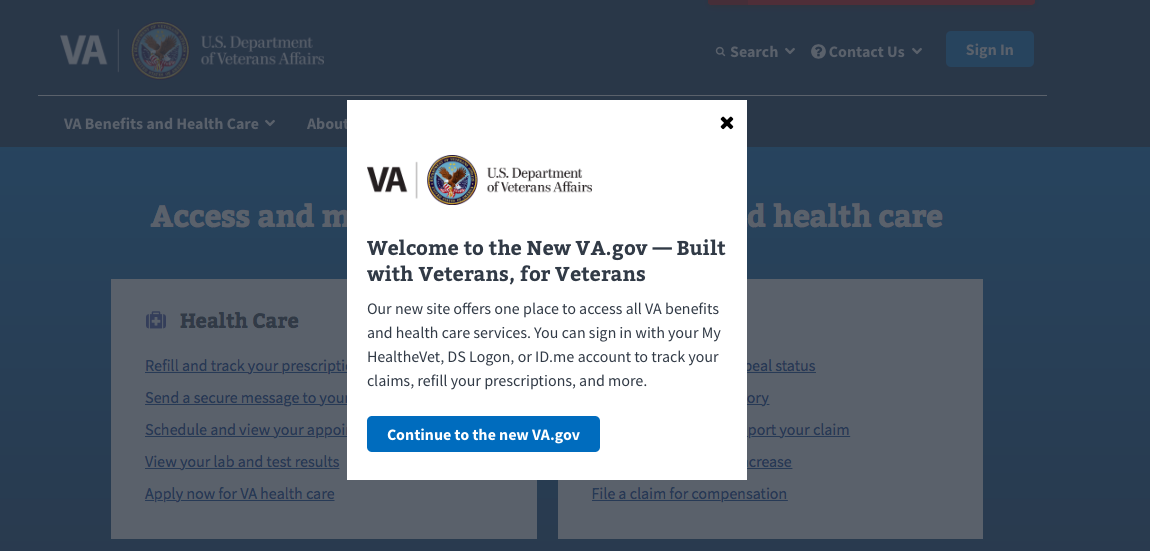 Veterans in search of information about benefits now have a brand new homepage — VA.gov. The launch, just in time for Veterans Day, marks a big milestone in the VA's journey to be more customer service-focused.
"We are so excited for the new VA.gov," Marcy Jacobs, Executive Director of the VA Digital Service, told FedScoop in an emailed statement. "It marks an important step toward providing the modern digital experience Veterans deserve, and our team will continue to improve and streamline VA's digital tools and content. Thank you to all of our partners across VA and our contracting teams who helped bring this across the finish line in time for Veterans Day."
A bit of history: The web ecosystem for information on veterans benefits has for some time been fractured and complex, with hundreds of different sites dedicated to different pieces of the puzzle. VA.gov, the centerpiece, has historically focused on the agency itself — a place for announcements from the Secretary, mission statements and media information. This is generally not what a veteran needs most.
This reality is what led to the launch of Vets.gov in 2015 — a central portal for housing assistance information, health benefits, a new Appeals Status tool and much more. Vets.gov was, in may ways, a success. The site was recently getting as many as 1.8 million users per month, and in October, Jacobs won a Service to America Medal for her work on the project.
Now, Vets.gov and all its tools have a new home on VA.gov — the agency's primary web address.
The site now "consolidates information and places it in one easy to navigate location," Secretary Robert Wilkie said in an introduction video.
"I've said it many times and I'll say it again: my main priority as Secretary is simple — to give our customers the best possible experience the minute they encounter VA," Wilkie said. "Today, we're doing just that with the new VA.gov — the new online front door of your Department of Veterans Affairs."
The word "customer" here speaks volumes about how the VA is trying to reformat and recast itself. Vets.gov and VA.gov were both created using user-centered design, but it's not just about development methods. "It has to be that everyone here has that customer experience mindset," DSVA lead Jacobs told FedScoop in a recent interview.
"We're a customer experience organization," she added.