Chris Lynch departing Defense Digital Service
Lynch will be succeeded by Brett Goldstein, a Navy adviser whom acting Secretary of Defense Patrick Shanahan recruited to report directly to him.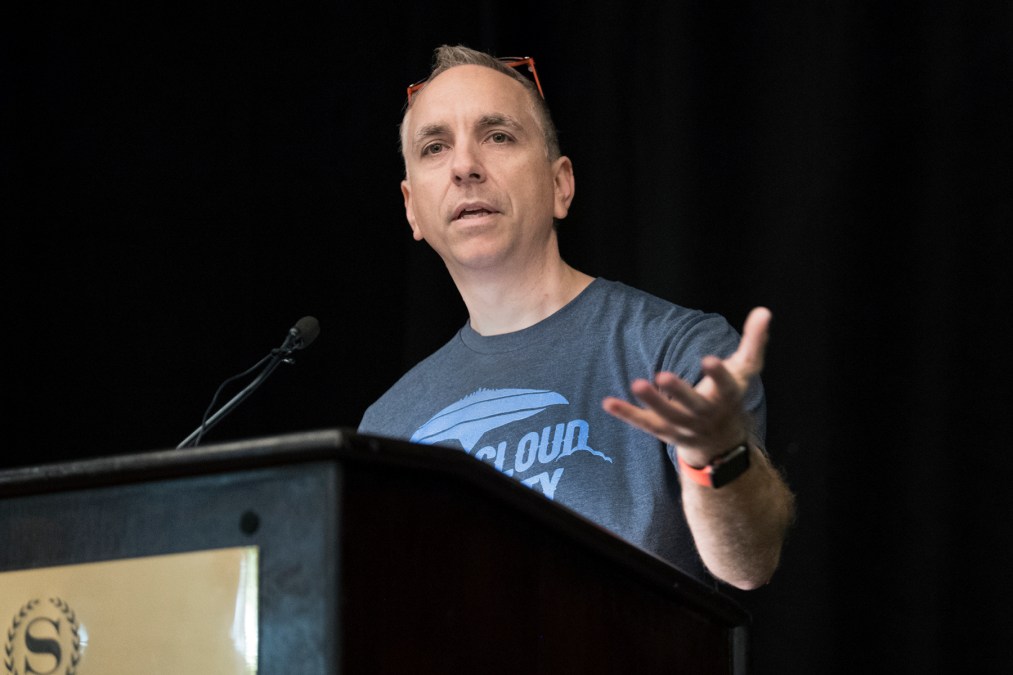 The Defense Digital Service's rebel leader, Chris Lynch, is stepping away from the team he founded this month.
Lynch, who's led the Pentagon's digital SWAT team since 2015, will be succeeded by Brett Goldstein, a Navy adviser whom acting Secretary of Defense Patrick Shanahan recruited to report directly to him.
"Under the leadership of Chris Lynch, DDS has hacked the bureaucracy to strengthen our national security and improve the lives of service members and their families," Shanahan said in a statement. "Although we will miss Chris, the unique startup culture he built and the talented team he recruited will continue to disrupt and transform technology at the DOD. We are excited for Brett to be taking on the role of director to build and expand the team and its work. His public and private sector knowledge, technical expertise, and commitment to improving government through technology will be invaluable to a range of critical missions across the department."
In his nearly four years at the helm of DDS, under three different Defense secretaries, Lynch and a team of tech, design and acquisition nerds with an affinity for "Star Wars" drove some of the most transformative digital efforts the Pentagon has seen in recent years, including the launch of the Hack the Pentagon bug bounty program and the crafting of the $10 billion Joint Enterprise Defense Infrastructure (JEDI) commercial cloud acquisition.
In a goodbye letter to DDS staff, Lynch described how what was supposed to be a 45-day stint working with the Department of Veterans Affairs became the start of the Pentagon's "Rebel Alliance."
"A team that does shit that matters, works on problems of impact, and focuses on how we can use our skills to change and save people's lives. How special and wonderful is that?" he wrote. "We've had incredible people come and change the face of government and (literally) change lives. From launching Hack the Pentagon, to the system used to rebuild a democracy in Afghanistan, to modernizing GPS used by billions of people, to our Jyn partnership with the military, where talented software engineers build solutions to problems across the world, to JEDI Cloud, to changing the way DOD moves hundreds of thousands of military families … and so much more. You all did that and I was honored to serve alongside you."
Though he's departing, Lynch's legacy will remain as the Pentagon continues to work toward awarding a single contract for JEDI. The contract was originally slated to be awarded in April during his tenure but has since been mired by bid protests and allegations of conflict of interest. The soonest the Pentagon plans to issue an award is now July 19.
"JEDI is coming (the nerds have won my friends)," Lynch said. "And yes, DDS will continue to drive JEDI forward today as we have since the start to better protect the young men and women who keep us safe. You're all the really critical part of that. You always have been and always will be. Keep delivering. Keep getting shit done. Nothing else matters."
A former Seattle technologist, Lynch didn't say what he had planned next.
Goldstein will continue DDS's efforts recruiting top tech talent into the military and tackling to most pressing and sticky technology issues in the defense world. According to a release, "He was selected for his diverse leadership experience and technical expertise, which range from enterprise systems and architecture to deep knowledge of data science and cybersecurity, which will be among his early priorities at the department."
Goldstein started his career as an employee of OpenTable, before joining the Chicago Police Department after the Sept. 11 attacks. He also served as the first chief data officer in the City of Chicago, before taking over as CIO, and spent time as a venture capitalist and a fellow at the University of Chicago and Harvard University.