Eastern Foundry is bringing a little startup shine to the government contracting space
Co-founder Geoff Orazem details to FedScoop the promise and challenges of building an incubator and coworking space for small federal contractors.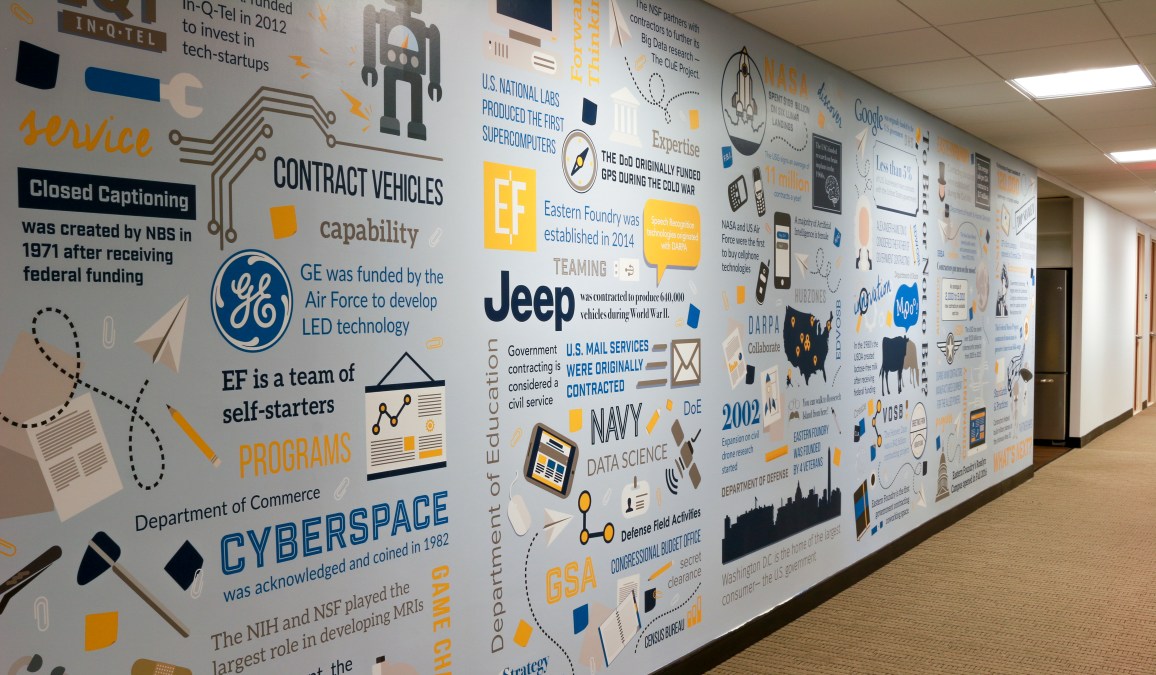 In the D.C. suburbs, giant government contractors like Booz Allen, Boeing and Northrop Grumman occupy shiny high-rise buildings with floors and floors of cubicles and corner offices. Nearby, in Rosslyn, 138 small government contractors share one open-plan floor of another shiny high-rise, hoping to amplify their voices and expertise by joining forces.
Welcome to Eastern Foundry, D.C.'s incubator and coworking space for small government contractors.
In tech, porting a business model from one market to another is so popular it's become a meme — let's call it "Uber for X." The practice has produced some pretty fantastically laughable pitches, but at its core, the idea of sharing concepts across industries is not a bad one.
It was this kind of idea that struck co-founder Geoff Orazem in 2014 when, after trying and largely failing to start his own federal contracting company, he realized a private sector tech mechanism might be able to help. Starting a business is never easy, but advice from those who have gone before can smooth particularly rough patches. At least that's the theory behind a booming cottage industry of coworking spaces, incubators and accelerators.
While new accelerators and incubators seem to pop up every day, the programs largely focus on private sector software companies. But Orazem and cofounder Andrew Chang saw promise for the model in the government contracting space, a market frequently vilified for its confusing web of bureaucracy. Despite the challenge, startups want to sell to the government, for at least one big reason — money.
So Eastern Foundry set out to help startups get in on the action. Orazem has a metaphor ready and everything: federal contracting is a puzzle, and Eastern Foundry gives its members access to the cover of the box.
"The inspiration and core of the business model are rooted in the proven incubator and accelerator models modified to the dynamics of the government contracting market," Orazem told FedScoop.
Eastern Foundry has two office locations in Arlington, Virginia — the one in Rosslyn and another in Crystal City. The company offers memberships that give small businesses access to the space as well as in-person and online educational content. Earlier this summer the Foundry launched the online platform Federal Foundry, a bid at expanding its educational footprint.
Bringing small companies together to one physical location is an important piece of the equation. "I think that the government sector suffers from the fragmentation caused by the highly regulated environment we operate in," Orazem said. "Coworking allows us to consolidate the buying and resources of a community of small businesses so that we can engage with the market effectively."
It wasn't a direct conversion from traditional incubator to Eastern Foundry, though. Government contractors have some unique needs. "The growth cycle for government companies is quite long so we had to have a model that supported companies over years," Orazem told FedScoop, reflecting on how Eastern Foundry is different from private sector tech incubators.
Bringing companies together also means asking them to let go of what Orazem sees as an in-built fear of competition. "In the private sector and startup world buyers and sellers are anxious to share their needs and capabilities," Orazem said. "Government is extraordinarily reluctant to share anything about their needs or to communicate with the vendor community in general, and this permeates the contracting community that frequently shies away from sharing what they can do."
As a contrast, Orazem is trying to get his members to embrace sharing and collaboration.
Isaac Barnes, an Eastern Foundry member with his company Eminent IT, says the goals of tech companies looking to be federal contractors are just different from the goals of private sector tech companies. "Most companies in our space aren't pursuing funding," he told FedScoop in a phone conversation. "We're just pursuing customers."
This is a distinction, Barnes said, that most traditional incubators aren't equipped to handle. Barnes was a member of a Founder Institute cohort in 2011 with a previous company, but the focus on raising funds didn't speak to him.
Differences aside, "the core insight the small businesses can accelerate their success through coordination and collaboration" is as true for Eastern Foundry as it is for any incubator, Orazem told FedScoop. And despite the challenges of adapting the model for a new environment, Orazem has ideas for other things he can borrow from private sector tech — growth capital, for instance. "There is so much green space to move into," he said.